Types of China Hotels
At present, there are more than 250,000 hotels in total all over China, including star hotels, featured B&B, boutique hotels, apartment hotels, and youth hostels. Among them, over 10,200 are ranked as star hotels, accounting for 4% approximately.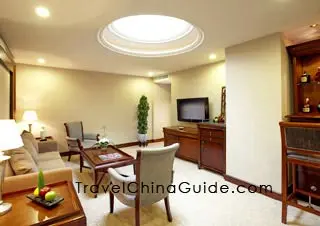 Living Room of a Junior Suite
Geographically speaking, about one third of the hotels are located in the main tourist destinations including Beijing, Shanghai, Xi'an, Guangzhou, Chongqing, Chengdu, Changsha, Shenzhen, Wuhan, and Hangzhou. More than 2.7 million people are engaged in hospitality industry of China.
Theoretically, foreigners can lodge in any of the hotels as long as they register at the local police station within 24 hours after arriving in China. However, most small hotels do not receive foreign guests to avoid registration troubles. Generally speaking, three-star hotels and above always welcome foreign guests. Please ensure that the hotel you choose receives foreigners before making a reservation. If you book a tour with a China tour operator which covers accommodation, you don't need to worry about this problem.
In China, a standard guest room can accommodate two persons at most. Some hotels offer triple rooms which can allow three persons. Besides, some hotel may have family rooms to accommodate three to four persons. In star hotels in China, you may need to pay extra to add a bed to a double room so that it can allow three persons, but not all hotels offer such services. Therefore, if you have this demand, please confirm this with the hotel in advance.
Different Types of Hotels in China and Expected Experiences
Stared Hotels
There are many well-known international chains and brand stared hotels in China. One-star hotels total about 70, two-star hotels about 1,850, three-star hotels about 5,000, four-star hotels about 2,500, and five-star hotels amount to 850 or so. Obviously, three-star hotels take up the most share of the market. Among the stared hotels are Hyatt, Sheraton, Holiday Inn, Four Seasons, Hilton, Leeds, Marriott, Intercontinental, ACK, Shangri-La, Kempinski, etc. The more the number of the stars, the more luxurious the facilities are. Besides, you can expect very considerate services in star hotels in China. Thanks to the warranted quality of services, star hotels are the prior partners of China tour operators.
| | |
| --- | --- |
| Light and spacious lobby | King size bed room |
Featured B&B
They are generally family-ran hostels featuring unique regional characteristics. Compared with traditional hotels, you can enjoy a more locally featured living ambience and have opportunities to communicate with the owner and other guests. By this way, you may have a deeper understanding of China. However, as most B&B are not ran by specialists, the quality of services and facilities are not guaranteed.

Boutique Hotels
Boutique Hotels, owning 10 to 100 guest rooms by definition, are relatively small in scale compared with starred hotels. However, they are selective in locations and prefer hot travel destinations. The highlight lies in their uniqueness, which is presented in many aspects, like architectural style, furnishing design, services, themes and culture. They keep most functions of 5-star hotels, but only charge as 3-star hotels. For guests, this is a very cost-efficient deal.

Apartment Hotels
Apartment hotels are dedicated to creating a home-like feeling for guests. Therefore, their decoration styles tend to be cozy and warm. All kinds of furniture, home appliances, bathroom, and kitchen are all provided. There are always recreational facilities and shopping malls nearby. These hotels are especially suitable for families.

Youth Hostels
Youth hostels is a kind of budget hotels which are particularly fit backpackers. Guests are charged on the basis of a single bed. It means that they need to share a room with others. There are basic facilities, but almost all of them are for public use. If you are kind of a neat freak, it's not advised to choose youth hostels.

China Hotel Rates
China hotel prices vary based on the quality and location of the lodging and the time of the year it is booked. In general, budget hotels below three-star cost about USD 30 – USD 50 per standard room per night. Three-star ones cost about USD 50 – USD 80 per standard room per night while the four or five-star luxury ones cost USD 80 – USD 200 or even much higher per standard room per night. Chinese hotel rate is usually higher in peak travel season from April to October and lower in slack season from November to March. An exception is that the Chinese New Year holiday, though falling in January or February, is regarded as peak season.

Accommodations are more luxurious in the large and thriving cities like Shanghai, Hong Kong, Beijing, Guangzhou, Chongqing, Xi'an and Shenzhen. As a result, hotel cost in China's large cities is higher. A standard room costs USD 200 per night averagely in Beijing hotels, USD 180 in Shanghai hotels and USD 120 in Xi'an. Guangzhou hotels and Shenzhen hotels cost the similar as hotels in Shanghai.

Fewer luxury hotels can be found in smaller cities or remote areas. However, there are plenty of economical or standard lodgings away from the larger cities that are clean, comfortable and safe.

Tip: Generally speaking, a child under 12 years old, if sharing a room with his parents and not occupying an extra bed, only needs to pay 50% for the breakfast charge; if occupying an extra bed, a child needs to pay for the extra bed as well. For a child under 2 years, a baby cot will be provided free of charge and the breakfasts are usually free; children older than 12 years will be charged as adults. The rules may vary in different hotels. If any surcharges occur, they must be paid directly to the hotel.

How to Book a China Hotel?
Hotel reservations for foreigners can be easily and conveniently made in China. You can book a tour through a travel agency which includes accommodation, or book hotels on a booking platform or the hotel's official website or app, or you can book a room when you arrive at the hotel. However, it's always recommended that you book a room 7 to 15 days in advance to guarantee the occupancy. As hotel rates may fluctuate over time, you need to pay attention to the fee and get the best deal.



Read More: How to Book a Hotel Room in China

Different Room Types in China Hotels
China hotel rooms are usually divided into two kinds: a room and a suite. Room usually refers to a single room which contains a washroom, while suite refers to a set of rooms which may include a living room, several bedrooms, a kitchen, a washing room, etc.
| | |
| --- | --- |
| Twin bed room | King-size bed room |

The Specific Types of Rooms Include:
Single Room - designed for one person
Double Room - containing one king-size or queen-size bed, allowing two guests
Twin Room - with two single beds, allowing two guests
Triple Room - containing three single beds or a standard double room with an additional single bed, allowing three guests



The Specific Types of Suites Include:
Standard Suite - also named junior suite or family suite. It contains a living room, a bedroom, a shower/bath, a toilet, and comfortable furniture.
Deluxe Suite - usually bigger in room size and is newer in facilities than a Standard Suite.
Executive Suite - usually contains a spacious bedroom with one king-size bed, an elegant living room, and a large bathroom with additional facilities such as a whirlpool bath and an additional toilet. Its area is usually twice as large as a Standard Suite.
Presidential Suite - usually has seven or eight rooms, including the president's bedroom, first-lady's bedroom, a shower/bath, two toilets, a parlor, boardroom, guard's station, study, kitchenette, a dining room, and a room for receiving retinue. Usually, it is the best accommodation in a hotel.
| | |
| --- | --- |
| Presidential Suite | Deluxe Suite |

Other Special Room Types:
Disabled Guest Room: designed to be disabled-friendly.
Connecting Room: They are made up of two or more separate but adjoining rooms, which are connected by a door.

Bed Sizes in Chinese Hotels
Bed
Size
Queen Size Bed
150 x 200 cm
59 x 78 inch
King Size Bed
180 x 200 cm
70 x 78 inch
Single Bed
120 x 200 cm
47 x 78 inch
The service and facilities in most China hotels are good enough to meet the demands of guests. They can enjoy spacious rooms with air conditioner, clean bedding, TV, bathtub, shower, separate washrooms with water closet, free wifi, and attached restaurants providing delicious meals. In some star hotels, there are even swimming pools, multi-functional halls, ballrooms, beauty salons, massage rooms, saunas, clinics, spa rooms, and large shopping malls. In remote areas, the facilities may not be that satisfactory. The front desk of almost all hotels is on duty round the clock, providing inquiry, luggage carriage and deposit, and morning call services if you require.
- Last updated on Jun. 25, 2023 -
Questions & Answers on Types of China Hotels
Asked by Pamela Peterson from USA | Nov. 28, 2023 14:03

Reply
Chinese medical care
My husband and I want to travel to China, not going on tour but will hire a guide. We are 79 and 85 yrs of age, in very good health, have no medical condition and take no medications. Have traveled extensively. We cannot get medical travel ins due to our age. Would We get good medical care in Chinese hospital if had accident and what if had to overstay our visa?
Answers (1)
Answered by Jessica | Nov. 29, 2023 01:48

0

0

Reply
Yes, you can get good medical care in Chinese hospital but the medical fare would be a little high as you don't have any insurance. As for overstaying, you can apply for an extension in the local entry and exit administration bureau.
Asked by hayd from NEW ZEALAND | Jun. 23, 2023 10:53

Reply
Ironing facility
Do most hotel rooms have an iron?
Answers (1)
Answered by Emma | Jun. 25, 2023 01:44

0

0

Reply
I'm afraid no. But you can ask for one from the frontdesk.
Asked by Paul from ENGLAND | Apr. 02, 2018 18:11

Reply
Do hotels in china charge more for singles or is it just room rate?
I am going on a Wendy Wu tour of china 26 days but they are asking for over £800 for solo occupancy of the room
Answers (1)
Answered by Benjamin from NEW ZEALAND | Apr. 03, 2018 21:27

0

0

Reply
Oh, generally speaking, the hotels in China charge for room rate. The hotel staff won't ask for more money for single traveller.