Terms Related to Accommodation Used in Hotel Industry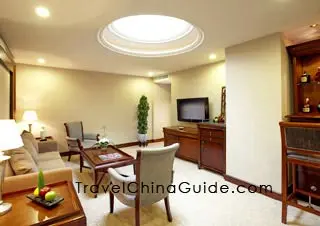 Living Room of a Junior Suite
Accommodation Types
Hotel guest rooms are usually divided into two kinds: a room ('kefang' in Chinese) and a suite ('taojian' in Chinese).

Rooms:
Rooms usually contain a shower/bath and toilet. The specific room types are:

Single Room - designed for one person
Double Room - containing one king-size or queen-size bed
Twin Room - with two single beds
Triple Room - containing three single beds or a standard room with an additional single bed

Suites:
Usually located on the higher floors, a suite is subdivided into several types as follows:
Standard Suite - also named junior suite or family suite. It contains a living room, a bedroom, a shower/bath, a toilet, and comfortable furniture.

Deluxe Suite - usually bigger in room size and is newer in facilities than a Standard Suite.

Executive Suite - usually contains a spacious bedroom with one king-size bed, an elegant living room, and a large bathroom with additional facilities such as a whirlpool bath and an additional toilet. Its area is usually twice as large as a Standard Suite.

Presidential Suite - usually has seven or eight rooms, including the president's bedroom, first-lady's bedroom, a shower/bath, two toilets, a parlor, boardroom, guard's station, study, kitchenette, a dining room, and a room for receiving retinue. Usually, it is the best accommodation in a hotel.
| | |
| --- | --- |
| Standard Room | Executive Club Room |
Disabled Guest Room
: designed to be disabled-friendly.
Connecting Room
: They are made up of two or more separate but adjoining rooms, which are connected by a door.
Explanation of Standard Bed Sizes
Rooms and suites are classified into three categories according to the size of the bed:
Room Type

Bed Equipment

Bed Size

cm

inch

Single Bed
1 queen size bed
150 x 200
59 x 78
Double Bed
1 king size bed
180 x 200
70 x 78
Twin Bed
2 single beds
120 x 200
47 x 78
Explanation of Other Terms:
Single Room Supplement - Some premises do not have rooms designed for single occupancy. If a single guest wishes to occupy a double/twin room alone, a supplement will be charged to reduce the loss in revenue resulting from having one guest instead of two.

Service Charge - A charge levied by some larger establishments on behalf of the staff in return for their superior service rendered to guests.

Government Tax - A tax that the hotel collects for the government for their control and management. Only a few tourist cities have such a tax and the amount is based on the number of the lodgers. The tax is usually required to be paid at the reception by clients themselves.

Room only - The majority of room rates are inclusive of breakfast. Rooms rented on a 'room only' basis will not include breakfast in the price. A breakfast is generally available for additional cost.
| | |
| --- | --- |
| Presidential Suite | Deluxe Suite |
Half-Board
- In addition to breakfast, an evening meal may be offered to guests staying in an establishment for one week or longer.
EP (European Plan)
- Only accommodation is offered, without any meals.
CP (Continental Plan)
- Offers accommodation and a light breakfast consisting only of coffee and rolls with jam.
AP (American Plan)
- Offers accommodation as well as an American breakfast, lunch and supper.
MAP (Modified American Plan)
- Offers accommodation as well as American breakfast and supper.
DP (Demi-Pension)
- Offers accommodation as well as European (Continental) breakfast and lunch/supper.
FP (Full-Pension)
- Offers accommodation as well as European (Continental) breakfast, lunch and supper.
- Last modified on May. 05, 2019 -