Vehicles & Drivers Used by China Tour Operators
As well as guides, hotels, and itineraries, transport is an important factor to consider when booking a China tour. Starting from the first pick-up on arrival in China, to going to and from attractions, right up to the time you are taken to the airport for your journey home, a clean and comfortable vehicle and a polite and helpful driver will make your visit more enjoyable and memorable.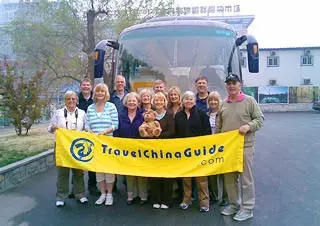 Our Clients in front of TCG's Tourist Bus
As the Ministry of Culture and Tourism of China has explicit regulations on the vehicles used by China tour operators, legitimate China tour operators always cooperate with the legally registered transportation companies in each city. They are under the supervision of the authority, and possess complete documentation for running the tourist vehicles. The drivers, who have undergone qualification exanimations and systematic trainings, are professionals in serving guests. However, there are still some China tour operators cooperating with owners of private vehicles so as to reduce the cost. These owners do not have the official operation certificate issued by the Chinese governments, so their vehicles are usually not qualified to transport tourists, and the drivers are not that professional.
Basic Information about the Vehicles Used by China Tour Operators
Based on the number of group members, China tour operators often arrange different types of vehicles, including sedan, minivan, minibus, and tourist bus.
| | |
| --- | --- |
| Our Clients on A Tourist Bus | TCG's Tourist Bus Fleet |
The brands of most vehicles used by China tour operators are familiar to foreign visitors, such as Buick, Benz, Coaster, Toyota, Volkswagen, Chevrolet and Ford.

Generally speaking, the longest length of service for a tourist vehicle is 10 years in China. However, some China tour operators prefer to use newer vehicles to enhance travelers' experience and better guarantee their safety. For instance, TravelChinaGuide always use vehicles that do not serve for more than 5 years and we are pleased to say that in the past years since TCG was founded in 1998, no casualty ever occurred on TCG's tourist vehicles.

As it is stipulated, vehicles used by China tour operators should be clean and in good condition. No obvious scratches or marks of impacts should be seen. Doors and windows can be opened easily and shut securely. The windows should be complete and undamaged. The luggage compartment should be clean and tidy, free of odds and ends. Besides, there should be no strange smell inside the vehicle. To keep the clean environment, the foot pads, curtains, seat covers, and cushion covers should be changed regularly.

In most cases, there is a space dedicated for placing tourists' luggage in the vehicles. What's more, many vehicles always have more seats than the number of visitors, so that there is enough room for guests' luggage.

Vehicle Standard of China Tour Operators
As is mentioned above, China tour operators often arrange vehicles according to the size of tourist groups. Some excellent tour operators even arrange vehicles bigger than the actual sizes of the tour groups. By doing so, they can improve tourist's travelling experience to the largest degree and ensure them relatively more space. Here is a list of vehicle types for regular tour groups by TravelChinaGuide.
| Number of Group Members | Cars |
| --- | --- |
| 1 – 3 | 7 Seat Minivan |
| 4 – 5 | 9 Seat Minivan |
| 5 – 9 | 14 Seat Minivan |
| 7 – 12 | 19 Seat Minibus |
| 13 or more | Tourist Bus with 37 Seats |
Note: Arrangement may be a little different in real practice.
If you don't want to share a vehicle with other tourists, you may ask the tour operator to arrange a private car for you at additional cost.
| | |
| --- | --- |
| A 7-seat Minivan | A Toyota Coaster 22-seat Tourist Bus |
| | |
| --- | --- |
| TCG's Benz Minivan | TCG's Minivan |
Facilities on the Vehicles Used by China Tour Operators
Generally, all the vehicles are well-equipped with air-conditioning and comfortable seats. The driver will turn on the air-conditioning beforehand to provide a pleasant onboard temperature, especially in cold winter and hot summer. One tourist can enjoy two bottles of water on the vehicle for free each day. Free wifi is also usually available. Besides, air purifiers are equipped on most vehicles used by China tour operators to guarantee a clean environment. What's more, if you are travelling with a little kid, the tour operator may install a child safety seat on the vehicle.

Drivers Used by China Tour Operators
The majority of China tour operators have strict standards when recruiting drivers. Though it's regulated that all drivers should have at least five years of driving experience by relevant tourism laws of China, some travel agencies actually carry out more stringent requirements. Take TravelChinaGuide as an example. All our drivers are required to have at least 8 years of driving experience with 300,000 km (186,000 miles) safe driving record. In this way, we can better ensure tourists' safety on the way.

Apart from driving experience, the drivers should meet other requirements as well. They are required to have a driving license in accordance with the type of tourist vehicles. Before taking the job, they should have a medical check-up. Afterward, they are subject to a term of probation of three months before formal employee appointment.

In terms of services provided, the drivers are punctual and can ensure the safety of tourists and their belongings. They are quite familiar with the traffic condition of each city and will always find the best way to tourists' destinations. They are courteous and helpful in opening doors, carrying luggage and positioning the cars to minimize tourists' walking distance. Most drivers are easy-going and love to talk. But most of them speak little English. If interested, you can communicate with them with the help of your guides.

Booking Car Transfer Service from China Tour Operators
It's feasible if you don't feel like booking a tour from a China travel agency, but their car transfer service only to make your trip hassle-free. Many travel agencies in China now provide airport and train station pick-up and drop-off services with well-conditioned cars chauffeured by professional drivers. What's worth mentioning is that as there is no English-speaking tour guide and the drivers only know simple English, you need to make some preparations beforehand. For example, you can ask the hotel staff to write the Chinese name of your destination on a slip of paper before departure and show it to the driver while boarding.
| | |
| --- | --- |
| TCG's 5-seat Car | A 37-seat Tourist Bus |
Car Rental in China
Of course, if you want to travel more independently, especially if you need to travel to some places that are not easily reached by public transport, you can also rent a car. However, be aware that foreigners cannot drive a car in China if they didn't pass the relevant qualification exams, even if they have an international driving license. Besides, Chinese transportation rules are different from other countries' and may seem complicated to foreigners. China is a right-hand driving country, while most western countries are left-hand driving. Due to the large population, there are more vehicles on China's highways, so that you must be very careful to drive. Therefore, foreigners are not advised to rent a car in China for safety concerns.

You may also like:
Meal Standard of China Tour Operators
China Tour Package Price
- Last updated on Apr. 26, 2021 -
Questions & Answers on Vehicles & Drivers Used by China Tour Operators
Asked by goh from MALAYSIA | Jul. 03, 2014 22:24

Reply
What is your contact number in Chengdu for transportation booking ?
Answers (1)
Answered by TravelChinaGuide | Jul. 04, 2014 01:59

0

1

Reply
Dear Goh,
Thanks for your enquiry! Our contact number is (+86)29 85236688. To book the transportation, we highly recommend you send us an email at booking

travelchinaguide.com. Our operators would respond as soon as possible based on your detailed requirements then.
Best wishes,
TravelChinaGuide