Travel Vehicles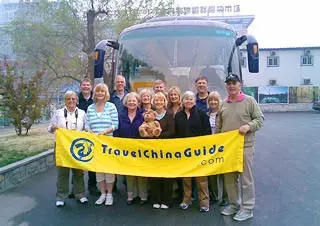 Our Clients in front of TCG's Tourist Bus
As well as guides, hotels, and itineraries transport is also an important factor to consider when booking a China tour. Starting from the first pick-up on arrival in China, to going to and from attractions, right up to the time you are taken to the airport for your journey home, a clean and comfortable vehicle and a polite and helpful driver will make your visit more enjoyable and memorable, and that is what TravelChinaGuide endeavors to do.

Travel with TCG, you travel with safety. In the past years since TCG was founded, no casualty ever occurred on TCG's tourist cars. All our vehicles are officially authorized with an operation certificate issued by the Chinese government. Most TCG vehicles are familiar to foreign visitors, such as Buick, Benz, Coaster, Toyota, Volkswagen, Chevrolet and Ford, and we promise that all the vehicles are well-equipped with air-conditioning and comfortable seats. What's more, our vehicles always have more seats than the number of visitors, so that there is enough room for you and your luggage. The table below is TCG's arrangement for vehicles according to the size of group (arrangement may be a little different in different cities):
Visitors' Number
Cars
1 – 2
2 – 4
5 – 7
7 – 9
10 or more
Sedans (4 seats)
7 Seat Minivan
11 Seat Minivan
12 – 15 Seat Minibus
Tourist Bus with 22 – 45 Seats
TCG provides a considerate vehicle service. As a leading Chinese tour operator, TCG's outstanding service comes from its commitment to excellence on details:
1. Your vehicle will always be parked as close as possible to your destination to minimize the walking distance
2. Your driver will turn on the air-conditioning beforehand, especially in cold winters and hot summers
3. You will enjoy two bottles of water per person each day
4. All our vehicles are required to run within a speed limit, ensuring you a safe and comfortable drive.
5. We will try our best to meet your requests about the vehicles, such as requiring a non-smoking car, or asking the driver to slow down or speed up.
| | |
| --- | --- |
| Our Clients on A Tourist Bus | TCG's Tourist Bus Fleet |
We have strict standards when recruiting drivers. All our drivers are required to have at least 8 years of driving experience with 186,000 miles (300,000 km) safe driving record. They are punctual and ensure the safety of you and your belongings. Chinese transportation rules are different from other countries' and may seem complicated, but our drivers are clear about the traffic condition of each city and will always find the best way to your destination. They are courteous and helpful, opening doors and carrying luggage. Most drivers are easy-going and love to talk. You can communicate with them with the help of your guides.
| | |
| --- | --- |
| TCG's Benz Minivan | TCG's Minivan |
Most of our clients praised our cars and drivers in their
Tour Reviews
:
"I have nothing but compliments for your company and its subsidiary offices across the country. This includes the guides and drivers, who were all excellent and even the drivers spoke some English, which we found amazing" --- from Barbara Fudge
"All of the drivers were always helpful in loading luggage, helping us board, and positioning the cars so it minimized our walking distance. Cars were always clean and well stocked with bottled water which was really appreciated" --- from Darrel Vorderstrasse and Noemi Epstein
| | |
| --- | --- |
| A 7-seat Minivan | A Toyota Coaster 22-seat Tourist Bus |
"(Drivers & Cars) very professional, with a nice surprise for having two women drivers in Dali and Kunming! All the cars have been clean and comfortable!" --- from Gianpaolo Grella
"We were grateful for our drivers as we watched the traffic fly around us. What an amazing job they did weaving their way in and out of the cities. The vehicles were clean, the air conditioning on, bottles of water ready for us after each excursion" --- from Eldon and Marilyn Hartwick
"The drivers were excellent and the cars were spotless. Mr. Wang in Beijing was very knowledgeable about the real estate market which we found great to learn about" --- from Helen Vose
| | |
| --- | --- |
| TCG's 5-seat Car | A 37-seat Tourist Bus |
- Last modified on Jul. 10, 2019 -
Questions & Answers on Travel Vehicles
Asked by goh from MALAYSIA | Jul. 03, 2014 22:24

Reply
What is your contact number in Chengdu for transportation booking ?
Answers (1)
Answered by TravelChinaGuide | Jul. 04, 2014 01:59

0

1

Reply
Dear Goh,
Thanks for your enquiry! Our contact number is (+86)29 85236688. To book the transportation, we highly recommend you send us an email at booking

travelchinaguide.com. Our operators would respond as soon as possible based on your detailed requirements then.
Best wishes,
TravelChinaGuide