Group & Individual Tour to China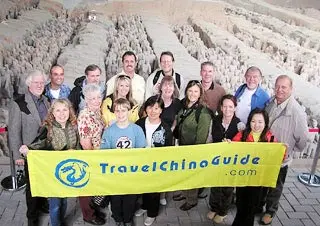 Our Group in Xi'an Terracotta
Warriors and Horses Museum
What is the best way to see China – individual or group travel? Many foreigners find it very difficult in this decision making process. Of course both have their merit and demerit points. It all depends largely on what kind of experience a traveler would want to have. Listed below are some of the advantages for each of the tours and we hope they are able to help in your decision making.
Group Tour: comfortable, safe & guaranteed

Suitable for older and female visitors, visitors with children, first timers to China, those with time constraint and budget visitors.

The easiest and most convenient way of visit at a reasonable price is to join a small tour group. The agency will arrange everything for you, including a detailed itinerary, lodging, meals, visits, entertainment and so on. In a group you share one tourist bus, licensed driver, and a knowledgeable guide with others.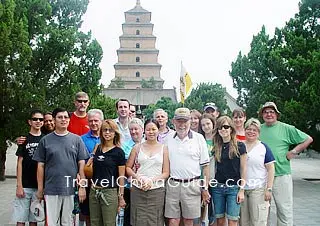 Our Group at Big Wild Goose Pagoda
Regardless of the starting time of the trip, a guide will meet all the members upon arrival. The guide will then accompany the group for the whole duration of the visit in China. Queries can always be directed to the guide throughout the conducted tour.

Tips for group tour:
• Listen to the guide. But be careful though, as some guides will induce you to buy unnecessarily.
• Always stay with the group. If you need to leave, please inform your guide in advance but you are advised against that.
• Always have the hotel contact number and the contacts of the guide in case of lost or
emergency
.
•
Tipping
is not compulsory in China; different travel agencies have different requirements.
• If you feel discomfort when traveling, inform the guide instantly.
• Choose a reliable travel agency!

Further Reading: China Group Tours

Individual Tour: exciting & free
Visitors travel on their own on Xi'an City Wall

Suitable for regular visitors to China, independent visitors, visitors with plenty of time, visitors exploring the varieties of cultures and local customs of China.
The most challenging way to see China is to travel on your own as this will provide the most flexibility and freedom. Without any prearrangement done, it all boils down to your whims and fancies. It may be a little troublesome and time-consuming but challenging enough and offers more chances to get close to see the authentic China and her people, as well as their everyday lives.
However, one is highly recommended to carry out some research well beforehand before departure. Then upon arrival, book the accommodation and the tours as soon as possible.

Tips for individual tour
• Book your hotel in advance; do not wait until the last minute.
• Avoid traveling at night.
• Should you hire a car, remember to get hold of a copy of the contract. Pay 60%-70% first and the balance upon returning the car.
• Keep calm when you have emergencies.
• Always be at the alert and do not fall prey to trickster.

Further Reading: China Private Tours
---

Next: Group Tour VS individual Tour Customized Private Tour offered by TravelChinaGuide
- Last modified on May. 05, 2019 -