China Group Tour Vs. Private Tour
Group tour and private tour are two common travel forms offered by China tour operators. Both have their merit and demerit points. Which one to choose? It depends largely on what kind of travel experience you want to have. As a whole, if you want to save money and do not mind sharing tourism facilities and services with others, or if you like being in the crowds and making friends, group tour will be a nice choice for you. If you wish more to enjoy one-on-one service, focus on personal privacy and freedom, and are fond of tailor-made travel itineraries, private tour is more suitable for you. Of course, you need to pay more money correspondingly.
Group Size: Private Tour Wins!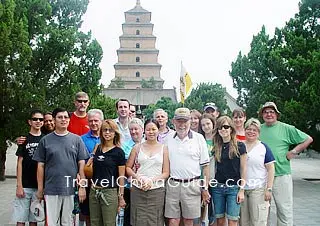 Our Group at Big Wild Goose Pagoda
Private tours wins over group tours in term of their sizes. Generally speaking, a large tour group may contain 30 members or even more. Small tour groups have less than 18 members. Some China tour operators, like TravelChinaGuide, may also launch mini groups that only have 9 members, 6 members or even less so that the tour guide can better serve each guest and enhance their travelling experience. Compared with group tours, the most significant advantage of private tours is their small size. Usually a private tour group is only made up of your families or friends. You will have a private guide and a driver, who are dedicated to serve your private group only. Besides, you don't need to share vehicles with others that you don't know.

Price: Group Tour Wins!
As there are more members in a group tour, they can share the fees for vehicle use and the service charges of the tour guide and the driver. As a result, your cost in the tour is reduced. On the contrary, those who book a private tour enjoy more private services and don't split the bill with others, by which case they need to pay more money. Nevertheless, private tours almost don't have any drawback except that they are relatively expensive.

Friends-making Group Tour Vs. Exclusive Private Tour
Visitors travel on their own on Xi'an City Wall
For those who like to meet different people and make friends with them, group tours provide a good chance. During the tour, they can learn more about others' thoughts and culture, and develop friendship with them. It will be an interesting experience. If you prefer personal privacy, it's better to choose private tours. In this way, you will enjoy more private personal space.

Flexibility: All-set Group Tour Vs. Tailor-made Private Tour
Group tours follow fixed travel itineraries, which are not subject to arbitrary changes. The daily departure time is also prearranged and all group members should comply with it. It's not allowed to leave the group at one's own will. If you do need to leave, you need to tell this to your tour guide and get his or her permission.

If you are joining a private tour, the China tour operator can determine the departure time upon your request. Assuming that you want to get up late in the morning, it's totally fine as long as you have confirmed this with your private guide. Besides, the attractions and activities included in the travel itinerary can be tailor-made according to your personal preference.

Time-saving Perspective
In a large tour group, you have to spend some time waiting for other members. Sometimes, the group members stay in different hotels, and the driver has to pick up them from each hotel. Only after all the group members gather together, the group will set out for the sightseeing. In addition, after the visit in each attraction, all group members are required to gather at the designated place at the appointed time. In fact, there are always some members that are not punctual, which is really annoying, and you have to waste time waiting for them. However, if you book a private tour, you don't need to worry about this problem. The group leaves as long as you and your families or friends gather together. No time is wasted.

Guide Service
No matter you join a group tour or a private tour, there will be a guide serving you and giving detailed introductions to the destinations and attractions. The difference is that, in a tour group, the guide is responsible for all the members so that you may not enjoy the most considerate services. On the contrary, the guide in a private tour serves less people and can offer more customized services. They can answer your questions patiently and be more helpful in solving your problems. When touring the attractions, you can stay closer to the tour guides so that you can hear the interpretation more clearly.



Further Reading:
China Guided Tour Vs. Independent Tour
Shopping Vs. No-Shopping Tours in China
Tipping in China: Tipping When Joining a China Tour
China Private Tours
- Last updated on Nov. 04, 2021 -