Tour Guide - Lily Du
Hello! It's my great honor to have this opportunity to introduce myself.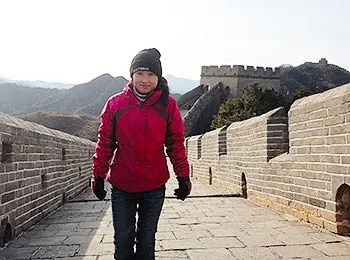 Lily Du on the Great Wall in Beijing
My Chinese name is Lili Du and I gave myself a similar English name, Lily. Wish I smile like a Lily flower, too. I am 30 years old. I have a harmonious and happy family. They always support me and I love them very much. I was born in northeastern China, the coldest part of China but with beautiful ice and snow carvings. I hope someday you can go there and enjoy the amazing co-operative art works of nature and human beings. I am a friendly, energetic, responsible, patient and reliable person. In my spare time, I like reading, listening to music, drawing and traveling.

When I was young, I found I liked myself like learning different languages. Learning and speaking different languages made me very happy. So I went to a foreign language school (Tongji Translation Institute) in September 2003 for study, majoring in English. My school life was busy and happy. I studied very hard and acquired good language skills. In my spare time, I worked as salesgirl and waitress to get some social experiences and communication skills.

I got my bachelor's degree after 3 years' study, and graduated in August, 2006. I first worked as an English teacher in a school. I was happy to be with my students. I liked to inspire them by telling stories in English, taught them to be creative and learn to think on their own and in different ways, and made learning an interesting thing for them to do. They were happy in my class.

In order to learn more and widen my horizon, I left the school and became an English explainer. It was a good chance to improve my oral English and share my knowledge with others. I made a lot of friends and improved a lot.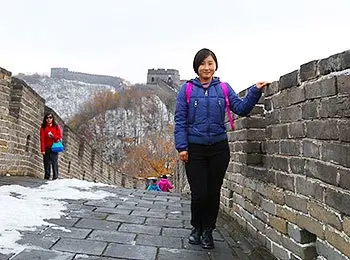 I kept challenging myself I left the work in March, 2013 and started my career as an English tour guide. I love my current work very much, flexible and happy. It's such an amazing thing to meet people from other parts of the world, introduce my place to them, and make friends with them. I have received thousands of tourists from many parts of the world.

I have been in Beijing for over ten years. I know well about its history, culture, and highlights like Tiananmen Square, the Forbidden City, Temple of Heaven, Summer Palace, Ming Tombs, Great Wall, roast duck…I can take you to enjoy delicious local dishes, and visit places of interest. I can show you its different aspects: an ancient capital full of world wonders, a modern metropolis full of vigor. I can also take you to sample the daily lives of common Beijing people.

I am happy to share all my experience and information about Beijing and China with tourists from all over the world. I always try my best to offer my guests a happy China trip with patience and passion. Thanks for all the tourists I've met, and I welcome new friends to Beijing! I believe we will have a great time together!
- Last modified on Apr. 14, 2021 -