Tour Guide - Candy Lin
Hi my dear friends,
I am Candy Lin, a professional English tour guide based in Beijing. I have been working for TravelChinaGuide.com since 2012, an amazing tour company full of vigor. I appreciate my company very much, because she gives me more opportunities to improve myself and fulfill my dreams.
| | |
| --- | --- |
| Our Tour Guide - Candy Lin | Candy with Our Guest in Beijing |
I was born in Huairou District, Beijing, a beautiful city and the capital for Liao, Jin, Yuan, Ming, Qing five dynasties. I love Beijing's culture and history and would like to introduce them to my guests.

My university major is Management of Tourism. When I was a university student, our professor told me: "Travel makes people know the things they have never known before. As a future tour guide and 'Folk Ambassador', your duty is to spread culture appreciation." I want to spread Chinese culture around the world, so I studied very hard.

I love my job very much after becoming an English tour guide. Every day I meet many friends coming from all over the world with different cultural backgrounds. When they visit Beijing, I feel so happy to introduce them to the rich culture of Beijing, which is totally different from theirs and attracts them a lot!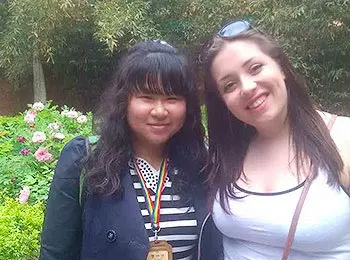 During my work, I myself also get improved and learn how to better serve my guests. All my guests are coming to a strange country where they have no friends, and they can't speak the local language. If encountering any difficulties, they feel very helpless. So as the only one person they know in this city, I always try my best to help them.

I remember very clearly that on a day in July, 2014, I received a couple from New Zealand. The lady was 75 years old, and her husband was 78 years old. That was the first time they had been to Beijing. The attractions on their tour itinerary didn't include the Bird's Nest and Water Cube. But when we passed by on the way back from Great Wall, the lady was so excited to see them and asked me if we could stop for a while so as to get a better view of the Water Cube, the Beijing Olympic Swimming Pool. She told me the reason. She was the Champion of swimming in the 16th Summer Olympic Games in Melbourne in 1956. It was her first time to China, and the first time to Beijing. She had special feelings for Olympic venues and wanted to see the Beijing Olympic swimming pool. I was pleased to make her dream come true. We stopped there and visited the Water Cube and Bird's Nest. That day the couple were so happy, so was I as they appreciated my work so much.

I will keep studying and improving myself to provide better and better service for my guests. I know for some friends it is the first time and the only time in their life to visit China. I don't want any of them to leave with regrets; it's my wish to help all our guests. I will make their trip to Beijing a joyful and memorable one.

Dear friends, welcome to China, and welcome to Beijing! I will try my best to help you to have a nice trip here!
- Last modified on Apr. 14, 2021 -