Tour Guide - Guan
My name is Guan Lian - you can just call me Guan. I'm originally from Guizhou Province. I chose to come to the Guilin Institute of Tourism after high school in 1999 because I had always dreamed of Guilin. Through some effort and application, I managed to come to Guilin and settle down here. My wife is from Guilin and we have a 2-year-old baby girl. We have such a happy family life in this city.

After I came to Guilin, I worked at a private language school for a year. There were about 5 Americans in the school with whom I was able to improve my spoken English. Now, I can communicate with foreign friends in English fluently. My second job was at a hotel in Beijing. This was a hard time as the job didn't turn out the way I expected. Finally I returned to Guilin and now I'm a full time tour guide with 6 years' experience. I like my job very much. I have made a lot of friends through my work.
| | |
| --- | --- |
| Guan in the Reed Flute Cave, Guilin | Guan at the Dragon's Backbone Terraces |
Being a tour guide, I never feel more happy and satisfied as when I am in a city that I like, taking people to beautiful sites. Seeing my tourists' happiness makes me even happier. It is a kind of exciting thing to do sometimes I feel as my job is to make people happy at these beautiful areas and actually I myself love the places that I take people to. When I am with a group, I try to treat them as friends or my relatives from my hometown, telling people about the city, about the Li River, about the natural beauty and how much you love the people and food here.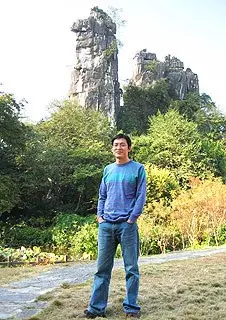 Our Tour Guide - Guan
For my group in Guilin, I want to show them something different. I think there are two things they always like to do. One is cormorant fishing. The fishermen traditionally fish by training the cormorants to fish for them. The other thing visitors like is the countryside tour, to ride a bicycle or take the electric car through the picturesque countryside of Yangshuo, visiting a local farmer's house, rice fields, fruit gardens and seeing the water buffalos.
When I guide my group, I find they like to know more about minority culture here. So I like to sing on the bus some of the folk songs of the Zhuang minority people, and tell them how the Yao minority people grow their hair long. I often guide the group to the Dragon's Bone (Longji) Terraced Fields, where the Zhuang and Yao minority people live. Hiking and visiting the minority people's houses is always an interest thing to do there.
I have guided tourists from UK, Australia, USA, Canada, France, India and other foreign countries, so I believe my groups will surely enjoy their stay in Guilin with me. Welcome to Guilin and I look forward to meeting you at the airport of Guilin. You won't be disappointed about your journey in this city.
- Last modified on Apr. 14, 2021 -