Tour Guide - Jacky Dong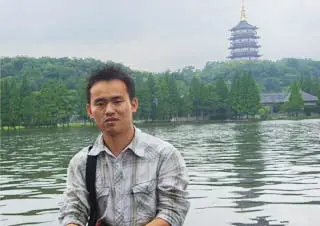 Jacky Dong at the West Lake, Hangzhou
I am Dong. Jacky is my English name. You can call me Jacky if you feel it is easier to you. I am an English speaking tour guide in Xi'an. I have been a tour guide for 5 years.
I love my job, because from this job, I can introduce China to my guests, and they will know more about the Chinese culture, history and traditions. I have also made lots of good friends through this job. My guests are from all over the world such as America, UK, Canada, Australia, New Zealand and European countries like Germany, Spain, France and some Asian countries like Singapore, Malaysia and India. Some of my guests are from Africa. I do my best to make their trip in Xi'an perfect and tell them everything they want to know and need to know about Xi'an and China.
As a tour guide, I not only introduce Chinese culture and history, but also tell them some knowledge about Chinese food and customs in people's daily life, which is also very important to the visitors. I still remember that about a year ago, there was a group came to me. They were a couple. Beijing was their first stop, and Xi'an was the second. They stayed in Xi'an for 3 days. When I picked them up at the airport, they asked me to find some western restaurants for them. I was confused and asked: "Don't you like Chinese food?" They said: "No. We don't like Chinese food." I asked for the reason. They said that they heard the Chinese people eat everything, and the Chinese dishes look especially strange, so they never eat Chinese food. I told them some knowledge about Chinese food, and suggested they have a try, but they didn't want to do so.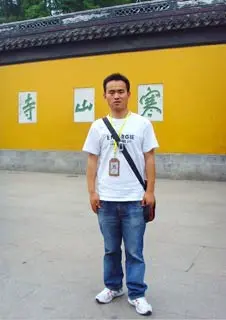 Jacky Dong in
Hanshan Temple, Suzhou
During the first two days in Xi'an, they just ate McDonald's or KFC which they knew was not healthy. On the last day, they had a little free time. I showed them around the city. When we passed a local restaurant, I suggested they try some food. They still didn't want to try. I persuaded them: "If you have never tried, then how do you know you don't like it?" At last, they gave up their objection and went with me to eat the local food. What a surprise! They ate a lot, even more than I did. After the meal, they said that it was the first time for them to have Chinese food which had the best taste they had ever tried, and from then on they would eat Chinese food only. I felt very happy, just because they were happy to have Chinese food. When they left Xi'an, they said that they had had an excellent trip here which makes me very happy.
Making sure that my guests have an excellent tour in Xi'an is always my aim. I am open-minded, easy-going and good at Chinese history and culture. I can speak fluent English, and have lots of old and new stories about this ancient capital city - Xi'an. Follow my guidance and listen to my stories, you will have a better understanding about China!
China has opened the door to the world for more than 30 years. There are millions of visitors come every year to Xi'an China to see how beautiful it is. Will you be the next one? If you are ready, just come. I am waiting for you in Xi'an, and I am sure you will have a wonderful trip!
- Last modified on Apr. 11, 2019 -