Tour Guide - Celine Yang
Hi, my name is Celine, the same as the famous singer Celine Dion, very easy to remember. One of my English teachers gave this name to me as it has a similar pronunciation to my Chinese name, Xin Lin.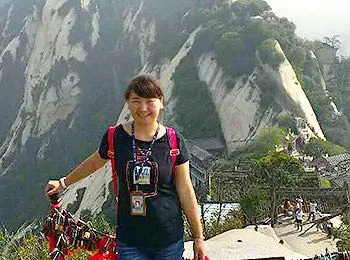 Celine on Mt. Huashan
I graduated from Xi'an International Studies University in 2008 and my major is English. When I first came to Xi'an in 2004 for study, I passed by the Bell Tower and ancient City Wall on the way to my campus. They were so amazing that made me fall in love with them at the very first glance. Then, I saw a guide holding a small flag on the City Wall, saying something to her overseas clients. Till today, I can recall the pride on her face and the happiness from her clients. What a nice job to introduce something you love to others! From then on, I decided to be a tour guide. After four years' study, life in Xi'an made me love the city even more, so I settled down here after graduation and started my career as a tour guide.

I was born in Inner Mongolia, famous for the vast grassland, nomadic culture, delicious food, and enthusiastic people. As a native Inner Mongolian, I am also very enthusiastic. Besides, I am easygoing, friendly, and good at communicating with others. So you will feel relaxed and happy to stay with me.

I have many hobbies, reading, listening to music, jogging… But my favorite is travel and I dream to travel all around the world. I always take time to travel to places with beautiful scenery and historical relics. Travel is beneficial for me in many ways: it strengthens my body and keeps me healthy; it widens my horizon so I have more common languages with my clients; it helps me know what a traveler really wants during his/her visit to a strange place so I can better assist my clients…

I started working for TravelChinaGuide.com in 2012 and I really enjoy my work here. TravelChinaGuide.com is like a big family and I feel very proud to be a member of this big family. This kind of pride makes me more passionate to work.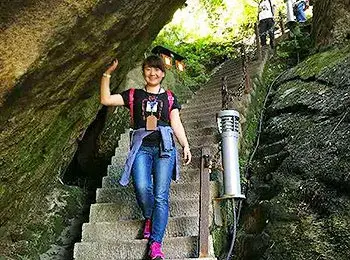 I am glad to communicate with visitors from other countries, and take them around Xi'an. Many tourists have asked me: "Don't you think it boring to visit the same things over and over again every day from morning to evening?" I said "No, because every day I am meeting different people and making friends with this whole world; also, I am spreading Chinese culture and helping more and more people to know this amazing land better." When I see the big smile from my clients, I will feel so satisfied.

Xi'an, with a history of over 5,000 years and abundant cultural relics, is a "giant museum". I would like to be its culture ambassador to show you around the famous scenic spots and tell you the stories behind each of them. I am glad to be your friend here and help you have a happy and unforgettable China trip. Welcome to Xi'an! I'm waiting for you!
- Last modified on Apr. 14, 2021 -