Nanjing Travel Guide
Nanjing Facts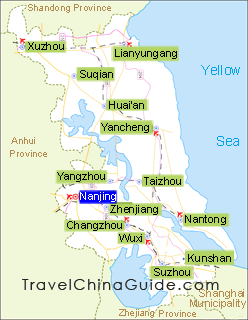 Lying on the south bank of the Yangtze River, Nanjing, the capital of Jiangsu Province, is one of the most delightful destinations in China. Known as the capital city of six or ten dynasties in ancient Chinese history, it has a brilliant cultural heritage.

Yuecheng, the first recorded military defense constructed in early 472 B.C., opened the long history of Nanjing. In the following years, the city reached its height of splendor at various times. In 229, Sun Quan, one of the three heroes in Three Kingdoms Period (220 - 280), to strengthen his influence in the middle valley of the Yangtze River, moved the capital of his kingdom here and named it Jianye. From that time on, the city served as the capital for several dynasties in history. In 1356, in a peasant rebellion, Zhu Yuanzhang, later the Emperor Taizu of the Ming Dynasty (1368 - 1644), conquered the city and renamed it Yingtian Fu. In 1368, Zhu established the Ming Dynasty - the last feudal dynasty ruled by the native Han people - and gave Yingtian Fu the new name of the city. Ten years later, the emperor made it the capital of the country. The Mausoleum of Emperor Zhu Yuanzhang, usually known as Xiaoling Mausoleum of Ming Dynasty, is perching on the southern slope of the Purple Mountain in the northeastern part of the city.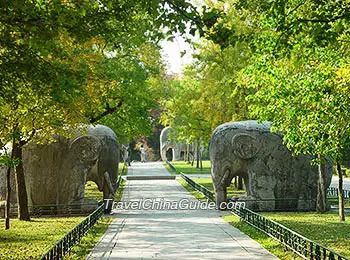 Xiaoling Mausoleum of Ming Dynasty
Following officials' advice of "building walls and producing grain to consolidate the rule", the emperor ordered the construction of city walls. Today's majestic walls in the city, the longest of its kind in the world, are the result of that phase of construction. Zhonghua Gate, simply meaning 'Chinese Gate', is a noted attraction for visitors in the present city center.
In spite of its glorious times, the city also witnessed the hardest moment of this nation. In 1839, the Opium War burst out after Lin Zexu, an assiduous official, burnt twenty thousand boxes of opium in Humen. On a battleship in Xiaguan of the city, the corrupt Qing government, under threat by Britain troops, signed the notorious Nanjing Treaty, the first of the 'Unequal Treaties' which ceded Hong Kong away from China for more than hundred years. Following this treaty, invasions and colonial rule of the western countries intensified and China sank into a harder and darker time.
Peasant groups of Taiping rebelled against the Qing government in 1853 and established the Taiping Heavenly Kingdom in this region, the name of the metropolis at that time, and formed an army. Unfortunately, the peasant regime was short-lived and in 1864, troops of Qing government won the city back. Nowadays, in Xuyuan Garden, which is within the Presidential Palace, one can still see part of the former residence of the Heavenly King of Taiping Heavenly Kingdom.It was the Revolution of 1911, the Chinese bourgeois democratic revolution led by Dr.Sun Yat-Sen that overthrew the Qing Dynasty. On the first day of 1912, Dr. Sun Yet-sen gave his simple but sublime address on the inauguration held of the new Republic of China. Today, a memorial hall in Dr. Sun Yat-Sen's Mausoleum, houses a statue of Dr. Sun sculpted out of white marble.
On April 18th, 1927, Chiang Kaishek launched the counter-revolutionary 4.12 Coup and established his power in the city. Also, in 1937, the inhuman Nanjing Massacre happened. In six weeks, more than 300,000 Chinese people were killed including women and children.No atrocity can go unpunished. In 1945 the Chinese people eventually drove the barbarous Japanese army out of China and the war criminals got what they deserved. However the atrocity left a deep scar on the city. Pictures of Japanese soldiers taken by Japanese photographers are exhibited in the
Memorial Hall to the Victims in the Nanjing Massacre
.
Historical Sights
Cultural Sights
In addition to historical sights, memorials, museums and cultural sights also attract thousands of visitors. The famous Confucius Temple (Fuzimiao) is not only a memorial place for the Great Sage but has a surrounding area bustling with shops, restaurants and a snack street housed in traditional architectural buildings. The nearby Imperial Examination Museum of China (Jiangnan Examination Hall) and Former Residence of the Wang and Xie Families have seen their best days in ancient times. In the city center, Nanjing Museum is a must for visitors with a collection of more than 420 thousand pieces, including about 2,000 that are rare and valued. The Zijinshan Observatory (Purple Mountain Observatory) to the east of the city center was the first modern observatory built in China.
| | |
| --- | --- |
| Qinhuai River | Dr. Sun Yat-sen's Mausoleum |
Qinhuai River, in the southwest of the city, extends one hundred kilometers. The river used to be the most flourishing part of the city in the old days. In many Chinese novels, it is renowned as a place which nurtured beauties and romance. Today, it is a place for people to recall the old splendor of this historical city. Like all sights here, it tells the story of past, present and future of the city.

Other Attractions
| | |
| --- | --- |
| Zhanyuan Garden | Confucius Temple |
Nanjing Tours
Picturesque South China Towns: 8 days of Shanghai - Hangzhou - Suzhou - Wuxi - Nanjing
Hiking Adventure Bicycle Route



More China Tour Packages
Like most major cities in the country, Nanjing is developing rapidly. Great changes have taken place in the city. Modern highways and railways connect the city with most major cities throughout the country and it is becoming a sparkling metropolis akin to Shanghai and Beijing with skyscrapers, luxury hotels, fashion shopping malls, supermarkets and highly-developed economic zones throughout the city. Transport in the city is very convenient with the new metro service in addition to taxis, public buses, tourist special lines and other means of transport. Modern amenities in luxury hotels make your stay a comfortable one. Dazzling shopping malls and department stores can be found in the commercial areas of the city with stocked plenty of international brand names. The city is also home to several colleges and universities and a large foreign population. The city is become an international metropolis with new faces every day.



Since Jan. 30, 2016, the 144-Hour Visa-Free Policy has been implemented in the city to facilitate passport holders of 53 countries and regions to enjoy a visa-free stay up to 144 hours when taking an international transfer via Lukou Airport, and passengers can travel to Shanghai and Zhejiang as well.
Read details about 144-Hour Visa-Free Transit.
- Last modified on Mar. 26, 2019 -
Questions & Answers on Nanjing Travel
Asked by History buff from U.S. | May. 19, 2019 02:34

Reply
What is the closest Metro stop for Zheng He Treasure Ship Park? How far is it from the Park?
Asked by Romain from FRANCE | Mar. 21, 2019 03:14

Reply
Is there any direct buses from Nanjing to Jiuhuashan ?
Answers (3)
Answered by Agatha from UNITED KINGDOM | Mar. 25, 2019 19:23

0

0

Reply
Yes, you can take the direct coach from the Main Coach Station, which is located at No.1, South Hongshan Road, Xuanwu District. They depart at 07:40, 11:30, 14:00 and 16:00. The ticket fare is CNY79/person. The duration is around 3 hours.
Answered by Romain from FRANCE | Mar. 26, 2019 02:32

0

0

Reply
Thank you very much for your reply and do you know any accomodation near jiuhuashan ?
Answered by Agatha | Mar. 26, 2019 20:01

0

0

Reply
You can easily find hotels in Qingyang County. For example, Huating Shanzhuang Hotel is recommended. It is located at No.2, Baima New Village, Jiuhuashan Scenic area, Qingyang County.
Asked by Purple from SINGAPORE | Feb. 21, 2019 16:34

Reply
What is the easiest way to get to Nanjing Purple Mountain from South Railway Station?
Answers (1)
Answered by Jule from CANADA | Feb. 21, 2019 17:49

0

0

Reply
You can take metro line 3 from South Railway Station to Jiming Temple Station, Exit 4. Then transfer to bus no.20 to Zijinshan Cable Car Station.
Asked by GO from SINGAPORE | Feb. 14, 2019 18:50

Reply
From Shanghai to Nanjing South Station
Pls advice,
1) The most convenient station to take Non-stop train to NJ South Station as I'm staying next to Yu Garden Station in Shanghai on 28th Mar 19
2) Schedule to travel to NJ on 29th Mar 19 for 2 Adult what is the rate for 2nd Class seat and the travel duration required.
3) Can we pick up our train tickets upon arrival at Shanghai Pudong International Airport or you can advise me where can I pick up my train tickets.
4) If we collect our train tickets 1 days in advance what time do I need to arrival at the train station.

Thank you.
Answers (1)
Answered by Charlotte from CANADA | Feb. 19, 2019 23:19

0

0

Reply
1. You are suggested to take a bullet train from Shanghai Hongqiao Railway Station to NJ South Railway Station. From Yu Garden, take metro line 10 to Hongqiao Railway Station directly.
2. The duration is around an hour on the way. For one person, the ticket fare of 1st Class Seat is CNY229.5, 2nd Class Seat is CNY134.5 and Business Cls. Seat is CNY429.5.
3. You can collect the train tickets at Hongqiao Railway Station.
4. Generally speaking, you are suggested to arrive at the railway station 30-60mins in advance.
Asked by phueser from GERMANY | Feb. 01, 2019 00:39

Reply
What is the easiest way to get to Nanjing Purple Mountain from Xinjiekou metro station?
Thanks.
Answers (1)
Answered by Jayce from CANADA | Feb. 03, 2019 00:45

0

0

Reply
Take metro line 1 from Xinjiekou to Gulou. Then transfer to metro line 4 to Jiangwangmiao, Exit 1. Then walk to the scenic area.