Nanjing Travel Guide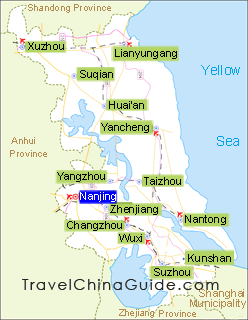 Chinese Name: 南京 (nán jīng)
Population: 8,500,000
Area: 6587.02 square kilometers (2,543.26 square kilometers)
Location: in the south of Jiangsu Province, east China
Administrative Division: 11 districts (Xuanwu, Qinhuai, Jianye, Gulou, Qixia. Yuhuatai, Jiangning, Pukou, Liuhe, Lishui, Gaochun)
Area Code: 025
Zip Code: 210000 - 211800
GDP (2019): CNY 1,403.015 billion (USD 203.365 billion)
Famous Communication Center with Impressive Historical Heritage
Lying on the south bank of the Yangtze River, Nanjing, the capital of Jiangsu Province, is one of the most delightful destinations in China. It is easy to get to Nanjing by bullet train and air as it is one of the China's key transport centers. Known as the capital city of six dynasties in ancient Chinese history including Kingdom of Wu (222 – 280), Eastern Jin (317 - 420) and four states of Southern Dynasties (420 - 589): Song, Qi, Liang and Chen, it has a lot of brilliant cultural heritage sites. You can see the ancient city walls and the old educational center Confucius Temple as well as architecture in the period of the Republic of China here. Many resorts, natural attractions and amusement parks also cannot be ignored.

Now Nanjing is an important national science and education center and the number of various institutions of higher education is second only to Beijing. Travelers can easily get a leisurely stroll on the boulevards lined with lush trees near those old campuses. Also, you cannot miss the museums with abundant collections and remember to taste the local Nanjing snacks like Nanjing Steamed Duck and Salted Duck.
Nanjing served as the capital of 6 dynasties from the Kingdom of Wu (220 - 280) to Southern Dynasties. The early Ming Dynasty (1368 - 1644) is the last feudal dynasty that found capital in Nanjing but then the third emperor Ming Chengzu (Zhu Di) moved the capital to Beijing in 1421. In spite of its glorious times, Nanjing witnessed the historical vicissitude of modern China, from the Opium War in 1839, the Taiping Heavenly Kingdom rebelling against the Qing Dynasty (1636 - 1912) in 1853 to the establishment of the provisional government of the Republic of China by Dr. Sun Yet-sen in 1912. Nevertheless, it also witnessed the hardest moment of this nation, the inhuman Nanjing Massacre that more than 300,000 Chinese common people were killed including women and children by Japanese army in 1937. Carried profound history but also deep suffering past, Nanjing now has transformed into a developed industrial city.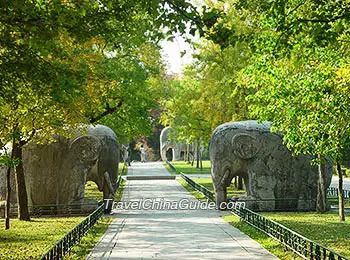 Xiaoling Mausoleum of Ming Dynasty
Historical Sights
Cultural Sights
In addition to historical sights, memorials, museums and cultural sights also attract thousands of visitors. The famous Confucius Temple (Fuzimiao) is not only a memorial place for the Great Sage but has a surrounding area bustling with shops, restaurants and a snack street housed in traditional architectural buildings. The nearby Imperial Examination Museum of China (Jiangnan Examination Hall) and Former Residence of the Wang and Xie Families have seen their best days in ancient times. In the city center, Nanjing Museum is a must for visitors with a collection of more than 420 thousand pieces, including about 2,000 that are rare and valued. The Zijinshan Observatory (Purple Mountain Observatory) to the east of the city center was the first modern observatory built in China.
| | |
| --- | --- |
| Qinhuai River | Dr. Sun Yat-sen's Mausoleum |
Qinhuai River, in the southwest of the city, extends one hundred kilometers. The river used to be the most flourishing part of the city in the old days. In many Chinese novels, it is renowned as a place which nurtured beauties and romance. Today, it is a place for people to recall the old splendor of this historical city. Like all sights here, it tells the story of past, present and future of the city.

Other Attractions

See also:
Top 10 Things to Do in Nanjing
12 Best Places to Visit in Nanjing
| | |
| --- | --- |
| Zhanyuan Garden | Confucius Temple |
Nanjing Tours
Picturesque South China Towns: 8 days of Shanghai - Hangzhou - Suzhou - Wuxi - Nanjing
Hiking Adventure Bicycle Route



More China Tour Packages
Like most major cities in the country, Nanjing is developing rapidly. Great changes have taken place in the city. Modern highways and railways connect the city with most major cities throughout the country and it is becoming a sparkling metropolis akin to Shanghai and Beijing with skyscrapers, luxury hotels, fashion shopping malls, supermarkets and highly-developed economic zones throughout the city. Transport in the city is very convenient with the new metro service in addition to taxis, public buses, tourist special lines and other means of transport. Modern amenities in luxury hotels make your stay a comfortable one. Dazzling shopping malls and department stores can be found in the commercial areas of the city with stocked plenty of international brand names. The city is also home to several colleges and universities and a large foreign population. The city is become an international metropolis with new faces every day.



Since Jan. 30, 2016, the 144-Hour Visa-Free Policy has been implemented in the city to facilitate passport holders of 53 countries and regions to enjoy a visa-free stay up to 144 hours when taking an international transfer via Lukou Airport, and passengers can travel to Shanghai and Zhejiang as well.
Read details about 144-Hour Visa-Free Transit.
You May Like
10 Best Cities in China for Budget Travelers
15 Important Cities in China for Business Travel
- Last updated on Mar. 17, 2021 -
Questions & Answers on Nanjing Travel
Asked by Stephen Sexton from CHINA | Sep. 09, 2020 18:50

Reply
Xianlin to Nanjing Bei by bus?
Is there a bus route from Xianlin to the National Innovation Park for Modern Agritechnology in Nanjing Bei (near Pukuo)?
Answers (1)
Answered by Julian | Sep. 23, 2020 23:09

0

0

Reply
It is suggested to take metro line 2 to Yuantong Station and transfer to metro line 10 to Yushan Road Station, Exit 5. Then take bus no.685 to Xingzhi Road Puyun Road Bus Stop. After arriving, walk east around 150 to find the destination.
Asked by Yibu from SAUDI ARABIA | Dec. 21, 2019 22:50

Reply
One night in Nanjing where I must to go ?
Answers (1)
Answered by Lisa from THAILAND | Dec. 24, 2019 18:35

0

0

Reply
It is recommended to go to Fuzi Temple-Qinhuai River area so you can appreciate the night view and taste local cuisine.
Asked by Jerry Ng from SINGAPORE | Dec. 19, 2019 23:43

Reply
I wish to travel from Shanghai to Nanjing in early March.
Pls tell how far is Shanghai to there by car, by train. Jerry Ng, Singapore
Answers (1)
Answered by Mars from UNITED KINGDOM | Dec. 23, 2019 01:41

0

0

Reply
The distance is around 300km between these two places. The most common way is to take bullet train and it takes around 1.5-2 hours.
Asked by Leon from AUSTRALIA | Nov. 11, 2019 11:58

Reply
What is the most efficient way to travel to Niushoushan from Nanjing city? Is there a dedicated bus?
Answers (3)
Answered by Jes from SINGAPORE | Nov. 12, 2019 19:13

0

0

Reply
I have just visited Nuishoushan and I am not able to book a taxi/cab from the hotel as most taxi will not travel to this location. The easiest way is by Metro and bus. You can take S1 to Hehai University West Focheng Road Station and ask the Metro staff which exit is near to the bus stop that goes to Nuishoushan. Once you have exit the Metro station, there is a bus stop directly in front of the Station and you can take bus G70 or 754 to Nuishoushan which is the last stop. There will be some taxi/cabs outside the Metro which can take you to Nuishoushan.

After visiting the place, if you are lucky, you can get a taxi/cab back to Nanjing city alternatively,
you can take the bus back to the Metro and back to the city. (Bus stop is on the opposite side).
Answered by Leon from AUSTRALIA | Nov. 13, 2019 19:32

0

0

Reply
Thanks for this. Do you think this is possible for someone who speaks no Chinese at all?
Answered by Liz from SINGAPORE | Nov. 14, 2019 17:17

0

0

Reply
To be honest, I'm not sure whether you can handle it. But it doesn't hurt to have a try.
Asked by Uthaiwan from THAILAND | Nov. 06, 2019 01:03

Reply
Niushoushan Forestal Park
Where is in Nanjing? , and What is this place?
Answers (1)
Answered by Mason from GERMANY | Nov. 07, 2019 22:47

0

0

Reply
It is located at Niushoushan Scenic Area, Jiangning District, Nanjing City.