Nanjing Train
Nanjing is a railway hub with two main train stations in the city: Nanjing Railway Station and South Railway Station.

The Nanjing Railway Station is the main passenger station and all trains on transit stop here for connecting passengers to board. The South Railway Station is one of the five major stops on Beijing-Shanghai High Speed Railway.

Currently, the city has been connected with most cities in China by railway lines, like Beijing, Shanghai, Suzhou, Hangzhou, Xiamen, and Chengdu.



Major Rail Lines from the City to:

See more Nanjing Train Schedule

Nanjing Railway Station
Established in September 1968, it is located in the north of the old city. The station building has one floor below ground and three floors above ground. There are luggage room, ticket hall and VIP lounge arranged from west to east on the first floor. The arrival platforms, common waiting rooms and special waiting rooms for baby, soldier and 158 ateliers are on the second floor. The entire third floor is a waiting area. There are food vendors, a small convenience store, and a KFC on the floor underground.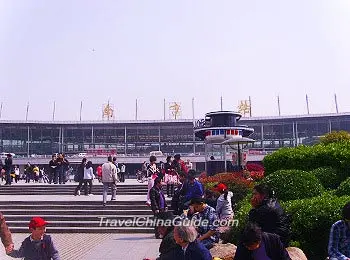 Nanjing Railway Station

Enter the Station
G-train tickets holders (G7001-G7043, G7101-G7195) enter the waiting rooms No.2 and No.4 through the special entrance for G-train on the second floor. While D-train tickets holders enter the VIP waiting room on the first floor. Passengers who hold other tickets are guided to waiting rooms shown on the second floor information screen.

Buying Train Tickets
Tickets are sold at the ticket windows at the train station and city ticket agencies. You can purchase them with a valid ID certificate like a passport. The main ticket offices are:
Xinjiekou Ticket Office: 129, Hanzhong Lu, Xinjiekou
Zhongshan East Road Ticket Office: 50, Ruijin Lu
Drum Tower Post Office Ticket Office: 336, Zhongshan Lu
Zhongshan North Ticket Office: Provincial Tour Office, 225-1, Zhongshan Bei Lu
China Unicom Ticket Office: 32, Zhongyang Road

Transportation


By subway: Line 1 takes you to Nanjing Railway Station directly. From the metro's Exit 4, passengers can walk into the railway station directly. When you arrive in the city by train, you can go directly into the subway from the train station.


By taxi: Taxis stands are on the 2nd floor outside the station and underground next to the subway station. The taxis underground take passengers into the city only. Taxi fare will be about CNY130-150 from Nanjing Railway Station to the airport. Airport shuttle bus line 1 can directly take you from Nanjing Railway Station to the airport and it costs CNY20. You can also take subway to Zhonghuamen first and then take the airport shuttle bus line 2 to the airport. The subway fare is about CNY2 and the shuttle bus fare is CNY20.


By city-bus: Nos.1, 10, 13, 17, 22, 28, 32, 33, 36, 44, 45, 56, 59, 64, 66, 71, 73, 97, 130, 136, 141, 143, 157, 159, 173, 309, 318, 801, 808, 809, 810, 811, 813, 815, 817, 819, 823, Line Nanxi, Nanzhou, Yuliu, Yuge, Nanshang, Nantang, Jinnan, Nanguang, Lukou airport express

Service Facilities
The station has automatic consultation, automatic deposit charter, automatic teller machines and cell phones fast charge equipment. Its information center targets one phone platform for handling integrated services. For special needs passengers, the station sets up a series of special wickets for disabled, emergency, bilingual and group. It also provides medical service for contingencies. You can easily reach them with the guide sign. The directional signs are labeled in English.

Nanjing South Railway Station
It is bounded by Shuanglong Road, Airport Freeway, Bypass Highway and New Qinhuai River, in an area of two square kilometers. Currently, it is served by the Beijing-Shanghai High-Speed Railway, Shanghai-Nanjing Intercity Railway, Hangning Passenger Railway (Hangzhou-Nanjing) and the Hu-Han-Rong (Shanghai-Wuhan-Chengdu) Railways. It is one of the largest railway hub in Asia, some 5 times larger than that of Nanjing Railway Station. Nanjing plans to build a first-grade passenger south station with subway Line 1, 3 and 6 intersecting at the station. There are trains going to Shanghai, Nanchang, Huangshan and Hangzhou from Nanjing South Railway Station everyday. Nanyan Line of Subway Line 1 can take passengers from downtown area to the railway station conveniently.



Railway Station Transfer Service