Nanjing Transportation
Nanjing is a comprehensive national communication hub. Its external traffic extends in all directions, including airline, railway and highway, etc. Its internal traffic has developed into a system, consisting of metro, city bus, taxi and ferry, etc. However, the internal traffic does not seem to satisfy the citizens' demands and traffic jams happen now and then, especially during rush hours and in busy areas. The government has speeded up the construction of traffic infrastructures to solve the problem.
Air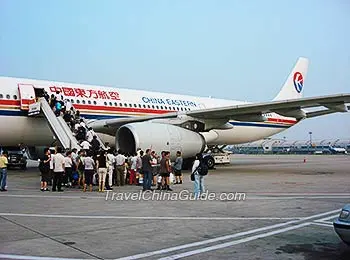 Lukou Airport
Nanjing Lukou International Airport is the "Gate" of Jiangsu Province, the third largest airport in eastern China and one of main air hubs in the country. Currently, it operates over 130 air routes to 54 domestic destinations and more than 20 international destinations. For passengers' convenience, there are not only shuttle buses running between the airport and downtown area, but also buses between the airport and nearby cities like Huai'an, Yangzhong, and Shuyang, etc. See detailed information: Nanjing Airport Transport to Nearby Cities

Nanjing Flights

Nanjing Ma'an International Airport, the second international airport in Nanjing, is built to mainly serve the northern part of Jiangsu Province and northeast part of Anhui Province. It serves as a military airport, and will be open to civil airlines in the future . It is located in Ma'an Street, Liuhe District, Nanjing City, Jiangsu Province which will be about 50 kilometers (31 miles) away from downtown Nanjing. City Bus and Taxi run between airport and downtown.


Nanjing is an important meeting point of the country's north-south and east-west railway trunks, which connects northern, eastern and middle regions of the country. The passenger transportation is handled at two railway stations: Nanjing Railway Station is operating regular and partial high-speed trains and South Railway Station is operating high speed ones.
Presently, Nanjing Metro line 1, line 2, line 3, line 4, line 10, line S1, line S3, line S8 and line S9 have been opened. Meanwhile, there are several lines under construction, line 5, line 7 and line S7. By 2030, there will be 24 Nanjing metro lines serving the citizens.

Metro Maps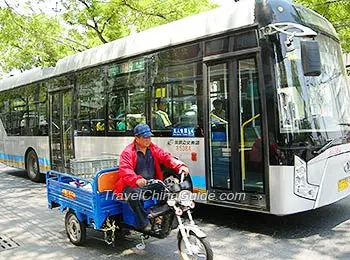 City Bus
Compared with the metro, city buses are more flexible. They can take passengers almost anywhere they want in the city. The ticket fare is CNY 1 for regular buses and CNY 2 for air-conditioned ones.

Bus / Metro Search

Taxi
There are almost 20,000 taxis in the city. Compared with big cities like Beijing and Shanghai, it is not difficult to hire one. Four types of taxis are serving people nowadays: regular ones, British type, mid-range cars (Camry, Teana, etc.), and electric cars. See the table to find the charges:
| Type | Flag-down Rate | Unit Price for Each Extra Kilometer | Waiting Fee for Every 5 minutes | Fuel Fee |
| --- | --- | --- | --- | --- |
| Regular Cars | CNY9 for the first 3km (2mi) | CNY2.4 | CNY2.4 | CNY1 |
| British Cars | CNY9 for the first 2km (1.2mi) | CNY2.9 | CNY2.9 | CNY1 |
| Mid-range Cars | CNY9 for the first 2.5km (1.6mi) | CNY2.9 | CNY2.9 | CNY1 |
| Electric Cars | CNY9 for the first 2.5km (1.6mi) | CNY2.9 | CNY2.9 | --- |
Note: Taxis in Jiangning District charge much less, with the flag-down rate of CNY5 for the first 3km (2mi) and CNY1.8 for each additional kilometer (0.6mi).

Tip: Be very careful of taking a taxi from long-distance bus stations or railway stations. It is best to ask the driver to charge by meter if going to a destination in downtown, and negotiate a flat rate if running for a long-distance travel.
Rental Car
The car rental service in Nanjing has flourished in recent years. The types of rental car include mainly Buick, Audi, Mercedes, Mazda, Toyota Coaster, large and small Jinlong and Yutong. The price varies based on car types and rental duration. For reference, a Hyundai Elantra costs about CNY 220 per day with a day limit of 300 kilometers and a Benz S600 costs about CNY 1800 with a day limit of 80 kilometers. The extra kilometers are charged accordingly too. The service fee for driver and toll fee are not included.
Tips:
1. Few local drivers can speak or understand English. Write down your destinations and requirements in Chinese will be appreciated.
2. Passengers may be required to provide valid identification proof and deposit.
3. International Driver's License is not recognized in China.

Ferry
There are many ferry piers in Nanjing, strewing from Cihukou and Wujiangkou to Ningzhen, Maduhe and Xiaohekou. At present, the Nanjing Ferry Company operates 7 regular ferry lines and 3 tourism ferry lines with 19 ferries at 13 piers.
Company

Address

Route

Operation Time

Fare

Ferry Company Branch 1

643, North Zhongshan Road

Zhongshan Pier — Pukou

Zhongshan: 05:00-23:00
Pukou: 05:30-23:10

CNY 2

Ferry Company Branch 2

48, Linjiang Street, Yanziji Town

Yanziji — Baguazhou

Yanziji: 06:30-17:30
Baguazhou: 06:45-17:45

CNY 2

Yanziji — Tongjiangji

Yanziji: 08:00-14:40
Tongjiangji: 08:50-15:30

CNY 3

Ferry Company Branch 3

23, Jiangtan Street, Xinhekou

Mianhuadi — Qigan

Mianhuadi: 04:00-22:00

CNY 1

Shangxinhe — Hongguang

Shangxinhe: 05:00-23:00

Youheng — Hongwei

Youheng: 06:00-21:00

Tongxieli with the Third Industrial Travel Co., Ltd.

643, North Zhongshan Road

Zhongshan Pier — Wumadu – Yanziji – Zhongshan Pier

Tourism Special Line and they are operated according to tourists flow.

CNY 88
| | |
| --- | --- |
| Nanjing Ferry | Pukou Pier |
- Last updated on Jul. 12, 2022 -
Questions & Answers on Nanjing Transportation
Asked by Desiree Daniega from PHILIPPINES | Sep. 11, 2019 06:35

Reply
How to get from Nanjing International Airport to Jinjiang Inn in Xuanwu area?
Asie from taxi, are there shuttle bus or train I can get? Thank you!!!
Answers (1)
Answered by Lisa from USA | Sep. 12, 2019 03:00

0

0

Reply
You can take metro line S1 to Nanjing South Railway station, and take metro line 3 to Jiming temple station, then transfer to bus 70 from East Beijing Rd station to South Huayuan Rd station. And walk 100m to your hotel. It takes around 1.5 hours with CNY10.
Asked by Tania from CHINA | Jul. 20, 2019 06:52

Reply
Closest subway station to Tangshan hot spring resort
Can you please advise me on the nearest subway to Tangshan hot spring resort, and how much approximately to get a taxi from the subway station to Tangshan hot spring resort, 5 Wenquan Road.

Many thanks.
Answers (1)
Answered by Lily from USA | Jul. 22, 2019 00:52

0

0

Reply
There is no subway station near it. Where do you start off?
Asked by Alice from SINGAPORE | Jul. 03, 2019 19:04

Reply
how long it takes to walk when arriving in Nanjing Lukou Airport to the Subway station S1 line
Answers (1)
Answered by Marissa from THAILAND | Jul. 03, 2019 20:52

0

0

Reply
It is 1.2km distance between these two places. It might takes 20 minutes. You can following the detailed English signs at the airport, which can help you find the direction easily.
Asked by Claudiu from ROMANIA | Jul. 01, 2019 07:23

Reply
How can go to Nanjing from Jingjiang ?
Answers (1)
Answered by John from AUSTRALIA | Jul. 02, 2019 00:28

0

0

Reply
You can take bus from Jingjiang Bus Station and the bus operates from 6:00 to 18:00 about every 40 minutes. It takes about CNY84 per person.
Asked by Marwah from INDIA | Jun. 29, 2019 07:38

Reply
How can I reach southeast medical university from nanjing airport?
Answers (1)
Answered by John from MALAYSIA | Jul. 01, 2019 02:36

0

0

Reply
Can you give a detailed address of the university? Is it the medical school of the Southeast University?