Nanjing Weather
Known as one of the four hottest cities in China, Nanjing weather features a scorching hot summer, reaching 35~40

C (95~104

F) on average. Unlike other Chinese southern cities, its winter is cold and humid. Sometimes room temperature can be lower than outdoor's. Wear warm clothes if you travel in winter.

Best Time to Visit Nanjing
Talking about best traveling time, March to May is the greatest period. The weather is most comfortable, not too hot or cold. All kinds of flowers are in full blossom waiting for you to enjoy. September to November is also wonderful, when you can admire the beauty of maple trees.
7-Day Nanjing Weather Forecast
Averages for Nanjing Weather
High/Low Temperatures of Nanjing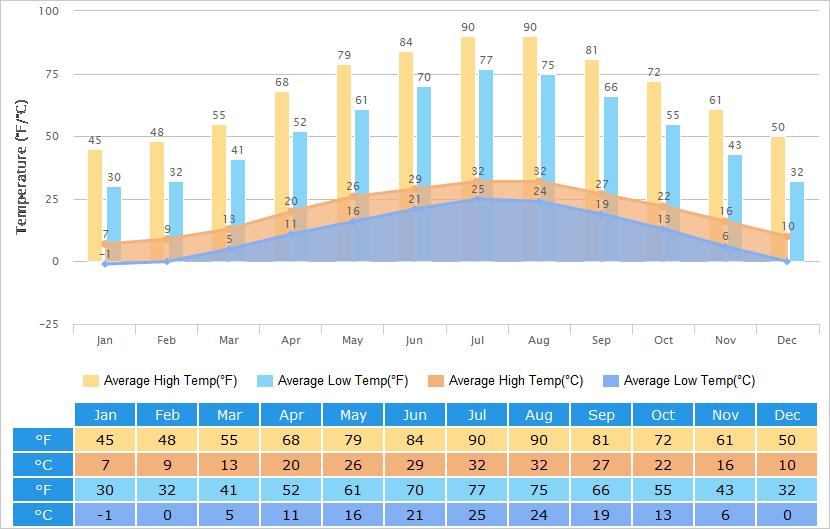 Average Temperatures of Nanjing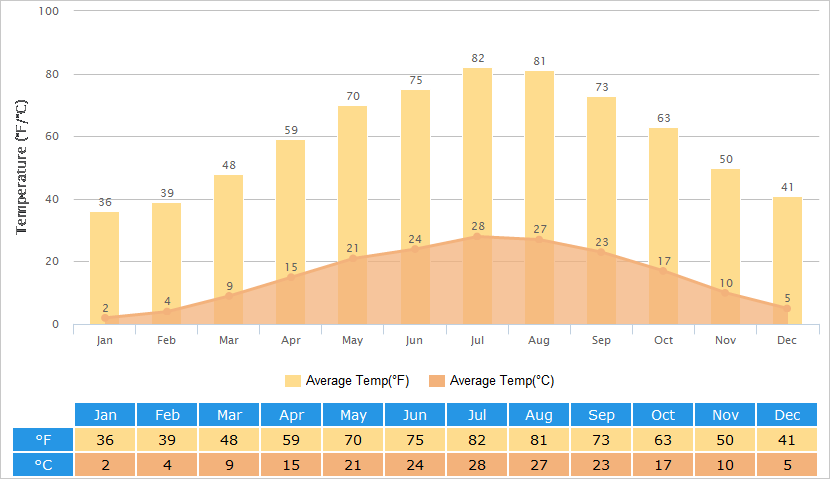 Humidity Graph of Nanjing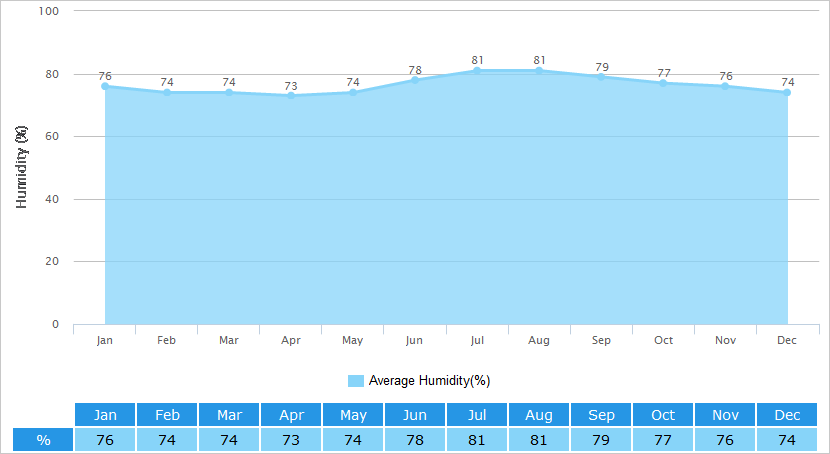 Average Rainfall of Nanjing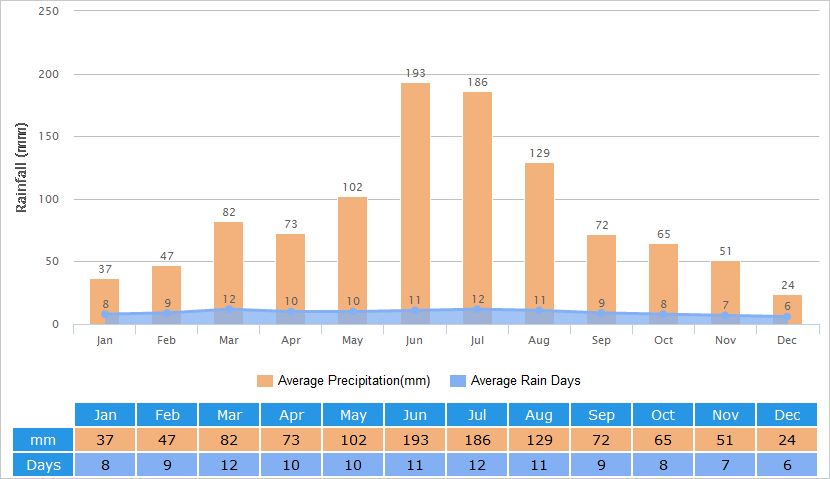 Air Quality of Nanjing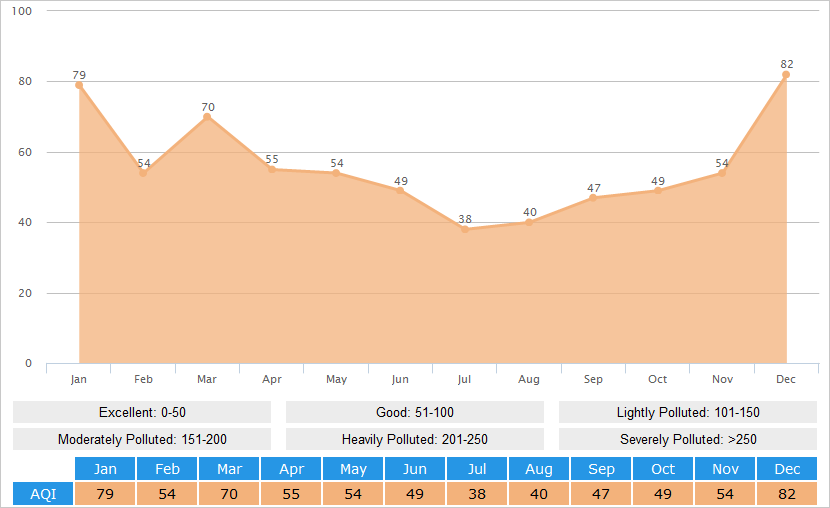 Nanjing Climate - Seasons & Travel Advice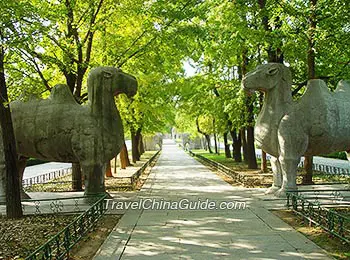 Verdant Ming Xiaoling Mausoleum
Spring and autumn are the seasons with the most pleasant weather. It is not recommended to travel in summer, for it is intensely hot with a lot of rain. The rainy season usually falls in June and July, lasting for 20 days on general. The winter is cold compared with other cities in south China. The temperature is low at -5~2

C (23~36

F) and it sometimes snows in December.
Spring (Mar – May)
Nanjing climate in spring is mild, ideal for traveling and outing. During March to May, Nanjing will become the sea of flowers. Flowers in different attractions have their own beauty. In early March, plum flowers bloom first. On
Plum Blossom Hill
, you can enjoy the whole mountain of bright plum flowers. In early April, it is time to see cherry blossoms. Jiming Temple is the best place to go.
What to Wear: hoodie, trench coat, jeans, sneakers
Summer (Jun – Aug)
Nanjing weather in summer is so hot that the highest temperature sometimes rises to 40

C (104

F). Now more and more trees are planted in the city to provide shades. Every year in late June to early July, it is the rainy season with constant rain. Usually the rainy days can last 20~30 days. The wet climate in rainy season and the hot weather in sunny days make it inconvenient for outdoor activities, so it is not recommended to travel to Nanjing in summer.
What to Wear: shirts, dress, skirt, shorts, sun hat, sunglasses
Autumn (Sep – Nov)
The general temperature in autumn is about 20

C (68

F), cool for hiking and mountaineering. You can visit
Mount Qixia
or
Xiaoling Mausoleum of Ming Dynasty
to have a view on the red autumnal leaves. Autumn is the peak period for travel. If you want to make a trip in autumn, please book the hotels 3 to 4 weeks in advance and better avoid the
Chinese National Day
from October 1st to 7th.
What to Wear: blouse & long sleeves shirt, baseball jacket, sweatpants, light pants
Winter (Dec – Feb)
It is humid and cold in winter. When the lowest temperature drops to -5~2

C (23~36

F), you may feel colder inside the room than outside. Smoggy weather may appear in winter. Wearing a mask will help. Snow mostly gathers in December. If have chance to meet the snow, you can see the city like a peaceful white world.
What to Wear: sweater, downcoat, scarf, hat
- Last modified on Sep. 27, 2018 -