Nanjing Weather in March
Falling in spring, Nanjing weather in March is still a bit cold. March is the transitional month between winter and spring with an average temperature of 9°C (48°F). The air is relative wet with an average humidity of 74% which is comfortable for the human body. There is a temperature difference between day and night.
Spring is the best season for visiting Nanjing. With everything comes back to life, you can feel the vitality of spring.
Averages for Nanjing Weather in March
Temperature: 9°C / 48°F
High Temperature: 13°C / 55°F
Low Temperature: 5°C / 41°F
Humidity: 74%
Rainfall: 82 mm
Rainy Days: 12 days
Sunrise: 05:56 ~ 06:33
Sunset: 18:02 ~ 18:23
Air Quality in March
Average AQI: 53

What to Wear in Nanjing in March
During the day, a long-sleeved T-shirt or shirt and a thin overcoat or jacket will be enough. You need to add a waistcoat in between the shirt and the coat or change to a thick jacket in the evening or early morning.


Where to Go in Nanjing in March
It is the best time of the flower season of plum blossoms thanks to the increasingly warm climate. The
Plum Blossom Hill
is a must-see place where you can have a visual feast of beauty and charm with more than 4,000 cherry trees blossoming. It is pretty charming and romantic. You also can take pictures in this ocean of flowers. The Nanjing International Plum Blossom Festival is also held then. This has attracted a large number of tourists to visit. If you like to enjoy flowers, this Plum Blossom Festival cannot be missed. Also, Xiaoling Mausoleum of Ming Dynasty is the imperial tomb for the Emperor Taizhu and his empress. It represents the highest achievement of the architecture and stone carving art which greatly influence the imperial tombs for the following emperors.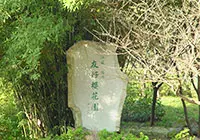 Xiaoling Mausoleum of Ming Dynasty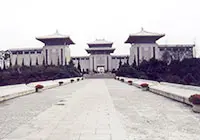 Yuhuatai Scenic Area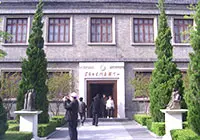 Presidential Palace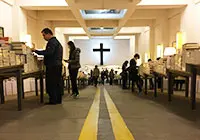 Xianfeng Bookstore
Other Tips
For those who are allergic to pollen, it is better to wear a mask or take anti-allergic drugs before departure. For unsettled weather, it is necessary to pay attention to cold prevention when traveling in the early morning and night and it is recommended to bring some cold medicine or other medicines. Besides, you'd better closely check the weather forecast before departure. And the umbrella or waterproof clothes are necessary for the rainy day. Be sure to pay attention to safety during the journey.
What is the temperature in Nanjing in March?
High/Low Temperatures of Nanjing in March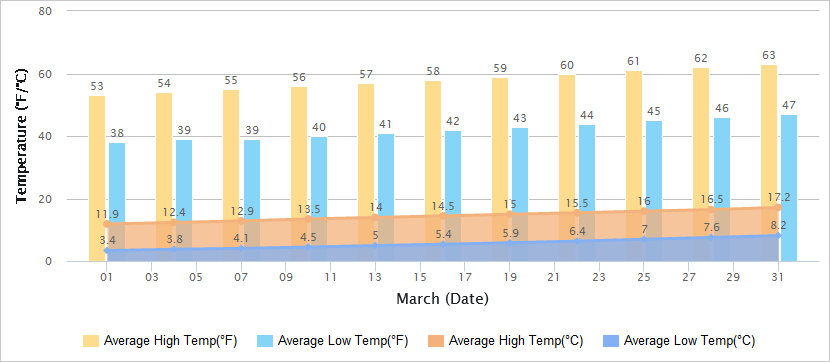 Air Quality of Nanjing in March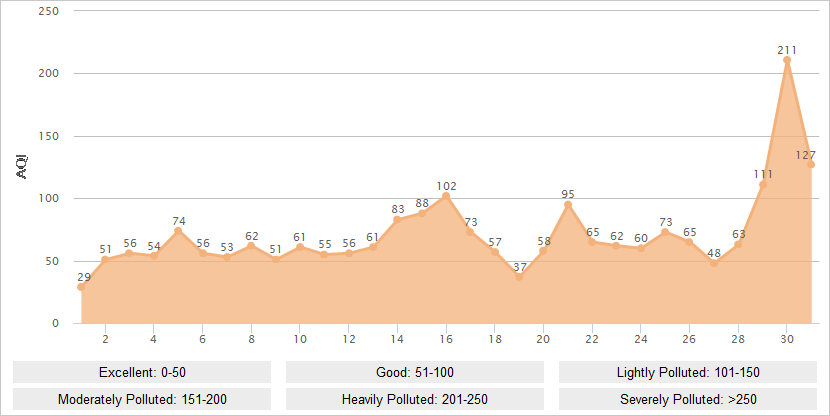 Historical Nanjing Weather in March
Mar
Temperature
Sunrise / Sunset
Humi-
dity
(%)
High
Low
1
11.9°C / 53.4°F
3.4°C / 38.1°F

06:33

/

18:02

62
2
12.1°C / 53.7°F
3.5°C / 38.3°F

06:32

/

18:03

76
3
12.2°C / 53.9°F
3.6°C / 38.4°F

06:31

/

18:04

67
4
12.4°C / 54.3°F
3.8°C / 38.8°F

06:29

/

18:04

51
5
12.6°C / 54.6°F
3.9°C / 39°F

06:28

/

18:05

81
6
12.8°C / 55°F
4°C / 39.2°F

06:27

/

18:06

55
7
12.9°C / 55.2°F
4.1°C / 39.3°F

06:26

/

18:07

44
8
13.1°C / 55.5°F
4.3°C / 39.7°F

06:25

/

18:07

53
9
13.3°C / 55.9°F
4.4°C / 39.9°F

06:23

/

18:08

56
10
13.5°C / 56.3°F
4.5°C / 40.1°F

06:22

/

18:09

50
11
13.6°C / 56.8°F
4.7°C / 40.4°F

06:21

/

18:09

38
12
13.8°C / 56.4°F
4.8°C / 40.6°F

06:20

/

18:10

35
13
14°C / 57.2°F
5°C / 41°F

06:18

/

18:11

45
14
14.1°C / 57.3°F
5.1°C / 41.1°F

06:17

/

18:12

50
15
14.3°C / 57.7°F
5.3°C / 41.5°F

06:16

/

18:12

28
16
14.5°C / 58.1°F
5.4°C / 41.7°F

06:15

/

18:13

30
17
14.6°C / 58.2°F
5.6°C / 42°F

06:13

/

18:14

36
18
14.8°C / 58.6°F
5.7°C / 42.2°F

06:12

/

18:14

52
19
15°C / 59°F
5.9°C / 42.6°F

06:11

/

18:15

55
20
15.1°C / 59.1°F
6.1°C / 42.9°F

06:10

/

18:16

69
21
15.3°C / 59.5°F
6.3°C / 43.3°F

06:08

/

18:16

67
22
15.5°C / 59.9°F
6.4°C / 43.5°F

06:07

/

18:17

47
23
15.6°C / 60°F
6.6°C / 43.8°F

06:06

/

18:18

36
24
15.8°C / 60.4°F
6.8°C / 44.2°F

06:05

/

18:16

43
25
16°C / 60.8°F
7°C / 44.6°F

06:03

/

18:19

52
26
16.2°C / 61.1°F
7.2°C / 44.9°F

06:02

/

18:20

46
27
16.4°C / 61.5°F
7.4°C / 45.3°F

06:01

/

18:21

65
28
16.5°C / 61.7°F
7.6°C / 45.6°F

05:59

/

18:21

59
29
16.8°C / 62.2°F
7.8°C / 46°F

05:58

/

18:22

58
30
17°C / 62.6°F
8°C / 46.4°F

05:57

/

18:23

34
31
17.2°C / 62.9°F
8.2°C / 46.7°F

05:56

/

18:23

25
- Last modified on May. 06, 2020 -