Nanjing Weather in November
Nanjing weather in November becomes colder and the temperature continue to drop but with less rain, and sometimes the weather is frosty and foggy. The average high temperature is 16°C (61°F) and the low average temperature is 6°C (43°F). The average humidity is 76%. It is still suitable for travel.
There are fewer tourists in November. Avoiding the crowding of scenic spots, you can have a more comfortable and profound travel experience in Nanjing.
Averages for Nanjing Weather in November
Temperature: 10°C / 50°F
High Temperature: 16°C / 61°F
Low Temperature: 6°C / 43°F
Humidity: 76%
Rainfall: 51 mm
Rainy Days: 7 days
Sunrise: 06:21 ~ 06:46
Sunset: 17:00 ~ 17:16
Air Quality in November
Average AQI: 54

What to Wear in Nanjing in November
Coats, cotton-padded jackets, sweaters, warm trousers, warm shoes, are sufficient in keeping warm in November. In addition, gloves, mufflers and masks are necessary for the cold and windy weather. When entering or leaving the room, please remember to change your clothes in time so as not to catch a cold due to temperature changes.


Where to Go in Nanjing in November
November is also a good time to enjoy the falling beautiful golden leaves. The red and yellow maple leaves of
Qixia Mountain
are pretty beautiful and charming. It's quite romantic to watch the leaves falling in the wind. For its golden maple trees, strange stones, luxuriant forests and clear springs, the natural landscape here really attracts thousands of visitors all over the world every year. Besides, Confucius Temple (Fuzimiao), Xiaoling Mausoleum of Ming Dynasty, Dr. Sun Yat-sen's Mausoleum and
Nanjing City Wall
are some famous attractions in Nanjing that deserve your deep visit.
Other Tips
Before going out, pay attention to the weather forecast and add clothes when necessary. The climate is drier than in the previous few months and sometimes it's windy, so you need to bring some skin cream and wind coat. When traveling, do not neglect the signs and tips of scenic spots and pay attention to safety.
What is the temperature in Nanjing in November?
High/Low Temperatures of Nanjing in November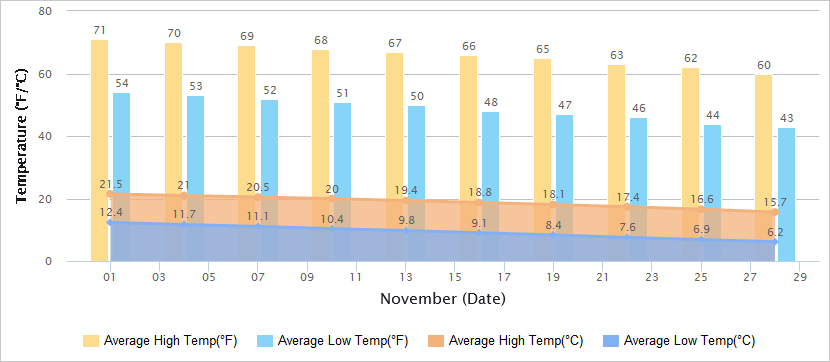 Air Quality of Nanjing in November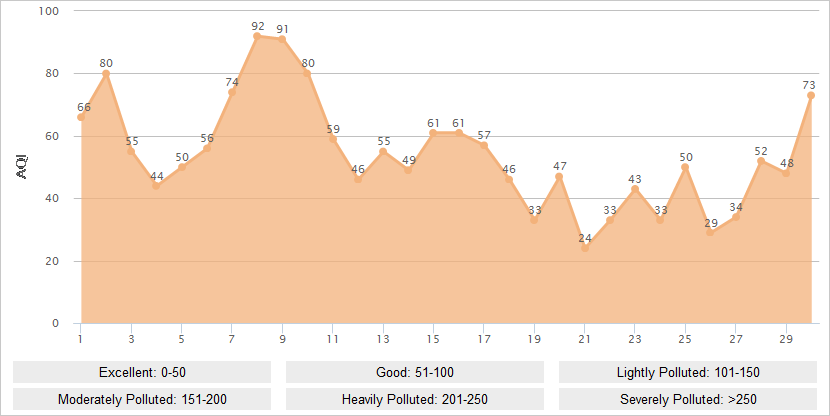 Historical Nanjing Weather in November
Nov
Temperature
Sunrise / Sunset
Humi-
dity
(%)
High
Low
1
21.5°C / 70.7°F
12.4°C / 54.3°F

06:21

/

17:16

30
2
21.4°C / 70.5°F
12.1°C / 53.7°F

06:22

/

17:15

36
3
21.2°C / 70.1°F
11.9°C / 53.4°F

06:22

/

17:14

40
4
21°C / 70.1°F
11.7°C / 53°F

06:23

/

17:13

50
5
20.8°C / 69.4°F
11.5°C / 52.7°F

06:24

/

17:12

37
6
20.7°C / 69.2°F
11.3°C / 52.3°F

06:25

/

17:12

44
7
20.5°C / 68.9°F
11.1°C / 51.9°F

06:26

/

17:11

42
8
20.3°C / 68.5°F
10.9°C / 51.6°F

06:27

/

17:10

39
9
20.1°C / 68.1°F
10.6°C / 51°F

06:28

/

17:09

35
10
20°C / 68°F
10.4°C / 50.7°F

06:28

/

17:09

25
11
19.8°C / 67.6°F
10.2°C / 50.3°F

06:29

/

17:08

22
12
19.6°C / 67.2°F
10°C / 50°F

06:30

/

17:07

37
13
19.4°C / 66.9°F
9.8°C / 49.6°F

06:31

/

17:07

36
14
19.2°C / 66.5°F
9.5°C / 49.1°F

06:32

/

17:06

16
15
19°C / 66.2°F
9.3°C / 48.7°F

06:33

/

17:06

24
16
18.8°C / 65.8°F
9.1°C / 48.3°F

06:34

/

17:05

25
17
18.6°C / 65.4°F
8.8°C / 47.8°F

06:35

/

17:04

50
18
18.3°C / 64.9°F
8.6°C / 47.4°F

06:36

/

17:04

27
19
18.1°C / 64.5°F
8.4°C / 47.1°F

06:36

/

17:04

21
20
17.9°C / 64.2°F
8.1°C / 46.5°F

06:37

/

17:03

40
21
17.6°C / 63.6°F
7.9°C / 46.2°F

06:38

/

17:03

56
22
17.4°C / 63.3°F
7.6°C / 45.6°F

06:39

/

17:02

61
23
17.1°C / 62.7°F
7.4°C / 45.3°F

06:40

/

17:02

58
24
16.8°C / 62.2°F
7.1°C / 44.7°F

06:41

/

17:02

67
25
16.6°C / 61.8°F
6.9°C / 44.4°F

06:42

/

17:01

63
26
16.3°C / 61.3°F
6.6°C / 43.8°F

06:43

/

17:01

52
27
16°C / 60.8°F
6.4°C / 43.5°F

06:43

/

17:01

67
28
15.7°C / 60.2°F
6.2°C / 43.1°F

06:44

/

17:01

47
29
15.4°C / 59.7°F
5.9°C / 42.6°F

06:45

/

17:01

63
30
15.1°C / 59.1°F
5.7°C / 42.2°F

06:46

/

17:00

81
- Last modified on May. 06, 2020 -