Nanjing Weather in December
Nanjing enters its early winter in December. The average temperature of Nanjing Weather in December is 5°C (41°F). It has rainy days and the average humidity is 74%. Because of the humidity and cold weather, it is not the best time to travel. The unsuitable climate diminishes the number of people traveling there.
However, you can take advantage of cut-price promotions on tour arrangement including accommodation and transportation. The end of December coincides with Christmas, and local people, especially young people, will hold plenty of activities to celebrate Christmas, thus fewer tourists are in the scenic area and so you can have a deep visit in Nanjing.
Averages for Nanjing Weather in December
Temperature: 5°C / 41°F
High Temperature: 10°C / 50°F
Low Temperature: 0°C / 32°F
Humidity: 74%
Rainfall: 24 mm
Rainy Days: 6 days
Sunrise: 06:47 ~ 07:05
Sunset: 17:00 ~ 17:10
Air Quality in December
Average AQI: 75

What to Wear in Nanjing in December
It is necessary to wear warm clothes such as sweater, thick coat, and warm trousers for December. It is recommended that you wear gloves, masks and other cold protection items before going out. Do not wear too many clothes in an air-conditioned house and pay attention to adding clothes before you go out, or you may easily catch a cold because of the obvious temperature variation.

Things to Do in Nanjing in December
Because of the bad weather, some outdoor activities such as mountain climbing and boating are restricted, so some indoor attractions are recommended to you. Nanjing Confucius Temple (Fuzimiao) is worth visiting. It is a place of worship for Confucius, a world-known philosopher and educator in ancient China. Traveling in Nanjing, you cannot miss the Nanjing Presidential Palace, now the biggest China Modern History Museum which really deserves a visit.
Other Tips
Because of the cold weather, it's better not to go outside in the morning and late at night. If you go to Nanjing Confucius Temple, you can have a taste of local snacks in the nearby snack street. It takes you 1-2 hours to finish the visit.
What is the Temperature in Nanjing in December?
High/Low Temperatures of Nanjing in December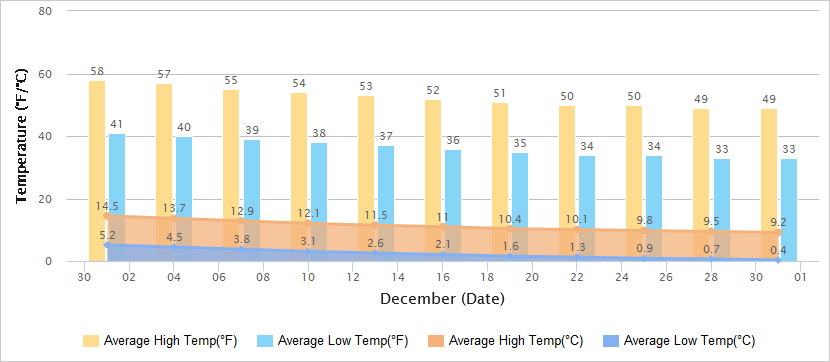 Air Quality of Nanjing in December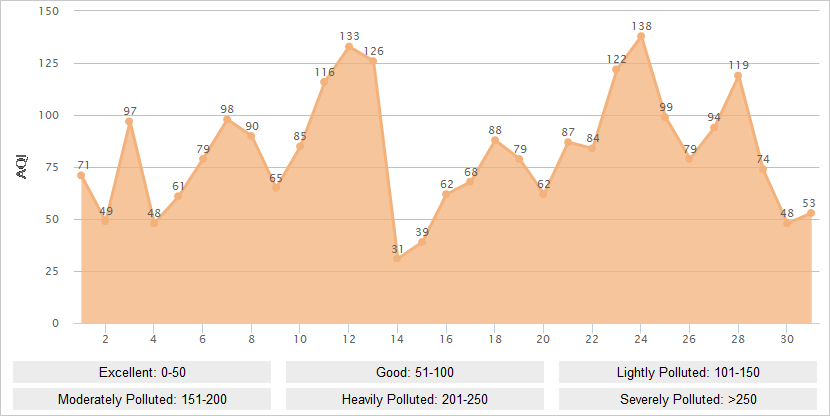 Historical Nanjing Weather in December
Dec
Temperature
Sunrise / Sunset
Humi-
dity
(%)
High
Low
1
14.5°C / 58.1°F
5.2°C / 41.3°F

06:47

/

17:00

85
2
14.2°C / 57.5°F
4.9°C / 40.8°F

06:48

/

17:00

45
3
13.9°C / 57°F
4.7°C / 40.4°F

06:49

/

17:00

36
4
13.7°C / 56.6°F
4.5°C / 40.1°F

06:49

/

17:00

41
5
13.4°C / 56.1°F
4.2°C / 39.5°F

06:50

/

17:00

38
6
13.1°C / 55.5°F
4°C / 39.2°F

06:51

/

17:00

57
7
12.9°C / 55.2°F
3.8°C / 38.8°F

06:52

/

17:00

48
8
12.6°C / 54.6°F
3.6°C / 38.4°F

06:53

/

17:00

44
9
12.4°C / 54.3°F
3.3°C / 37.9°F

06:53

/

17:00

54
10
12.1°C / 53.7°F
3.1°C / 37.5°F

06:54

/

17:01

55
11
11.9°C / 53.4°F
2.9°C / 37.2°F

06:55

/

17:01

42
12
11.7°C / 53°F
2.8°C / 37°F

06:56

/

17:01

49
13
11.5°C / 52.7°F
2.6°C / 36.6°F

06:56

/

17:01

55
14
11.3°C / 52.3°F
2.4°C / 36.3°F

06:57

/

17:02

69
15
11.1°C / 68.7°F
2.2°C / 35.9°F

06:58

/

17:02

72
16
11°C / 51.9°F
2.1°C / 35.7°F

06:58

/

17:02

71
17
10.7°C / 51.2°F
1.9°C / 35.4°F

06:59

/

17:03

66
18
10.6°C / 51°F
1.8°C / 35.2°F

07:00

/

17:03

69
19
10.4°C / 50.7°F
1.6°C / 34.8°F

07:00

/

17:03

51
20
10.3°C / 50.5°F
1.5°C / 34.7°F

07:01

/

17:04

62
21
10.2°C / 50.3°F
1.4°C / 34.5°F

07:01

/

17:04

92
22
10.1°C / 50.1°F
1.3°C / 34.3°F

07:02

/

17:05

80
23
10°C / 50°F
1.1°C / 33.9°F

07:02

/

17:05

77
24
9.9°C / 49.8°F
1°C / 33.8°F

07:03

/

17:06

86
25
9.8°C / 49.6°F
0.9°C / 33.6°F

07:03

/

17:06

92
26
9.7°C / 49.4°F
0.8°C / 33.4°F

07:04

/

17:07

75
27
9.6°C / 49.2°F
0.8°C / 33.4°F

07:04

/

17:08

46
28
9.5°C / 49.1°F
0.7°C / 33.2°F

07:04

/

17:08

59
29
9.4°C / 48.9°F
0.6°C / 33°F

07:05

/

17:09

77
30
9.3°C / 48.7°F
0.5°C / 32.9°F

07:05

/

17:10

71
31
9.2°C / 48.5°F
0.4°C / 32.7°F

07:05

/

17:10

53
- Last modified on May. 06, 2020 -