Nanjing Museum
Located at the southern foot of
Purple Mountain
, Nanjing Museum is the second largest museum in China with an area of 85,000 square meters (101,700 square yards). It was originally established in 1933 proposed by Mr. Cai Yuanpei, a modern democratic revolutionary and educationist. As one of the most advanced and popular museums in China, Nanjing Museum is also an important educational base for students. Should you be fascinated by the long and cultured history of China, then this Museum is a 'must-see' for you.
| | |
| --- | --- |
| Nanjing Museum | Ancient Furniture of Ming Dynasty |
The museum holds more than 430,000 pieces of exhibits, including jade, bronze, ceramics, lacquer wares, silk & embroidery, paintings & calligraphies, seals and steles. Nanjing Museum is divided into six exhibition halls: Historical Hall, Art Hall, Digital Hall, Republic of China Hall, Intangible Cultural Heritage Hall and Special Exhibition Hall.
Historical Hall
Inside the Historical Hall of Nanjing Museum, there is a permanent exhibit called Exhibition of Jiangsu Area in Ancient Times, displaying plenty of the exhibits in chronological order from ancient times to Ming (1368 – 1644) and Qing (1644 – 1911) dynasties. Here you can enjoy the dinosaur skeleton, Jade Suite Threaded with Gold or Silver Thread and the ancient wall made of bricks from Northern and Southern Dynasties (420 – 589).
Art Hall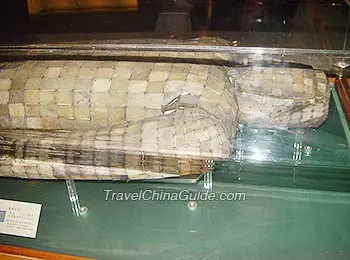 Jade Suite Threaded with Silver Thread
This hall of Nanjing Museum covers an area of 7,000 square meters (8,370 square yards) including 11 special galleries.
The Sculpture Gallery displays works from ancient times: some are for emperors' use, some are religious articles and some were buried with the dead. The Painting Gallery introduces the representative 10 schools of local painting in Ming and Qing dynasties, vividly showing the normal life at that time. Chenzhifo Gallery shows many painting works about flowers and birds of Chenzhifo, a famous Chinese artist. Fubaoshi Art Gallery on the 2F of Nanjing Museum Art Hall exhibits the painting, sealing cutting and paper works about painting of Fubaoshi. Wuweishan Sculpture Gallery in the first floor shows the many sculptures of celebrities from home and abroad, like the ancient Chinese Poet Li Bai, the famous modern artist Qi Baishi, and the great Italian artist Leonardo da Vinci.
Digital Hall
Digital Hall of Nanjing Museum is divided into the real hall and virtual hall. The real hall covers an area of 1,200 square meters (1,435 square yards), creating six exhibition areas to show China's ancient civilization. The virtual hall, using internet and image recognition, is the extended area of the real hall. It provides visitors a never-closed online museum, showing the whole design and exhibits of the real hall. Besides, visitors can enjoy some interactive games to know more about ancient China.
Republic of China Hall
This hall in Nanjing Museum shows the local life during Republic of China. Together with the tramcar, many residential buildings in Republic of China period stand along the street, such as post office, barber shop, Chinese pharmacy, bookstore and jewelry store. All the stores are opening and the waiters inside are dressing in Republic of China style.
Intangible Cultural Heritage Hall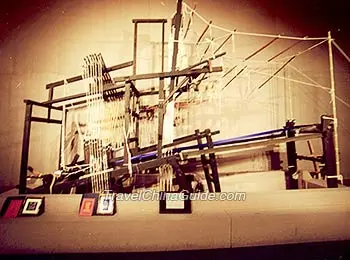 Ancient Chinese Weaving Machine
The hall in Nanjing Museum introduces the intangible cultural heritages and shows the Jiangsu traditional handcraft and performance. Nanjing Museum invites the inheritors of those intangible cultural heritages like paper cutting, festival lantern making, Kun Opera and storytelling and ballad singing, providing visitors with an opportunity to have a close look and interaction with the local representative culture.
Special Exhibition Hall
This hall in Nanjing Museum comprises 10 small exhibition halls, which are used for temporary exhibitions.
How to get to Nanjing Museum
1. Take
Metro Line 2
to Minggugong and leave from Exit 1, and then walk east for 5 minutes to reach the museum.
2. Take bus 5, 34, 36, 55, 59, or G5 to Zhongshanmen, you will see the museum.
Nanjing Bus / Metro Search
Entrance Fee
Free
Opening Hours
Mon.: 09:00 – 12:00 (9:00 – 17:00 during holidays);
Tue. – Sun.: 9:00 – 17:00;
Closed on Chinese Lunar New Year's Eve and Lunar New Year's Day.

Further Reading:
Chaotian Palace - Nanjing Municipal Museum
Top 10 Things to Do in Nanjing
- Last updated on Apr. 08, 2021 -
Questions & Answers on Nanjing Museum
Asked by Elias from SOUTH AFRICA | Jan. 31, 2020 02:12

Reply
If I want to go to the Nanjing museum, do you have any app where I book to visit the place?
Answers (1)
Answered by Marie from DENMARK | Jan. 31, 2020 18:37

0

0

Reply
As I know, you can make the reservation on the official website. But it only has Chinese version. Maybe you can ask help for your Chinese friends or hotel staff.
Asked by Lisa from FRANCE | Jan. 22, 2019 07:13

Reply
How much time is recommended to visit the Nanjing Museum ?
Answers (1)
Answered by Tracy from USA | Jan. 22, 2019 19:20

0

0

Reply
Generally speaking, the suggested sightseeing time is half a day.
Asked by Roger from AUSTRALIA | Nov. 05, 2015 03:45

Reply
Can I get to the Nanjing museum by subway?
Answers (1)
Answered by Joe from CANADA | Nov. 05, 2015 18:38

0

0

Reply
Hi, Roger. You may take subway line2, get off at Minggugong Station, and leave from Exit 1. Then, walk east for about 328 yards (300 meters), and you will find it.
Asked by Rizwan Zahoor from PAKISTAN | Jan. 17, 2015 09:20

Reply
Massacre Museum and Nanjing Museum are same or different two?
Answers (1)
Answered by Sally from AUSTRALIA | Jan. 18, 2015 01:52

1

0

Reply
They are different two.