Purple Mountain Observatory (Zijinshan Observatory)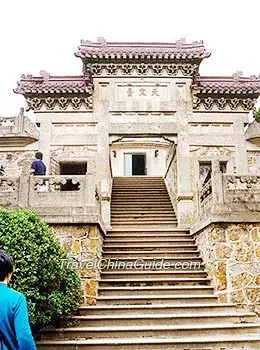 Purple Mountain
Observatory, Nanjing
Purple Mountain Observatory, aka Zijinshan Observatory, is located on the
Purple Mountain
(Zhongshan Mountain National Park) in the east suburb of Nanjing City. Seen from afar, the white domed buildings are shining brightly in the sun. It is said that your wish will come true when you make a bow to god while the meteor is shooting across the sky. Whether it is superstition or not, it shows to some extent the importance of celestial phenomena in people's minds. Then, does this saying stir up curiosity about Chinese astronomy? The Purple Mountain Observatory may give you a satisfactory answer.
Finished in 1934, the Purple Mountain Observatory is the earliest and one of the most famous observatories in China. Of milestone significance, it symbolizes the threshold of Chinese modern astronomy.
At the beginning, the Purple Mountain Observatory enjoyed a great reputation for its splendid architectures, rare apparatus and abundant books. The 60-centimeter-caliber (24 inches) reflecting telescope, the 20-centimeter-caliber (8 inches) refracting telescope (both made in Germany) and the meridian transit made by Swiss were almost the most advanced equipment of the time. And they are still housed here. Now, it is well equipped with modern facilities used for doing experiments and observing the sun, the moon, the planets, the fixed stars and satellites.
What's more, many ancient astronomical apparatus made of bronze are also displayed here, including Armillary Sphere, Simplified Armillary Sphere and Gnomon of the Ming Dynasty (1368-1644) and Celestial Globe and Altazimuth of the Qing Dynasty (1644-1911).
Armillary Sphere
Armillary Sphere, designed by Zhang Heng in the Eastern Han Dynasty (25-220), was used to determine the position of the stars. It is not only an astronomical apparatus but also an exquisite craftwork. Its four poles were engraved with entwining dragons and the four sides of the base were cast with special flowers and animals. The one we can see today is a mimic of the Ming Dynasty.
Simplified Armillary Sphere
Simplified Armillary Sphere, as its name indicates, is the amelioration of Armillary Sphere. It is designed by astronomer Guo Shoujing in the Yuan Dynasty (1271-1368). The precision of determination and the convenience of operation were both improved.
Gnomon of the Ming Dynasty
Gnomon, having a history of more than 3000 years, was used to measure the shadow of the sun and determine the solar terms and number of days of a year. China is the first country to know that there are 365.25 days in a year.
| | |
| --- | --- |
| Armillary Sphere | Ancient Chinese astronomical instrument |
Nanjing Astronomy and History Museum
The Nanjing Astronomy and History Museum is within the Purple Mountain Observatory itself. It's the first museum of its kind in China. The museum has three exhibition halls, displaying full and accurate data and pictures. Here you will feel the immensity of the universe and the smallness of human beings.
You can take the ropeway to the Purple Mountain Observatory. And later you can go on to climb the main peak of Purple Mountain and enjoy its elegant scenery.
Achievements
Great achievements have been made in the Purple Mountain Observatory. Successively, more than 30 new variable stars and numbers of asteroids have been discovered, among which 100 asteroids have been numbered by the International Minor Planet Center. In addition, four comets were also discovered. The Ge Wang Comet was the first comet named with the surname of a Chinese discoverer. Besides which, the Zijinshan Observatory contributed a lot in applications studies. It has successively established extensive links with other astronomical institutions at home and abroad.
How to get to Purple Mountain Observatory
1. Take
Metro Line 4
to Gangzicun and go out from Exit 1, then walk southeast for 20mins to the cable car station to take a cable car there.
2. Take bus 20 or 315 to Zijinshan Suodao Zhan (cable car station).
Nanjing Bus / Metro Search
Entrance Fee
CNY 15;
CNY 9 for children under 1.3m (4.3 feet).
Cable Car Ticket Fare
CNY 35 (one-way);
CNY 60 (round-trip).
Opening Hours
8:30 - 16:30
Cable Car: 9:00 - 16:00
- Last updated on Aug. 28, 2022 -
Questions & Answers on Purple Mountain Observatory (Zijinshan Observatory)
Asked by Tanz from CHINATLJ | Oct. 23, 2018 18:05

Reply
Please advise the latest time one is able to hike up Purple mountain at night.
Last year we hiked up to see the fire flies, but that was during summer, what's the latest during winter?
Answers (1)
Answered by Freeman from USA | Oct. 23, 2018 23:58

0

0

Reply
To be honest, there is no time limitation to hike up the mountains because there are many wild paths that people can walk up to the mountain. So you can climb the mountain at any time but it maybe dangerous at night in winter. Safety comes first.
Asked by Gyrego from SINGAPORE | Mar. 11, 2016 22:58

Reply
What is the opening hours of Purple Mountain Observatory ?
Answers (1)
Answered by Nikki from CANADA | Mar. 12, 2016 01:52

0

0

Reply
The opening hours are from 08:30 to 16:30.
Asked by Jigar from CHINA | Apr. 30, 2015 21:45

Reply
What is the proper address for Purple mountain? how to get there?
Answers (3)
Answered by Joe from LIBYA | May. 02, 2015 04:31

1

0

Reply
It is located at east suburban area of the city, about 6 – 7 miles away from the city center.
The bus No. 20, 315 and the tourist bus No. 3 will lead to the cable car station of the scenic area. You can take one of these buses to reach.

Answered by Jigar from CHINA | May. 02, 2015 06:42

2

3

Reply
thanks you so much
Answered by ALVIN SAN | Aug. 28, 2022 06:44

0

0

Reply
Becareful for return trip ..last cable or wired car ride.
We almost miss the last car..
There was no warning to visitor or maybe we had miss the call...
Enjoy your trip ....Chia Yu...
Asked by Ana from RESTREPO | Sep. 15, 2014 21:59

Reply
The astronomic observatory in Zijinshan will be open to public in october 6 and 7 2014 ?
I ask because I am planing will go in this date but is holidays days from Colombia , And I dont know if is possible to visit , Thank you forr your answer
Answers (1)
Answered by Mont from NEPAL | Sep. 16, 2014 01:29

1

0

Reply
Yes, it will be open still at that time. Don't worry about that.