Nanjing Attractions - Things to Do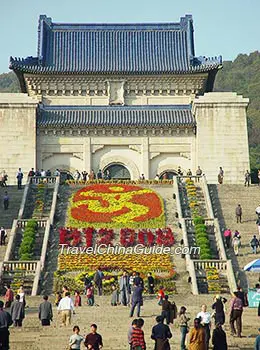 Dr. Sun Yat-sen's Mausoleum
Nanjing Sightseeing Guide
Nanjing has been the capital of several Chinese imperial dynasties. It has a variety of historical and cultural heritage evident in its architecture like imperial mausoleums, old temples, traditional garden buildings, and museums; thus, visitors have various things to do in and around the city.



Confucius Temple (Fuzimiao)


Xiaoling Mausoleum of Ming Dynasty


Dr. Sun Yat-sen's Mausoleum


Qinhuai River


Nanjing City Wall


Presidential Palace


Purple Mountain


Purple Mountain Observatory


Nanjing Underwater World

The Purple Mountain (Zijin Shan or literally Purple-God Mountain) Area covers half of the attractions in this city's suburbs. It dominates the northeastern skyline of the city. Some of the famous places of interest found in this area include the father of China's great revolution Dr. Sun Yat-sen's Mausoleum, Xiaoling Mausoleum of the first Ming emperor, Zhu Yuanzhang, and Meiling Palace, a splendid villa built in 1931.

To the east of Dr. Sun Yat-sen's Mausoleum is the well-known Linggu Temple. Built about 1,500 years ago, Linggu Temple surrounded by aged but still flourishing trees is claimed to be the best Buddhist temple in the world. Also, Purple Mountain Observatory and the planetarium on the mountainside are famous tourist attractions for science gurus. Another place of interest in this area is the Plum Blossom Hill where the annual plum festival in the city is held.

If one goes westward of the Purple Mountain area, another picturesque mountain called Qixia Mountain (pronounced as Kitsya) can be found. It is a popular destination for the locals in the area especially during spring and autumn.
| | |
| --- | --- |
| Qinhuai River | Confucius Temple |
Found on the west side of the mountain (southeast of Nanjing Railway Station), is the scenic Xuanwu Lake. The Xuanwu Lake is a former imperial navy training and recreation center accessed only by extravagant aristocrats. Fishing game and boating are some of the recreational activities in this area. Xuanwu Lake is a must for your itinerary in this city because the clustered sights are quite convenient for visitors to see for a day.

One of the must-see places in the city would be the area around the Qinhuai River, which falls on the southern end of the walled city. During the old days, this riverside region had a bustling nightlife where extravagant nobles, talents and businessmen flock to the restaurants, dance halls and whorehouses in this area. In Chinese literature, it is famed as a place for beauty queens and romance. Nowadays, Gongyuan Street (the modern name of the riverside street) has once again taken on the looks of an ancient shopping area and is fast becoming a busy scenic spot in the city. Antique temples, shopping centers, and restaurants surround Gongyuan Street. This is a very beautiful area because the landscape blends with the cityscape. Other tourist attractions in this area include Confucius Temple (Fuzimiao), Imperial Examination Museum of China, Ming walls, Bailuzhou Park, the Former Residence of the Wang and Xie Families, Zhonghua Gate and Zhanyuan Garden. This area is reputed as the Luminous Pearl of Jinling (former name of Nanjing) for its fantastic night scene. We highly recommend you to visit this area in the evening at around 7:00 p.m.

If one goes southward of the city area, crossing the South Railway Station, Yu Hua Tai - a favorite place for Chinese patriots will be found. The historical park of Yu Hua Tai houses a monument built to commemorate the seventy-two Chinese martyrs. If you will be more curious about historical records, we recommend you to visit the Museum halls, which contain these pertinent documents. The Yuhuashi (Rain Flower Pebbles) Art Festival (annual) is held here. The visit around this area will take you three hours.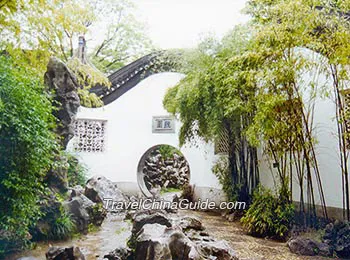 Zhanyuan Garden
In the eastern part outside of Nanjing along the upper part of the Qinhuai River (the river that crosses the city from northwest to the south) is
Mochou Lake Park
. Near the lake is
The Memorial Hall to the Victims in the Nanjing Massacre
. The memorial hall contains documents and pictures of Chinese
people under the atrocities of Japanese soldiers during World War II. Time spent on visiting this memorial hall will depend on how much you want to learn about the history of the local people under the Japanese regime. 1.2 km east from the lake is
Chaotian Palace
, a splendid complex and a former Confucius Temple built in 1384. Now it's the site of Nanjing Municipal Museum.
Besides,
Nanjing Museum
holding a collection of some 2,000 first class treasures of national and cultural interest, the
Xuyuan Garden
, a relatively small exquisite southern China gardening style garden and the
Yangtze River Bridge
are also highly recommended attractions of the city.
The shopping area near Xinjiekou, the street near Hunan Lu and Shanxi Lu Square, is a must for night owls. This is a commercial area and has a varied and bustling nightlife. More information is found in our nightlife section.

Read more about
Top 10 Things to Do in Nanjing
12 Best Places to Visit in Nanjing
Suggested Itineraries

Bus Tour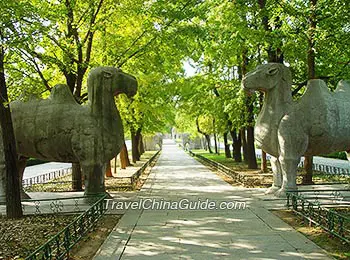 Xiaoling Mausoleum of Ming Dynasty

One Day Itinerary
Take Bus 9 from Xin Jie Kou and get down at Zhong Shan Ling stop (pin yin for Mausoleum of Dr. Sun Yet-sen) to visit the Zijinshan scenic area. After visiting, take Bus 20 and get down at Da Xing Gong stop to visit the Presidential Palace then take Bus 31 to Jian kang stop to visit the famous riverside street of Qinhuai River and have a sample of the local snacks at Fuzimiao dining street.

Two Days Itinerary
Day1: the same as the above
Day2: Take Bus 1, 3, 33 or 40 to get down at Xuan Wu Men stop to visit the Xuanwu Lake. Have a look at the vegetable fare in Jiming Temple. In the afternoon, take Bus 2 or 33 to Yu Hua Tai stop and visit Yu Hua Tai scenic area, Zhonghua Gate and Zhanyuan Garden.

Metro Tour
The new metro line is an alternative for visitors who do not want to take the crowded buses. You could still see most of the attractions in the area.

Route & Attractions
Hongshan Zoo ---> Nanjing Railway Station ---> Xin Mofan Malu ---> Xuanwu Men (Xuanwu Gate) ---> Gulou (Drum Tower) ---> Zhujiang Lu ---> Xinjiekou (downtown area) ---> Zhangfuyuan ---> Sanshanjie ---> Zhonghua Gate -----> Xiaohang -----> Aoti Zhongxin (the southern ending)

Hongshan Zoo
It is the second stop for the north-to-south passengers with 10 minutes walk from the metro station to the zoo gate. The dense forest park is home to various animals.

Xuanwu Lake
Get down at the four stop - Xuanwu Men and take a five-minute walk eastwards from the stop, you will find the second-famous attraction in the city, Xuanwu Lake. The Jiangsu Exhibition Center is on the way to the lake.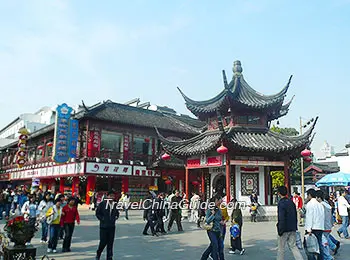 Gongyuan Street beside the Qinhuai River

Ganxi's Residence (Ganxi Guju)
Continue from Xuanwu Men stop and go further for four stops is Zhangfuyuan. Walk out of the station and go southward for five minutes along the Zhonghua Lu, you will find classical garden buildings on the street. Originally it is the residential houses during the Qing Dynasty. The Nanjing Folk Museum is located in the area.

Fuzimiao
Next stop to Zhangfuyuan, you will get to Sanshanjie stop. Take a five-minute walk east to the northern end of Fuzimiao area. Fuzimiao, also called Confucius Temple, has been a prosperous area from the old days. Dazzling shops, restaurants and entertainment places surround the traditional houses during the traditional Ming and Qing eras. Old architectural buildings can be found along the beautiful Qinhuai River. This is a must attraction in the city.

Zhonghua Gate
Next stop to Sanshanjie is the Zhonghua Gate, the well-preserved castle on the ancient wall of the city.

Rain Flower Terrace (Yuhuatai)
Walk across the old Gate and go down to the south for fifteen minutes, you will get to the north gate of Yuhuatai Park. It is a historical monumental site where Chinese martyrs are commemorated.
- Last updated on Apr. 08, 2021 -
Questions & Answers on Nanjing Attractions
Asked by rita from VIETNAM | Oct. 03, 2019 21:50

Reply
Nanjing: Concert event in weekends
Hello, we intend to visit Nanjing in Nov2019 (from 30-Oct to 3-Nov), any concert will be showed in this period? Pls advise us:
1. website (in English) which we can book ticket, payment by VISA card is more prefer
2. the ways to reach to the hall/concert
Thank you so much in advance.
Answers (1)
Answered by Lisa from THAILAND | Oct. 11, 2019 02:20

0

0

Reply
Li Yundi, a famous International pianoist, will hold his piano concert at Jiangsu Grand Theater in November 3th. Sorry, there is no English website you can buy the ticket. You can take metro line 10 and get off at Olympic center station, then walk north around 600m to it.
Asked by Stan from SPAIN | Oct. 21, 2018 21:10

Reply
I'll be boarding a train from Nantong to Nanjing and we are planning for one day trip
so what are the places I can find near the Railway Station or the places where I can visit so that I can reach by night
Answers (1)
Answered by Kent from USA | Oct. 22, 2018 18:44

0

0

Reply
Near the Nantong Railway Station, there are many attractions that you can visit.
Nantong Adventure kingdom, you can take the Bus No.45/ 55 for the travel between and it may take within 30 minutes.

Tangzha Park, take the Bus No.14/ 55 for the travel between and it may take about 30 minutes.

Nantong Forest of wild zoo, take the Bus No.108 for the travel between and it may take about 60 minutes.
Asked by Ulaganathan from INDIA | Sep. 09, 2018 10:50

Reply
I am Nathan from India, i will be reaching Shanghai Pudong Airport on 18th October at 11.50 pm
i would like to go to Nanjing by train.
Could someone please help me whether i can get taxi or subway or any other transport from pudong airport to railway station.
Answers (2)
Answered by Clair from SINGAPORE | Sep. 09, 2018 23:44

0

0

Reply
As I know, two earlier high speed trains depart from Shanghai Railway Station to Nanjing at 5:48 and 5:53 in the morning. You are suggested to take a taxi to the station.
Answered by veerendra from INDIA | Oct. 07, 2019 03:21

0

0

Reply
Hi, Veerendra here from India I am also visiting Nanjing on 20th to attend a scientific workshop at nanjing university. I found there is good transit facilities from shanghai railway station from the morning. you can book it from travel china guide. I would also like to see you in nanjing we can travel together if possible.
Asked by TIMSYKES3 | May. 31, 2018 11:38

Reply
Are there any water parks with slides in Nanjing and if so how much are tickets?
Answers (1)
Answered by Mark from CANADA | Jun. 04, 2018 04:57

0

0

Reply
Nanjing Happy Water Cube and the ticket fares are CNY 230 for an adult and CNY 50 for a child who is higher than 1.3m. The children under 1.3 will be free of charge.