Nanjing Travel Tips
Hospitals
International SOS Clinic Nanjing
Address: 1st floor of Hilton Hotel, No.319 at Zhongshan Donglu
Opening hours
Monday to Friday 9am to 6pm
Saturday 24hr emergency care only
Tel: 86 25 8480 2842
Fax: 86 25 8480 2843
Drum Tower Hospital (Gulou Yiyuan)
Transport: From Nanjing Railway Station or Zhongyangmen Bus Station, you can take Bus No.1, 38, 35 and 25 and get off at Drum Tower (Gulou) stop. You will find the hospital on the southwestern part of the cross.
You can also take buses 11, 20, 24, 811 in the city area to reach the same stop.
Stomatology Hospital
Address: No.30, Zhongyang Lu
Tel: 025-57714636, 025-83214579 (information center)
Nanjing Children's Hospital
Transport: From the Nanjing Railway Station, you can take Bus No.1 to Zhujiang Lu stop and change to No.6 and get off at Children's Hospital (Ertong Yiyuan) stop.
You can also take buses 6, 65, 91, 48 in the city area to reach the same stop.

Money Matters
You can exchange money at Lu Kou International Airport, branch offices of the Bank of China at Zhongshan Donglu, just east of Xinjiekou traffic circle and most hotels in the city. Rates at hotels may be a little higher than those in the Bank of China. Some hotels only exchange currency for their own guests.Click for more info on Chinese RMB.

University in Nanjing
Institute for International Students, Nanjing University
Address: No.22 Hankou Lu, 210093
Tel: 025 - 83593586 83593585
Institute of International Students, Nanjing Normal University
Address: No.122, Ninghai Lu, 210097
Tel: (025)83598378
Fax: (025)83717160
Nanjing University of Posts & Telecommunications
Address: No.66, Mofan Malu
Southeast University
Address: Si Pai Lou 2#, Nanjing 210096, China

International passengers from 53 countries or regions can have a stay of up to 144 hours if they transit in Nanjing Lukou Airport. During the layover period, they are allowed to visit the whole Jiangsu Province and Shanghai and Zhejiang.

Jinling Lanterns Fair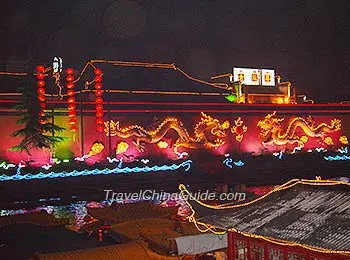 Jinling Lanterns Fair
It was said that the first lantern fair was held in this region in the reign of Hong Wu in the Ming Dynasty (1368 - 1644), when Emperor Zhu Yuanzhang ordered a spring lantern fair to be held to celebrate both the coming new year and prosperity of the country. This tradition was passed down from generation to generation and reached its height in the Ming and Qing periods. Each year from the first day of the lunar January the lantern fair celebration is held in the area surrounding
Fuzimiao
.
Period: 1st, Jan - 15th, Jan depending on lunar calendar
In the early spring between February and March, Nanjing International Plum Festival opens as the first ceremonial tourist event of the year. The meeting place is chosen on Plum Hill. Reputed as the First Plum Hill under Heaven, it is one of the eight plum appreciation sights having the most variety, longest history and being the largest in the country. Because the traditional Chinese Lunar New Year always falls in this period, spectacular celebrations of blossom appreciation, show performances, cultural exhibitions and bazaar shopping are held.
Period: Feb. - Mar.

Cherry Blossom Festival
In late March, Xuanwu Park becomes a sea of cherry blossom and photography lovers and tourists throng to see the charming scenery.

Yuhuashi (Rain Flower Pebbles) Art Festival
Yuhuashi, a kind of rain-flower pattern agate, is a very popular tourist souvenir. Each year in September, an art and cultural festival is held in Yuhuatai (Rain Flower Terrace) Scenic Area. Exhibition of precious agate stones and performances will be presented.
Period: September
Autumn is a blossom season in the city when parks and gardens will hold flower festivals. For example, from September to November, a 300-meter long road in the Lingu Park will become a charming flower street with scented flowers along its length. Maples on Mount Qixia are amazing.

Getting to know more tips for travel in China, please visit China Travel Advice.