Chinese Currency & Money Exchange
Chinese Currency

What is the name of China's currency?

Answer: Renminbi, literally people's currency, is the legal tender of the People's Republic of China, which is issued by the People's Bank of China. It has another name, Chinese Yuan.
• Short official name: CNY (Chinese Yuan)
• Abbreviation: RMB
• Chinese: Ren Min Bi (人民币)
• Symbol: ¥
• Monetary unit: Yuan (元)
• Fractional units: Jiao (角) and Fen (分)
---

How many sets of RMB have been issued?

Answer: With the establishment of the People's Bank of China on December 1st 1948, the first edition of Chinese currency was issued. To date, five sets of currencies have been published, circulating the last edition from October 1st 1999.
---

Is the currency used in Hong Kong the same as that of the mainland?

Answer: The currency used in Hong Kong, Macau and Taiwan is different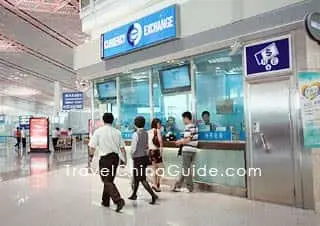 Currency Exchange at
Beijing Capital International Airport
• Hong Kong: Hong Kong Dollar
• Abbreviation: HKD$
• Macau: Pataca
• Abbreviation: MOP$
• Taiwan: New Taiwan Dollar
• Abbreviation: NT$

I often hear people say "kuai"; does it refer to Chinese money?
---

Answer: Yes. Colloquially in Chinese, the Yuan is called kuai, and the Jiao is called mao.
---

What is the conversion among Yuan, Jiao and Fen?

Answer: 1Yuan = 10 Jiao = 100 Fen
---

What are the main notes used now?

Answer: Currently, the paper money used is 1 Jiao, 5 Jiao, 1 Yuan, 5 Yuan, 10 Yuan, 20 Yuan, 50 Yuan, and 100 Yuan. The coin used is 1 Yuan and 5 Jiao. Do not easily accept the money of other denominations.

Herein are pictures of China paper money and coins. You can click each picture to see its original size.
---

Is it possible to receive counterfeit money in China and if yes, how to identify the them?

Answer: Like many countries in the world, China is also suffers from counterfeiters.
You should be much more careful when you receive a big note (100 Yuan or 50 Yuan); make sure that the note is not a fake.
Hereafter we provide some easy ways to identify them:
1. The fifth edition of Chinese currency has a watermark on the left of the front side. You can see it clearly in the authentic paper money against the light.
2. There is a security line in the middle of RMB100, RMB50, RMB20, RMB10 and RMB5 (the fifth set).
3. The Denomination ID in bottom-left of the front side color change hologram effect: seen from different angles, the denomination ID of ¥100 changes from green to blue, and that of ¥50 changes from golden to green.
4. Because of its special material, the authentic RMB will make a ringing sound when being snapped.
---
Money Exchanging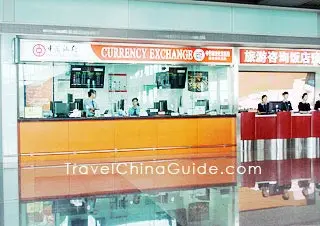 Currency Exchange, Bank of China

I am an American, and the exchange rate in my country is very bad. Can I exchange money in China? Is it easier to do it in the country?

Answer: It is quite easy to exchange money in China and the rates will be more favorable, but it is advisable to exchange a small amount in your country before leaving.
---

Where can I exchange money in China?

Answer: Usually, four-star and five-star hotels offer exchange service, but only for their guest. There are counters at most airports in China, providing money exchanging service. Mostly people will also go to banks in downtown areas. Remember to take your passport, which need to be presented when converting currency in the country. However, for remote areas, it is difficult to exchange currency or use a credit card, so it is advisable to take enough money when you are going to visit the remote area.
---

When getting Chinese currency, I was given many 100 Yuan notes, the lowest value was 50 Yuan. If I had been traveling on my own I would have faced difficulties as taxis and buses. The drivers sometimes find it impossible to give change. So if possible try to get some low value notes too to help with paying for transport, postage etc?

For the sake of easy carriage, the bank staff will always give you some big notes. However, you can ask them to give you a 100 Yuan of small change. It is strongly advised to take some small change with you.
---

Can I exchange the unused Renminbi back in US dollars?

Answer: Of course you can. Please keep all your exchange receipts, which you must present. However, such exchange can be quite unfavorable in rates, you'd better use all your Chinese money before you left.
---

Is there anything else worthy of note when exchanging money?

Answer: Yes. The following things merit attention:
1. Choose a bank which is the nearest to your hotel if you are going to exchange a large amount of money or you can exchange in your hotel directly if it offers this service.
2. Do not exchange money in the street or the small shops which is mostly illegal and sometimes forgeries may be given.
---

Can I use RMB in Macau and Hong Kong?

Answer: Of course you can. 100 Yuan is widely accepted in Hong Kong, however, the small domination such as 10 Yuan and 20 Yuan are not so popular. Usually, you pay them in RMB; they will give you changes in Hong Kong Dollar. Note that the exchange rate is not as satisfying as in mainland.
---

Can you give the latest exchange rate?

Answer: The exchange rate is changing all the time; please refer to Currency Conversion for the latest rate.
---

More about Money and Cost in China:


Bank Account, Credit Card & Traveler's Cheque


Cost of Traveling in China
- Last updated on Jul. 02, 2023 -
Questions & Answers on Chinese Currency & Money Exchange
Asked by John kinyanjui from KENYA | Jul. 02, 2023 21:59

Reply
I have 1yuan how much in Kenya shillings
1yuan john from kenya
Answers (1)
Answered by Gloria | Jul. 02, 2023 23:55

0

0

Reply
CNY1 = KES 20
Asked by Moris from UGANDA | Oct. 06, 2022 13:19

Reply
I have 5yuan china money how much it's it in ugh currency
Answers (1)
Answered by Dave | Oct. 09, 2022 20:21

0

0

Reply
It's about 2,700 ugh currency.
Asked by April from WASHIGTON | Feb. 11, 2022 03:39

Reply
I have a1.00 yuan moneys how much is it in us
Answers (1)
Answered by Peter | Feb. 22, 2022 16:36

0

0

Reply
1 Chinese yuan is equal to about 0.16 US dollar.
Asked by Adoniyas Ayalew from CHINA | Feb. 22, 2020 11:54

Reply
Is that possible to get a visa or mastercard credit card from banks in china?
Answers (1)
Answered by Victoria from UKRAINE | Feb. 27, 2020 17:05

0

0

Reply
Yes, it is possible.
Asked by Imasha from SRI LANKS | Nov. 17, 2019 00:30

Reply
How much is the cost to visit china with family for one week as a trip?
Answers (1)
Answered by Jordan from FINLAND | Nov. 17, 2019 22:06

0

0

Reply
Well, it depends on which cities you want to tour around. And the expenses are hard to estimate.