Power Plugs / Sockets in China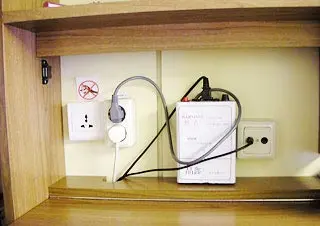 Sockets & Plugs
Voltage in China is 220V/50HZ
In Mainland China, Hong Kong and Macau, the common power voltage is 220 Volt 50 Hz AC, but in Taiwan, electronic devices often work with the electricity supply voltage of 110V/60HZ.
Is Outlet Adaptor Needed in China?
As the shapes of sockets and voltage vary among countries, a portable plug adaptor is usually necessary. It can be purchased in your local country from stores like Franzus or electronics stores such as RadioShack and Best Buy. Also you can buy it in China.

Chargers of most electronic devices like cell phones, tablets, and cameras can function normally in the wide power voltage of 110~240V. Most hotels ranking above 3 stars in China provide electrical outlets of both 110V and 220V in the bathrooms, though in guest rooms usually only 220V sockets are available.
What Power Sockets are Used in China?
There are two kinds of sockets widely used in Mainland China: type A and type I. The type A can also accept plugs of type C or F, which are commonly seen in most European countries.
| | |
| --- | --- |
| | In China, this kind of outlets has two holes of the same shape and size. Plugs that match this socket are commonly used in US, Mexico, Canada, Japan, Philippines, Colombia, Thailand, Vietnam, Panama… But you should notice that there is a kind of two-blade plug with one end larger than the other. They can't be used in China without an adaptor. |
| | Countries like Australia, New Zealand, Argentina, and Fiji use electronic devices of this plug shape. Sometimes, the blade at the top is missed, but it can still function safely in Mainland China. |
| | This kind of socket is widely seen in most European countries, like Russia, Germany, Denmark, Poland, Finland, France, Sweden, and Spain, as well as South Korea. |
Sockets in Hong Kong, Macau and Taiwan
Hong Kong, Macau and Taiwan use different socket types from the Mainland China. In Hong Kong, British Standard outlets, also known as type G, are widely used. People coming from countries like UK, Ireland, India, Malaysia, Singapore, Maldives, Nigeria, and Uganda can charge most of their electronic devices without an adaptor in Hong Kong. Type C or F is the universal socket in Macau while the plug shapes of type B can be well compatible with the outlets in Taiwan.
| | | |
| --- | --- | --- |
| Type G used in Hong Kong | Type C & F used in Macau | Type B used in Taiwan |
Electricity Voltage around the World
Over 30 countries including those in North America use a voltage of 110V~130V, while another 120 countries including most of Europe use a voltage of 220V~230V. The following list shows electricity voltage of countries around the world for your reference:
| | | | |
| --- | --- | --- | --- |
| Argentina | 220V/50HZ | Australia | 240V/50HZ |
| Belgium | 230V/50HZ | Brazil | 110-220V/60HZ |
| Britain | 230V/50HZ | Burma | 230V/50HZ |
| Canada | 120V/60HZ | Cuba | 120V/60HZ |
| Denmark | 230V/50HZ | Egypt | 220V/50HZ |
| Finland | 230V/50HZ | France | 230V/50HZ |
| Germany | 230V/50HZ | Greece | 230V/50HZ |
| Hungary | 230V/50HZ | India | 230V/50HZ |
| Indonesia | 220V/50HZ | Italy | 230V/50HZ |
| Japan | 100V/50-60HZ | Malaysia | 240V/50HZ |
| Mexico | 127V/60HZ | Netherlands | 230V/50HZ |
| New Zealand | 240V/50HZ | Portugal | 230V/50HZ |
| Russia | 220V/50HZ | Saudi Arabia | 127V-220V/60HZ |
| Singapore | 230V/50HZ | South Africa | 220V/50HZ |
| South Korea | 220V/60HZ | Spain | 230V/50HZ |
| Sri Lanka | 230V/50HZ | Sweden | 230V/50HZ |
| Switzerland | 230V/50HZ | Thailand | 220V/50HZ |
| Turkey | 220V/50HZ | Vietnam | 220V/50HZ |
| U.S.A. | 120V/60HZ | | |