Money & Cost in China - Bank Acount / Credit Card / Traveler's Cheque
Bank Account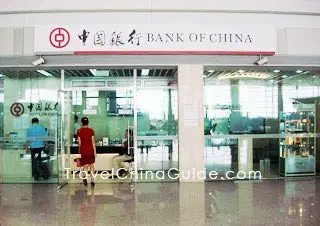 Bank of China

Can foreigners open a bank account in China? If yes, how does one open one?

Answer: Foreigners can open bank accounts in most banks in China.
The process is fairly straight forward. A passport is required. In addition, different banks may require different amounts of minimum deposits when opening an account, which can be 100 CNY to 300 CNY. When you successfully open an account, you will get a bank card, or a passbook for time deposit. You can use the card to withdraw money from the ATMs.
---

There are many kinds of deposit, which one should I choose?

Answer: Generally speaking, there are two ways: Demand Deposit and Time Deposit.
Demand Deposit: There are no limits on the amount and time of your deposit as well as withdrawal. A bank card is issued after opening an account. You can deposit or withdraw money in the Bank outlets or the ATM.
Time Deposit: There is a settled time and you can only withdraw your money on the date of maturity. The interest rate of time deposit is higher than demand deposit. There is no bank card for this kind of deposit.
---

What are the major banks in China which are friendly to foreigners?



Answer: Here we list the service number and official website of some major banks. If you have any problem, you can call for help!
Bank of China: http://www.boc.cn/en/index.html (Service number: 95566)
Agriculture Bank of China: http://www.abchina.com/en/ (Service number: 95599)
Industrial and Commercial Bank of China: http://www.icbc.com.cn/ICBC/sy/ (Service number: 95588)
China Merchants Bank: http://english.cmbchina.com/ (Service number: 95555)

Usually, in the big branches of these banks, English service is available.
| | |
| --- | --- |
| Agricultural Bank | China Construction Bank |
---
Credit Card and ATM

What kind of credit card can I use in China?

Answer: Currently there are seven main foreign credit cards available in China, including Visa, MasterCard, American Express, Diners Club, JCB, Federal and Million. Credit cards can be used for withdrawing money, shopping and other transactions in most major cities of the country, but generally not accepted in rural areas.
| | | |
| --- | --- | --- |
| ATM for Worldwide Money | ATM of Bank of Beijing | ATM of Standard Chartered |
---

Do all the ATMs in China accept my credit card?

Answer: If the symbols and logos of your credit card are shown on the ATMs, then it can be used to withdraw money. It should be noted that different banks have different limits on the sum that can be withdrawn each time from the ATM, with most permitting a withdrawal of 20,000 Yuan in any day.
---

Can I apply for a Chinese credit card?

Answer: Yes, you can, if you work in China or have steady income. But it is impossible for travelers.
---

I heard that the PIN number of Chinese card is six-digit, but mine is four-digit. If I withdraw money from the ATMs, can they recognize my card?

Answer: The PIN number of Chinese card is six-digit. You can put two zero before you four-digit PIN to see if it works. Some of the banks also accept the four-digit PIN. However, it is advised to check with your bank first. Keep in mind not to make more than three incorrect number attempts, or your card will be locked.
---

My card was eaten by the ATM, how can I take it back?

Answer: Most probably, it occurs when you press the wrong PIN more than three times. Your card is eaten; it is locked by the bank simultaneously. Go to the service counter with your passport. With the right PIN number, you can take back your card.
---
Traveler's Cheque/Check

What is a traveler's check?

Answer: The traveler's check, which is issued by international commercial banks or authorized tour agencies, offers much more security and convenience while traveling. Similar to cash, the check also has different kinds of par values, and is issued in various currencies. At present, the checks issued by American Express, VISA, Thomas Cook, and others are recognized worldwide and are available in most large-scale emporiums, star-rated hotels or can be exchanged in more than 800 banks around the world, without any limitation on the period of validity.
---

Are traveler's checks accepted in China?



Answer: They are accepted in the major banks in the country, where you can buy and cash them. But only some high-end hotels and large-scale emporiums accept traveler's check. Many visitors now prefer to use credit cards, which are more convenient and widely used.
---

More about Money and Cost in China:


Chinese Currency & Money Exchange


Cost of Traveling in China
- Last modified on Dec. 09, 2018 -
Questions & Answers on China Bank Acount, Credit Card, Traveler\s Cheque
Asked by Magdalena from NETHERLANDS | Dec. 08, 2018 00:52

Reply
Cash withdrawal in Beijing with maestro
When I searched on the internet it said that I could withdraw cash with my maestro card in the big banks in Beijing. However when I tried to do that in the Bank of China it did not accept my card. Do you know if there is any possibility that I could still somewhere withdraw cash with my maestro card? It's very important.
Answers (1)
Answered by Bowen from NEW ZEALAND | Dec. 09, 2018 19:41

0

0

Reply
Hi, maybe you can contact the Bank of China to consult if they can accept that or try some large banks like China Construction Bank and Industrial and Commercial Bank of China. The phone number of Bank of China is 95566.
Asked by Brian from USA | Aug. 13, 2018 17:19

Reply
Visa / MC with China UnionPay symbol on it?
I have heard that certain Visa and MasterCard credit cards have a partnership with China Unionpay. Does anyone know of such a card since many places in China only take China Unionpay CCs. In order for it to be useful for me, it would have to be a Visa or MasterCard that I pay off in the US but that has a China Unionpay symbol on the back such that stores and restaurants in China will accept it.
Answers (2)
Answered by Rena from USA | Aug. 13, 2018 18:20

0

0

Reply
Yes, it is. With the symbol of China Unionpay on it, the Visa and Mastercard can be used in many places in China. You can apply for one with your passport in China.
Answered by Brian from USA | Aug. 14, 2018 11:19

0

0

Reply
Rena, thanks for your reply. To make sure I understand your answer, are you saying that a solution is to apply for a CC in China? Actually, I'm looking for a US issued Visa or MasterCard that has some sort of partnership with China UnionPay and thus has the China UnionPay symbol on it so that the Chinese companies assume its China UnionPay or at least are willing to "run" the card. It sounded like this approach may be an option but I need to find a specific Visa or MasterCard to apply for. If you or anyone knows of that I would appreciate knowing of that specific card. Otherwise, I will likely do what you said as a last resort. But a US issued one where I pay in USD and all the other conveniences is strongly preferred. Thanks again.