Best Tour Destinations in China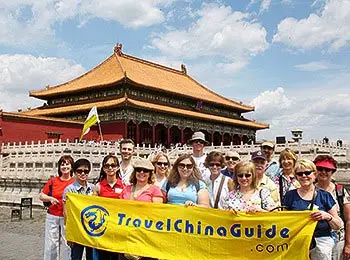 Our tour group in Forbidden City, Beijing
China is so large. Going to China for traveling, you will have many destinations. Some destinations are renowned for its history; some boast picturesque landscapes; some are endowed with very colorful ethnic features; and some are economically prosperous.
The Most Popular Destinations in China
Beijing
,
Shanghai
and
Xi'an
are very famous Chinese cities in the world. Beijing, capital of the country, is the center of the country's political, economic, cultural and educational center; Shanghai is a well-developed metropolis with prosperous economy; Xi'an, the ancient capital of 13 dynasties, possesses abundant historical heritage.
Besides, you may go to visit Shenzhen, Guangzhou, Hangzhou, Suzhou, Guilin, Lijiang, Jiuzhaigou, Sanya, Tibet or Xinjiang. Shenzhen and Guangzhou are well-known coastal cities with fast economic development; Hangzhou and Suzhou boast beautiful water towns, lakes and gardens as well as favorable climate; Guilin, Lijiang and Jiuzhaigou are famed for unique natural scenery, and characteristic ethnic minorities' culture; Sanya in Hainan Province makes you enjoy the charming tropical scenery; Tibet has mysterious religious beliefs, vast grasslands and highest mountains; and Xinjiang attracts visitors by its various ethnic minorities and numerous historical relics along the Silk Road.

See
Top 10 China Destinations for First Time Travelers
Mountain Climbing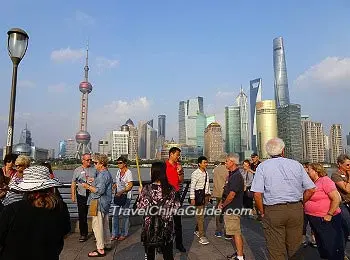 Many visitors at the Bund, Shanghai
There are many mountains on the land of China. The most notable ones are the world's highest
Mt. Everest
and the five sacred mountains, namely the Mt. Taishan in Shandong, Mt. Huashan in Shaanxi, Mt. Songshan in Henan, Mt. Hengshan in Hunan and Mt. Hengshan in Shanxi. Additionally, the Mt. Huangshan in Anhui and the Mt. Lushan in Jiangxi are well worth a visit.
River Cruises
The
Yangtze River
is the first longest river in China. A Yangtze River cruise is a memorable experience. You can get on the ship at Chaotianmen Port of Chongqing to start the downstream cruise from Chongqing to Yichang, Wuhan or Shanghai, or you can choose to go upstream. What's more, in Guangzhou, you can join the Pearl River night cruise; in Guilin, you are suggested to have a Li River cruise. The on-board vacation is interesting and relaxing.

Yangtze Cruise Tours
Great Wall Trekking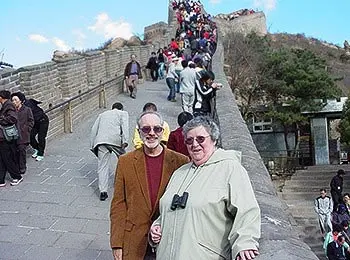 Our clients on Badaling Great Wall
Great Wall of China is amazing. Its remains can be found in Gansu, Ningxia, Shaanxi, Inner Mongolia, Shanxi, Hebei, Beijing, Tianjin, and Liaoning. If you want to have a Great Wall hiking tour, Beijing, Tianjin and Hebei are highly recommended. Especially, the Badaling Great Wall in Beijing, the Huangyaguan Great Wall in Tianjin and the Shanhaiguan Pass in Qinhuangdao (in Hebei) are must-sees. Additionally, the Jiayuguan Great Wall in Gansu is a good choice.

Silk Road Adventure
If you take a great interest in the history of the
Silk Road
, why not have a Silk Road adventure? Xi'an will be your first stop as it once was the beginning of the Silk Road in the history. Set off towards Gansu and then Xinjiang. During this visit, you can find many historical sites, such as the ruins of ancient kingdoms, museums, architectures and tombs. Also you can hear lots of interesting stories like the decline of Loulan Ancient Kingdom and the construction of Bajiao Ancient City.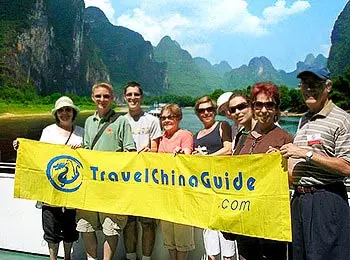 Our Tour Group in Guilin
Ancient Towns Visiting
There are many ancient towns in China. Mostly, the ancient towns have well-preserved ancient buildings and also keep a traditional life style. The notable ancient towns include Fenghuang (in Hunan), Songpan (in Sichuan), Pingyao (in Shanxi) and Lijiang (in Yunnan).

See
Top 10 Water Towns in China
Other Featured Tours
If you want a featured tours, you may go on a visit to Guizhou and Yunnan, which are inhabited by many ethnic minorities. In Guizhou, you can visit Guiyang, Kaili, Tongren and Bijie. In Yunnan, Kunming, Dali, Lijiang, Shangri-La and Xishuangbanna are must-see destinations.
Another kind of featured tours is coastal cities tours. You can go to Qingdao, Yantai, Weihai, Dalian, Qinhuangdao and Xiamen
Best China Tour Destinations by Month:
- Last updated on Aug. 29, 2022 -
Questions & Answers on Best Tour Destinations in China
Asked by Chandra from SRI LANKA | Oct. 06, 2018 05:12

Reply
Do travelers need to bring warm cloths when visiting Shanghai in October?
Answers (1)
Answered by Cindy from MALAYSIA | Oct. 08, 2018 03:00

0

0

Reply
Yes, I think sweaters or jackets are necessary since the temperature is from 15C to 25C.
Asked by Nia from MALAYSIA | Sep. 15, 2018 05:26

Reply
What is the weather in Shanghai in March? And what are the other places that we can visit?
Answers (1)
Answered by Mina from CANADA | Sep. 16, 2018 19:32

0

0

Reply
The temperature is about 5C to 20C and it's still a little cold. Preparing some warm clothes is very necessary and you can wear a sweater and a jacket. Besides Shanghai, you can visit Suzhou and Hangzhou, which are very close to Shanghai and the gardens in Suzhou are very beautiful.
Asked by KimH from USA | Jul. 06, 2018 10:28

Reply
Weather in March/Travel Options
What is the weather like in Beijing in March?

If I want to also visit Shanghai, what's the best way to travel from Beijing to there?
Answers (1)
Answered by Webster from UNITED KINGDOM | Jul. 08, 2018 20:12

0

0

Reply
Average temperature in March Beijing is 0 - 12C. It is cold, with an average temperature of 12C during the day, and it is recommended for you to wear suits, windbreaker and sweater to keep warm. The average temperature at night is 0C, and it is suggested to wear thick cotton-padded clothes, gloves…

You can take the high speed trains to Shanghai from Beijing within 5 hours.