Top 6 July Getaways in China
The weather in July is very hot in most parts of China. Tourists are recommended to travel to some cooler summer resorts, such as Tibet, Qinghai, Guizhou, and Huangshan Mountain.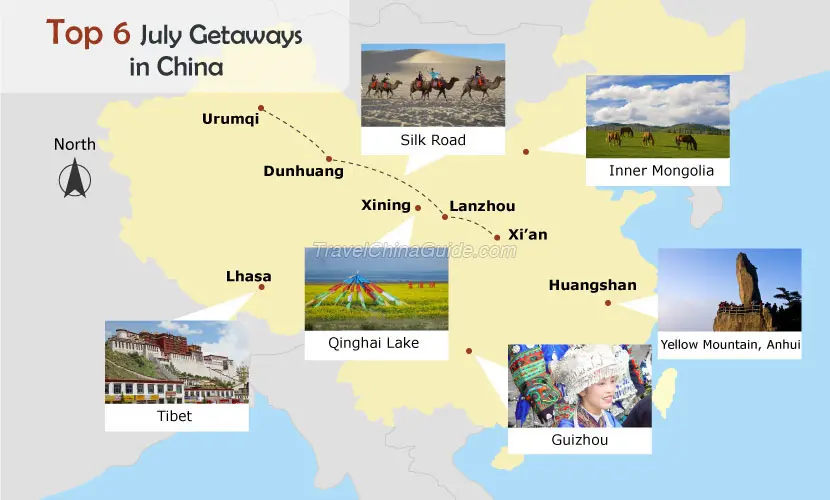 1
Tibet: Roof of the World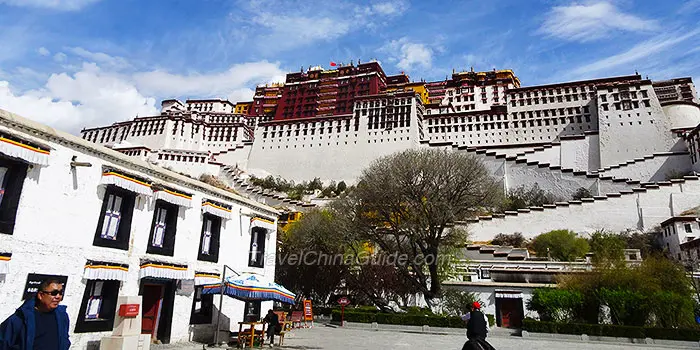 Location: West China
Tibet Temperature in July: 10°C ~ 22°C (50°F ~ 72°F)
Weather: large temperature differences between day and night, little rainfall, strong Ultraviolet light
Features:
Potala Palace
,
Jokhang Temple
,
Sera Monastery
,
Yamdrok Yumtso Lake
,
Mount Everest
,
Barkhor Street
,
Mt. Namcha Barwa
Things to Do:
Tibet is one of the best places to tavel in July. One of its landmarks is Potala Palace in Lhasa, the holy palace in the heart of pilgrims which houses many historical relics, such as pagodas, murals, Tangkaa and scriptures. Watch lamas debating on Buddhist doctrines in Sera Monastry or stroll around Barkhor Street to get unique Tibetan style souveniors. Or, enjoy a wonderful view of Mount Everest, the highest mountain in the world, in Shigatse. Ngari, Shannan and Nagqu are also worthwhile for a visit, with their charming scenery and unique Tibetan custom.

Recommended Tour:

15 Days Tibet Tour to Mt. Everest & Kailash
2
Guizhou: Cool Summer Resort & Diverse Culture
Location: South China
Guizhou Temperature in July: 19°C ~ 30°C (66°F ~ 86°F)
Weather: Not very hot, frequent showers
Highlights:
Xijiang Qianhu Miao Village
,
Huangguoshu Waterfall
,
Zhenyuan Ancient Town
,
Qingyan Ancient Town
,
Zhaoxing Dong Village
Things to Do:
Guizhou is a great resort city to escape the summer heat in July. Enjoy the unique charm of Huangguoshu Waterfall, which is surrounded by peaks and thick vegetation. Canyons, caves and stone pillars are everywhere, a typical karst landform. Also, tourists can travel to Xijiang Qianhu Miao Village, Zhenyuan Ancient Town and other ethnic minorities' villages which are mostly built besides mountains and rivers and join the local's party and dance to the folk music. Wearing local costumes and taking photos against green mountains and rivers are the top things to do in Guizhou.

Recommended Tour:

8 Days Guizhou Tour from

$1229
Location: Huangshan City, Anhui Province, East China
Huangshan Temperature in July: 16°C ~ 20°C (61°F ~ 68°F)
Weather: Cool, humid
Four Wonders of Huangshan Mountain: wondrous pines, grotesque rocks, sea of clouds, hot spring
Huangshan Mountain Travel Tips:
It usually takes 2 days to visit Huangshan Mountain (Yellow Mountain), and tourists can book a room on the mountain top or bring a tent to stay overnight. There are north gate and south gate for tourists to enter the scenic area, but it is best to go up from the south gate and down from the north gate to save energy. Tourists can also take cable cars up and down the mountains to save time to appreciate the scenery as the scenic area is large. Please note that the cable car is generally closed at 5 pm. After sightseeing at Huangshan Mountain, one can also pay a visit to some nearby attractions, such as
Hongcun Ancient Village
,
Xidi Ancient Village
,
Tunxi Ancient Street
.

Recommended Tour:

Huangshan 3 Days Tour from

$519
Location: North China
Inner Mongolia Temperature in July: 21°C ~ 30°C (70°F ~ 86°F)
Hightlights: Cool, a little rain
Highlights:
Hulunbuir Prairie
,
Xilamuren Grassland
,
Gegentala Grassland
,
Xilingol Grassland
, Mongolian song and dance / wrestling / horse racing, roast whole lamb
Things to Do:
The grasslands are the greenest and most beautiful in July in Inner Mongolia. You can appreciate the vast green pastures under the purest blue sky with white clouds. In addition to the beautiful scenery, visitors can also ride horses, watch wrestling, horse racing, and eat the prairie-style "full mutton feast" on the grassland to experience the unique customs of the nomads.

Recommended Tour:

7 Days Inner Mongolia Tour from Beijing to Xilingol Grassland from

$1579
5
Silk Road: Xi'an - Lanzhou - Dunhuang - Urumqi
Location: Northwest China
Temperature in July: 19°C ~ 32°C (66°F ~ 90°F)
Weather: Not very hot compared with many other places in China, dry
Features: Desert landscape, ethnic minorities' customs, delicious food
Things to Do:
Tourists can enjoy the desolate but magnificent natural landscape along the Silk Road. Besides, many cultural relics are scattered along this ancient trade road. In Xi'an, Giant Wild Goose Pagoda and Terracotta Army are recommended; in Lanzhou, visitors can go do Zhongshan Bridge over Yellow River, Binglingsi Monastery, Five Spring Mountain Park; in Dunhuang, Mogao Caves and Yangguan Pass tell you the past prosperity of the Silk Road; in Urumqi, Red Hill and Grand Bazaar should not be missed.

Recommended Tour:

13 Days Silk Road Tour: Beijing - Xi'an - Dunhuang - Urumqi - Shanghai from

$2978
Location: Qinghai Province, West China
Qinghai Temperature in July: 21°C ~ 30°C (70°F ~ 86°F)
Weather: big temperature difference between day and night, strong Ultraviolet, a few rainy days
Hightlights: Rape flowers around the lake,
Chaka Salt Lake
, Rape Flower Field in Menyuan County
Things to Do:
July is the most beautiful and the best time to take photos at Qinghai Lake. Thousands of acres of rape flowers around the lake bloom; together with the pure blue sky and colorful prayer flags, they resemble an "oil painting". The nearby Menyuan County is a great destination to appreciate rape flowers in July. Chaka Salt Lake is a salt field of more than 3,000 years which has a large amount of salt and naturally crystallize into a white lake. It is very clear to reflect the blue sky and white clouds, hence reputed as "Mirror of Sky"; visitors can also walk barefoot to the lake and have their reflections capture.

Recommended Tour:

6 Days Tour to Lanzhou - Xiahe - Qinghai Lake from

$1269
- Last updated on Mar. 10, 2021 -