China's 6 Best Places to Visit in April
April is one of the best times to visit China with comfortable and pleasant weather being neither too cold nor too hot. Tourists can go spring outing in watertowns nearby Shanghai or avatar Zhangjiajie, appreciate various penoies in Luoyang, enjoy gentle sea breeze in coastal Xiamen, or photograph in heaven-like Shangri-la…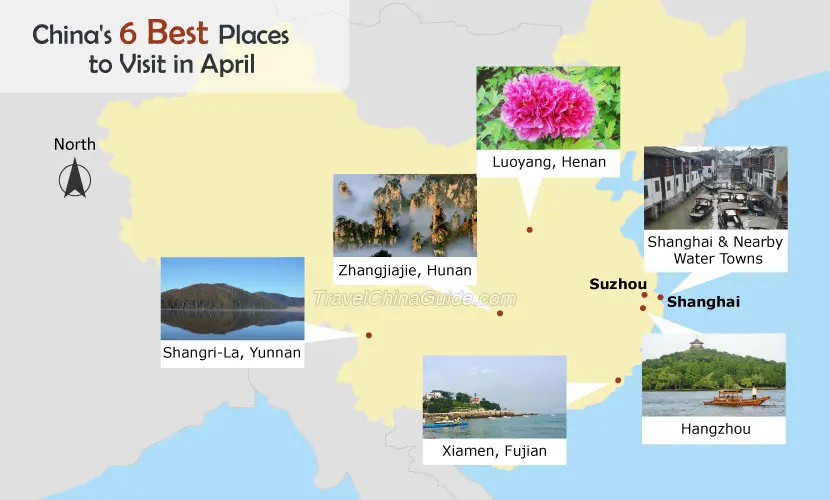 1
Shanghai & Nearby Water Towns: Cozy and Leisurely Trip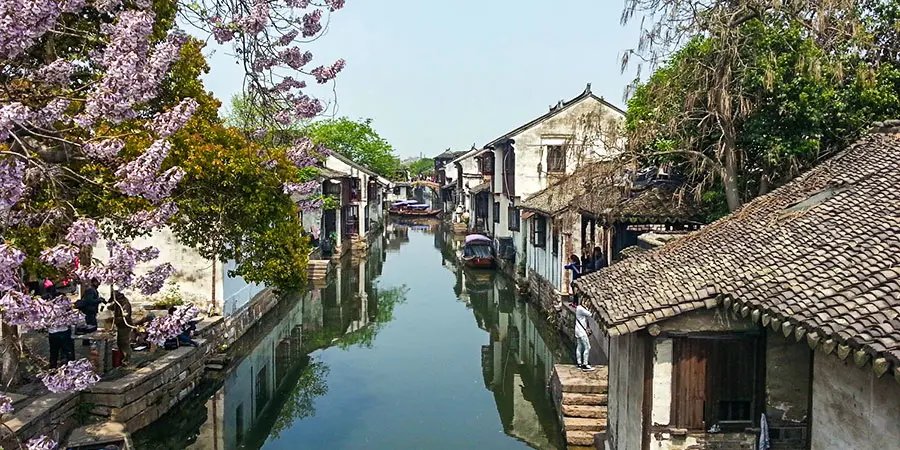 Location: East China
Shanghai Temperature in April
: 11°C ~ 19°C(52°F ~ 66°F)
Weather: Warm, frequent light rain
Highlights:
The Bund
,
Huangpu River
,
Fomer French Concession
,
Yu Garden
,
Zhujiajiao Water Town
,
Qibao Water Town
,
Zhouzhuang Water Town
,
Tongli Town
Things to Do:
Shanghai, the biggest city in China is one of the best places to visit in April. Tourists can take a stroll along the Bund to appreciate two totally different styles of buildings on its two sides, visit the Former French Concession to experience the tranquility and comfort that is unique in modern and busy Shanghai; visit Yu Garden to enjoy the exquisite decoration of this traditional Chinese garden. After that, visitor can take a side trip to Zhujiajiao, Qibao, Zhouzhuang, Tongli and other water towns around Shanghai to taste the life above water.

Recommended Tour:

Shanghai 4 Days Tour with Tongli Water Town from

$529
2
Hangzhou: A Shinging Pearl in Yangtze River Delta
Location: Zhejiang Province, East China
Hangzhou Temperature in April
: 12°C ~ 21°C (54°F ~ 70°F)
Weather: Rising temperature, light rain most of the time
Must-see Places:
West Lake
,
Xitang Water Town
,
Wuzhen Water Town
,
Meijiawu Tea Plantation
,
Xixi National Wetland Park
Things to Do:
Taking a walk along the West Lake and admire the blooming tulips is very cozy. In April, Longjing tea from Meijiawu Tea Plantation enters the pick-up season. There, you can see a bevy of girls picking tea leaves on the hillside, which is coverd by rows of green tea trees. Also, you can go to Wuzhen and Xitang Water Town to experience the culture and customs of water town in the southern part of the Yangtze River Delta.

Recommended Tour:

Hangzhou 4 Days Tour with Wuzhen Water Town from

$489
Location: Hunan Province, Central China
Zhangjiajie Temperature in April
: 13°C ~ 22°C(55°F ~ 72°F)
Weather: Warm weather, occasionally light rain
Features:
Zhangjiajie National Forest Park
,
Zhangjiajie Grand Canyon
,
Zhangjiajie Glass Bridge
,
Tianmen Mountain
,
Phoenix Ancient Town
Things to Do:
Zhangjiajie is a top place to travel and photograph in China in April. Its karst forest peaks, where the movie "Avatar" was shot, will never let you have a slight disappointment. The peaks and mountains are the magical work of nature, making Zhangjiajie a miniature bonsai. Any press of the shuttle can award you perfect photos. Moreover, tourists can challenge themselves at Zhangjiajie Glass Bridge which is the world's longest and highest glass bridge and have a bird's view of the Grand Canyon.

Recommended Tour:

Zhangjiajie 3 Days Tour Package from

$459
Location: Henan Province, Central China
Luoyang Temperature in April
: 9°C ~ 21°C (48°F ~ 70°F)
Weather: Warm, dry
Highlights: Penoies,
Shaolin Temple
,
White Horse Temple
,
Longmen Grottoes
Peony Culture Festival:
Luoyang in April is a paradise for penoy lovers. Thousands of acres of peonies are in full bloom, visitors can see various kinds of peony flowers here. There is also a Peony Lighting Show in the evening, which is a different kind of flower viewing experience. In addition, tourists can go to Shaolin Temple to experience Chinese Kung Fu.

Recommended Tour:

Luoyang 2 Days Tour from

$249
5
Xiamen: A Seaside City with Artistic Ambience
Location: Fujian Province, Southeast China
Xiamen Temperature in April: 16°C ~ 23°C (61°F ~ 73°F)
Weather: Mild and pleasant, strong sunshine
Highlights:
Gulangyu Island
, Xiamen University, Graffiti Wall,
South Putuo Temple
, Hulishan Fortress,
Jimei
Things to Do:
Xiamen is one of China's top places to travel in April. Slow down and enjoy the unique Gulangyu Island, where the quite-aged architecture blends perfectly with nature. Walking in downtown, you can encounter many graffitis, being colorful, cute, unique…, bringing the city some artistic flavors. For a discovery trip, you can visit Xiamen University built by mountains and water and experience the campus culture of this top Chinese university. If you are interested in Buddhism, South Putuo Temple is a good place to have a refreshing experience.

Recommended Tour:

3 Days Xiamen City Tour from

$379
Location: Yunan Province, Southwest China
Shangri-La Temperature in April: 11°C ~ 19°C (52°F ~ 66°F)
Weather: Large temperature difference between day and night, strong ultraviolet ray, dry
Features: Plateau scenery, ethinc moniroty customs
Things to Do:
Shangri-La is a wonderful place for photography and travel. Tourists can go to Potatso National Park to enjoy well-preserved primitive landscape endowed with lakes, wetlands, forests, meadows, streams, brooks, rare plants and animals. Songzanlin Monastery, "the little Potala Palace" will give you unfortable impression. Besides, visiting Bitahai Lake which is named as "A Pearl on the Plateau" is also an exciting experience.

Recommended Tour:

5 Days Lijiang to Shangri-La Tour from

$669
- Last modified on Mar. 10, 2021 -