China Weather in April
China weather in April is cool, neither hot nor cold. Many kinds of flowers are in full bloom and plants have turned green. All these make April one of the most comfortable months to visit China.


The coldest cities in China in April:
Harbin: 1°C (34°F), Changchun: 2°C (36°F), Yinchuan: 4°C (39°F), Hohhot: 1 °C (34°F)


The hottest cities in China in April:
Sanya: 31°C (88°F), Beihai: 27°C (81°F), Guangzhou: 26°C (61°F), Fuzhou: 23°C (73°F)

See more:
Spring in China – Weather & Tour Tips
Averages for China Weather in April

20°C (68°F)

9°C (48°F)

Rainfall
70 mm (3 in)

Sunrise
05:16 ~ 05:59

Sunset
18:38 ~ 19:08
The times for sunrise and sunset are based on Beijing.
China Temperatures in April
China temperature in April varies widely from day to night. It is generally warm in the daytime so it is advisable to wear a thin sweater, jacket, jeans, sneakers, thin overcoat, thin knitwear. However, temperatures at dawn or dusk are noticeably colder so please wear more. Remember to cover yourself well when sleeping to avoid catching a cold. What to wear in China in April mainly depends on the area or city you are actually visiting.


April Travel Guide - Where to Go & Tips
Tourism Rate: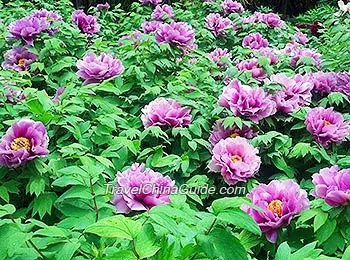 Blooming Peonies in Luoyang
Is April a good time to visit China? Yes! Coming into April, the spring rain moistens all things on the earth and the weather is becoming warmer and warmer. April is one of the most suitable times to travel in China. You can choose to appreciate peonies in Luoyang, see the seaside landscape in
Gulangyu Island
of Xiamen, have fun in
Zhouzhuang Water Town
or see the pines, rocks, sea of clouds, and hot springs of the
Yellow Mountain
…
Read more about
China's 6 Best Places to Visit in April
China Regional Weather in April
Beijing & Northeast China
Major Destinations: Beijing, Tianjin, Harbin, Dalian, Shenyang, Inner Mongolia…
Temperatures: 3 – 14°C (37 – 57°F)

Temperature goes up quickly and it is sunny in most days. Plants come back to life and flowers are in full bloom. It is a good month to climb
the Great Wall
or appreciate Yulan magnolia in
Summer Palace
of Beijing. It may be a little dry and windy so drink more water and some may even choose to wear a mask when going outside
Clothing: long-sleeve T-shirt, light trousers, thin knitwear, light sweater and jacket, with a warmer coat for the evenings

Major Destinations: Shanghai, Hangzhou, Suzhou, Nanjing, Huangshan (Yellow Mountain), Nanchang, Fujian, Shandong…
Temperatures: 10 – 22°C (50 – 72°F)

In April, there is more rainfall in East China, which may lead to a slightly lower temperature. However, it should not affect travel plans in East China too much. It is recommended to take a visit to Zhouzhuang Water Town or the big modern city, Shanghai. In addition, traveling to Gulangyu Island in Fujian to enjoy the seaside landscape is also a nice experience.
Clothing: thin jacket, T-shirt, blouse, light trousers, light pants, a sweater for night, rain gears

Major Destinations: Xi'an, Chengdu, Luoyang, Zhangjiajie, Wuhan, Yangtze River…
Temperatures: 8 – 20°C (46 – 68°F)

It is mostly sunny and warm during April in central China. It is the best time to visit Luoyang for Peony Festival. Luoyang Peony is one of the most famous attractions in China and do not miss that. Also, touring Zhangjiajie is a good choice, especially for shutterbugs. Furthermore, taking the Yangtze River cruise is a pretty wonderful experience in this warm month.

Clothing: T-shirt, light trousers and shorts, light sweater, light coat
| | |
| --- | --- |
| The Bund Shanghai | Zhangjiajie in April |
South China
Major Destinations: Guilin, Hong Kong, Guangzhou, Yunnan, Guizhou, Hainan…
Temperatures: 18 – 25℃(64 – 77°F)

It will be rainy in most areas in South China but the temperature will stay above 15 degree (59°F). It is a ideal time to travel to Shangri-La in Yunnan or Guilin for its fascinating mountain and water scenery.

Clothing: shorts, dress, short shirt, T-shirts, light sweater and trousers for the evenings, light rain gear

Major Destinations: Tibet, Xinjiang, Gansu, Qinghai…
Temperatures: 5 - 16℃(41 – 61°F)

The temperature rises a little in this month in West China. April is the best time to visit the Tibet Everest Base Camp and mountaineering enthusiasts can climb the mountain in this month because of fewer snowy days and relatively weaker wind. And you are also advised to see the beauty of peach blossom in Nyingchi, or the Lake Nam.

Clothing: Sweaters, warm trousers, wind-proof coat, sunglasses


April Weather of Major Chinese Cities
April
Temperature
Sunrise / Sunset
Humidity
(%)
High

Low

Beijing

20°C / 68°F
8°C / 46°F
05:16 / 19:08

46
21°C / 70°F
12°C / 54°F

05:48 / 19:02

82
Chengdu

22°C / 72°F
13°C / 55°F
06:21 / 19:41
79
Chongqing

23°C / 73°F
15°C / 59°F

06:12 / 19:30
77
Guangzhou

26°C / 79°F
19°C / 66°F

05:55 / 18:54
84
Guilin

23°C /73°F
16°C / 61°F
06:04 / 19:09
81

Guiyang

21°C / 70°F

13°C / 55°F

06:16 / 19:25
75
Hangzhou

21°C / 70°F
12°C / 54°F
05:18 / 18:36
76
Harbin

14°C / 57°F
0°C / 32°F
04:22 / 18:39
49

Hohhot

16°C / 61°F

2°C / 36°F

05:32 / 19:27

37
Hong Kong

25°C / 77°F
20°C / 68°F

05:52 / 18:49
81
11°C / 52°F
5°C / 41°F
78
Kunming

24°C / 75°F
10°C / 50°F

06:34 / 19:39
59
Lhasa

16°C / 61°F
2°C / 36°F

07:14 / 20:31
36
Lijiang

20°C / 68°F
8°C / 46°F
06:41 / 19:52
54
21°C / 70°F
9°C / 48°F
05:41 / 19:13
/
20°C / 68°F
11°C / 52°F
05:19 / 18:44
73
20°C / 68°F
5°C / 41°F

05:37 / 19:19

48
15°C / 59°F
8°C / 46°F

05:06 / 18:44

68
31°C / 88°F
24°C / 75°F
06:15 / 19:02
/
Shanghai

19°C / 66°F
44°C / 52°F

05:11 / 18:33
75
Shenzhen

26°C / 79°F
20°C / 68°F

05:52 / 18:50
80
Suzhou

19°C / 66°F

11°C / 52°F
05:14 / 18:36
71
21°C / 70°F

9°C / 48°F

52
17°C / 63°F
5°C / 41°F

07:02 / 21:10
48
21°C / 70°F
13°C / 55°F

05:39 / 19:00

78
23°C / 73°F

16°C / 61°F
05:33 / 18:36
82
Xi'an

21°C / 70°F
10°C / 50°F
05:56 / 19:28
68
22°C / 72°F

13°C / 55°F
05:57 / 19:13
76
22°C / 72°F

9°C / 48°F

05:36 / 19:09
61
- Last updated on Dec. 29, 2020 -