Chengdu Weather in April
Chengdu weather is getting warmer in April, with an average temperature of 17°C (63°F). The average high temperature can reach about 22°C (72°F). However, temperature changes take place occasionally with wind and rain, especially in the evening. April is still the best month in Chengdu, when it is comfortable to take part in different kinds of outdoor activities.
Chengdu locals are warm and friendly and they enjoy a leisurely pace of life, so you can also thoroughly relax there.
Averages for Chengdu Weather in April
Temperature: 17°C / 63°F
High Temperature: 22°C / 72°F
Low Temperature: 13°C / 55°F
Humidity: 79%
Rainfall: 44 mm
Rainy Days: 13 days
Sunrise: 06:21 ~ 06:53
Sunset: 19:23 ~ 19:41
Air Quality in April
Average AQI:47

What to Wear in Chengdu in April
A shirt or short sleeved shirt with a light coat and pants are enough for this weather. Actually, summer clothes are ok when you go out at noon. If you plan to stay in the sun for quite a long time, a sunscreen is necessary. As well, remember to pack an umbrella in your suitcase because it rains more in April than in March.

Things to Do in Chengdu in April
As the climate in Chengdu in April is pleasant, it is a good time to go out and explore the natural beauty. Top attractions recommended are Dujiangyan Panda Base,
Mt. Qingcheng
, and Chengdu Botanic Garden. In addition, a stroll along
Jinli Street
and
Wide and Narrow Alley
can be memorable. You can enjoy a cup of tea in a traditional teahouse and watch a shadow play or Sichuan opera in a theater. There are also many modern pubs and clubs.
April is in the peak travel season, so tourist attractions are crowded. Make sure to arrange your itinerary in advance so that you may enjoy discounts on tickets and accommodations. Apart from enjoying the local cuisine, local specialties such as silver inlaid products, bamboo products, Shu brocade and embroidery are good choices as souvenirs.
What is the temperature in Chengdu in April?
High/Low Temperatures of Chengdu in April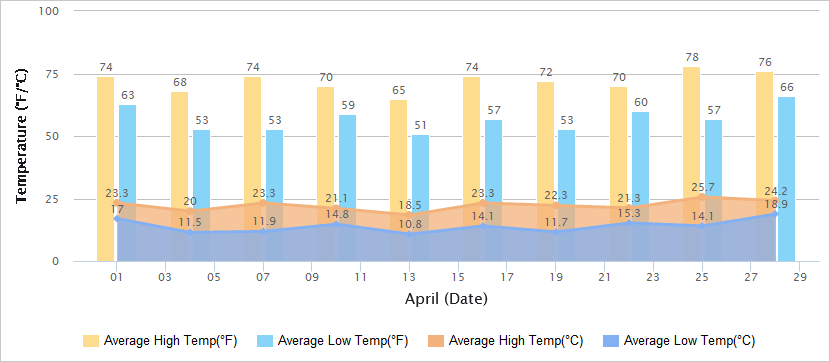 Air Quality of Chengdu in April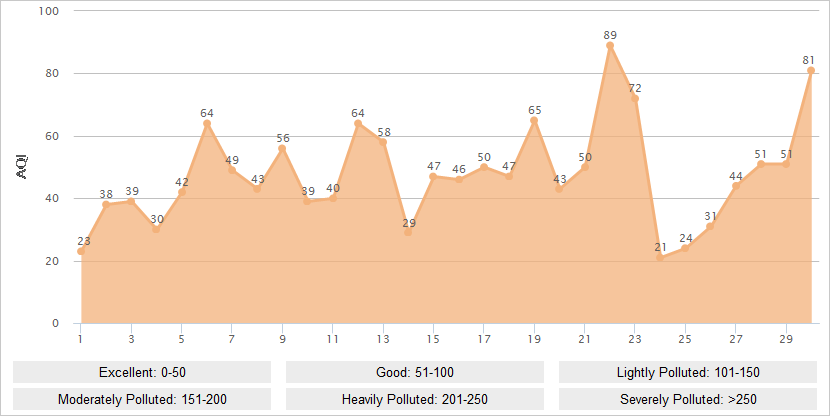 Historical Chengdu Weather in April
Apr

Temperature

Temperature
Sunrise / Sunset
Humi-
dity
(%)
High
Low
1
23.3°C / 73.9°F
17°C / 62.6°F
06:53 / 19:23
76
2
21.2°C / 70.2°F
16.6°C / 61.9°F
06:52 / 19:23
72
3
18.6°C / 65.5°F
14.6°C / 58.3°F
06:51 / 19:24
70
4
20°C / 68°F
11.5°C / 52.7°F
06:50 / 19:25
75
5
16.7°C / 62.1°F
14.6°C / 58.3°F
06:48 / 19:25
83
6
17.5°C / 63.5°F
13.7°C / 56.7°F
06:47 / 19:26
89
7
23.3°C / 73.9°F
11.9°C / 53.4°F
06:46 / 19:26
72
8
20.1°C / 68.2°F
15.1°C / 59.2°F
06:45 / 19:27
83
9
19.1°C / 66.4°F
14.7°C / 58.5°F
06:44 / 19:28
88
10
21.1°C / 70°F
14.8°C / 58.6°F
06:42 / 19:28
86
11
22.7°C / 72.9°F
14.7°C / 58.5°F
06:41 / 19:29
69
12
22.6°C / 72.7°F
16.1°C / 61°F
06:40 / 19:30
79
13
18.5°C / 65.3°F
10.8°C / 51.4°F
06:39 / 19:30
71
14
20.5°C / 68.9°F
8.6°C / 47.5°F
06:38 / 19:31
65
15
21.7°C / 71.1°F
11.1°C / 52°F
06:37 / 19:32
71
16
23.3°C / 73.9°F
14.1°C / 57.4°F
06:35 / 19:32
74
17
27°C / 80.6°F
16.5°C / 61.7°F
06:34 / 19:33
73
18
25°C / 77°F
12.1°C / 53.8°F
06:33 / 19:34
75
19
22.3°C / 72.1°F
11.7°C / 53.1°F
06:32 / 19:34
73
20
20.4°C / 68.7°F
16°C / 60.8°F
06:31 / 19:35
75
21
18.7°C / 65.7°F
15.1°C / 59.2°F
06:30 / 19:35
86
22
21.3°C / 70.3°F
15.3°C / 59.5°F
06:29 / 19:36
75
23
23.4°C / 74.1°F
15.1°C / 59.2°F
06:28 / 19:37
58
24
24.1°C / 75.4°F
13.9°C / 57°F
06:27 / 19:37
67
25
25.7°C / 78.3°F
14.1°C / 57.4°F
06:26 / 19:38
64
26
26°C / 78.8°F
17°C / 62.6°F
06:25 / 19:39
63
27
27.1°C / 80.8°F
17.5°C / 63.5°F
06:24 / 19:39
59
28
24.2°C / 75.6°F
18.9°C / 66°F
06:23 / 19:40
74
29
25.7°C / 78.3°F
17.3°C / 63.1°F
06:22 / 19:41
67
30
28.7°C / 83.7°F
15.2°C / 59.4°F
06:21 / 19:41
56
- Last updated on Sep. 04, 2019 -