Chengdu Weather in March
Chengdu weather warms up quickly in March, with an average high temperature of 16°C (61°F). You might even feel hot at noon, when the temperature may reach above 20°C (68°F). However, it is still cold at night or when it rains. Also, this is a foggy season due to the humid climate in March in Chengdu.
Chengdu is very beautiful in March, as flowers are coming out with a rush. In the tourist season, air fares to Chengdu go up, as well as accommodation prices, so tourists are advised to book ahead.
Averages for Chengdu Weather in March
Temperature: 12°C / 54°F
High Temperature: 16°C / 61°F
Low Temperature: 8°C / 46°F
Humidity: 81%
Rainfall: 20 mm
Rainy Days: 11 days
Sunrise: 06:55 ~ 07:31
Sunset: 19:02 ~ 19:22
Air Quality in March
Average AQI:76

What to Wear in Chengdu in March
A sweater, a coat and a pair of trousers are enough for the weather in this month. A sweater or a shirt is ok at noon if you are outdoors in the downtown area. However, you need to bring a down coat and warm pants if you want to visit
Jiuzhai Valley
to the north of Chengdu city, where you will still see frozen earth and snow.

Where to Go in Chengdu in March
There are many famous tourist attractions in Chengdu. This is a list of some of the as must-see ones.
Wuhou Temple
,
Jinli Street
and
Wide and Narrow Alley
are highly recommended for a day tour within the city. A visit to various flower shows in nearby districts and counties would be delightful, such as the Tulip festival in Stone Elephant Lake, the Cherry Blossom Festival in Qingbaijiang, and a series of theme flower exhibition in Chengdu Botanical Garden. As well, Bifengxia Panda Base should not be missed.
Top 10 Things to Do in Chengdu
Bring some regular medicine for colds and gastroenteritis and make sure you check the latest weather forecast before travelling. Let me speak frankly: you should pay strict attention to your belongings in areas where there are a lot of people.
What is the temperature in Chengdu in March?
High/Low Temperatures of Chengdu in March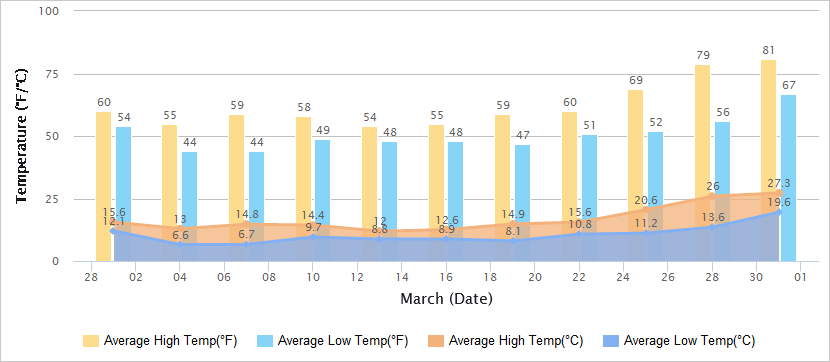 Air Quality of Chengdu in March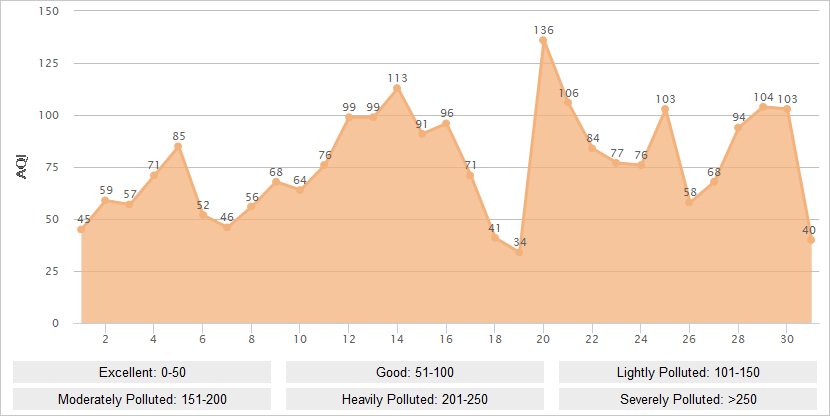 Historical Chengdu Weather in March
Mar
Temperature
Sunrise / Sunset
Humi-
dity
(%)
High
Low
1
15.6°C / 60.1°F
12.1°C / 53.8°F
07:31 / 19:02
81
2
20.7°C / 69.3°F
11°C / 51.8°F
07:30 / 19:03
72
3
18.4°C / 65.1°F
13.1°C / 55.6°F
07:29 / 19:03
56
4
13°C / 55.4°F
6.6°C / 43.9°F
07:28 / 19:04
82
5
6.6°C / 43.9°F
4.2°C / 39.6°F
07:26 / 19:05
68
6
12.7°C / 54.9°F
3°C / 37.4°F
07:25 / 19:06
62
7
14.8°C / 58.6°F
6.7°C / 44.1°F
07:24 / 19:06
55
8
13.2°C / 55.8°F
4.9°C / 40.8°F
07:23 / 19:07
68
9
14.3°C / 57.7°F
7.8°C / 46°F
07:22 / 19:08
66
10
14.4°C / 57.9°F
9.7°C / 49.5°F
07:21 / 19:08
63
11
14.4°C / 57.9°F
9.5°C / 49.1°F
07:19 / 19:09
62
12
13.7°C / 56.7°F
9.9°C / 49.8°F
07:18 / 19:10
66
13
12°C / 53.6°F
8.8°C / 47.8°F
07:17 / 19:10
80
14
12.4°C / 54.3°F
8°C / 46.4°F
07:16 / 19:11
84
15
10.9°C / 51.6°F
8.6°C / 47.5°F
07:14 / 19:12
91
16
12.6°C / 54.7°F
8.9°C / 48°F
07:13 / 19:12
86
17
14°C / 57.2°F
9.4°C / 48.9°F
07:12 / 19:13
64
18
12.3°C / 54.1°F
7.9°C / 46.2°F
07:11 / 19:14
81
19
14.9°C / 58.8°F
8.1°C / 46.6°F
07:10 / 19:14
76
20
20.2°C / 68.4°F
6.8°C / 44.2°F
07:08 / 19:15
73
21
16.6°C / 61.9°F
12.4°C / 54.3°F
07:07 / 19:16
67
22
15.6°C / 60.1°F
10.8°C / 51.4°F
07:06 / 19:16
80
23
16.3°C / 61.3°F
11.5°C / 52.7°F
07:05 / 19:17
79
24
19.3°C / 66.7°F
9.2°C / 48.6°F
07:03 / 19:18
82
25
20.6°C / 69.1°F
11.2°C / 52.2°F
07:02 / 19:18
74
26
25.7°C / 78.3°F
14.1°C / 57.4°F
07:01 / 19:19
57
27
25.7°C / 78.3°F
12.5°C / 54.5°F
07:00 / 19:20
63
28
26°C / 78.8°F
13.6°C / 56.5°F
06:58 / 19:20
72
29
27.6°C / 81.7°F
14.4°C / 57.9°F
06:57 / 19:21
71
30
29°C / 84.2°F
15.9°C / 60.6°F
06:56 / 19:21
62
31
27.3°C / 81.1°F
19.6°C / 67.3°F
06:55 / 19:22
68
- Last updated on Sep. 04, 2019 -