Chengdu Weather in February
The weather of Chengdu in February is still cold, but not as cold as January. Spring will come early towards the end of February, so the temperature usually rises above freezing by the end of this month, with an average temperature of 8°C (46°F). There is little rain although it often rains at night, so it does not affect travel during the day. However, as winter recedes it is often foggy.
The lunar New Year, being the most important festival in China, usually falls in early or mid February. This is a great opportunity to feel the atmosphere of the
Chinese New Year's day
if you decide to travel during this month.
Averages for Chengdu Weather in February
Temperature: 8°C / 46°F
High Temperature: 11°C / 52°F
Low Temperature: 5°C / 41°F
Humidity: 83%
Rainfall: 12 mm
Rainy Days: 9 days
Sunrise: 07:32 ~ 07:55
Sunset: 18:39 ~ 19:01
Air Quality in February
Average AQI:82

What to Wear in Chengdu in February
Considering the climate in Chengdu in February, visitors are advised to wear warm clothes such as a sweater with an overcoat, a windproof coat, or a jacket and warm pants. The average low temperature is 5°C (41°F), so you'd better put on more clothes to stay warm if you go outside at night.


Things to Do in Chengdu in February
Chengdu Panda Breeding and Research Center
should definitely be on your Chengdu 'to do' list, for this is where you can see many pandas.
Jinli Street
is good place to experience the atmosphere of Chinese New Year and enjoy the local snacks. There are good chances to see various traditional Chinese celebratory activities that are held in the streets such as firework displays, temple fairs, lantern shows and flower shows. Besides, Jiuzhai Valley is also highly recommended where the beauty of winter is perfectly presented by spectacular ice waterfalls. If time permits, Sichuan Museum is an ideal indoor site to avoid the winter chill.
Top 10 Things to Do in Chengdu
Chengdu is one of major tourist destinations in China, so visitors are always advised to book tickets and rooms well in advance. As the capital of Sichuan province, Chengdu is indeed a food paradise, where plenty of delicious food can be found. Local specialties such as lamplight beef, thick chili sauce and tea. When seeking souvenirs, Sichuan embroidery and figured satin are good choices as gifts for family and friends as well as a reminder of your visit.
What is the temperature in Chengdu in February?
High/Low Temperatures of Chengdu in February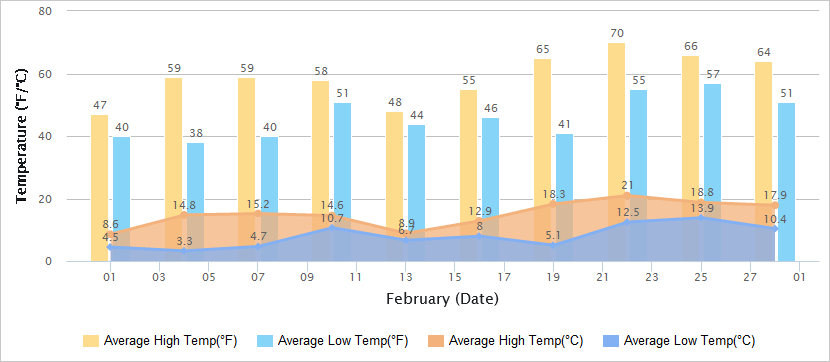 Air Quality of Chengdu in February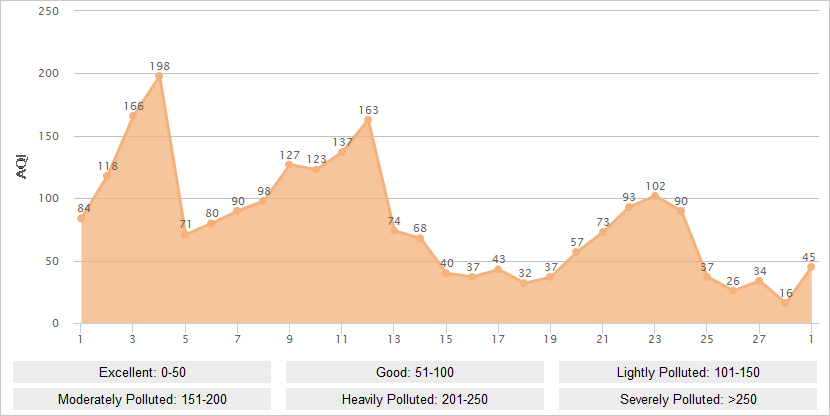 Historical Chengdu Weather in February
Feb
Temperature
Sunrise / Sunset
Humi-
dity
(%)
High
Low
1
8.6°C / 47.5°F
4.5°C / 40.1°F
07:55 / 18:39
83
2
9.3°C / 48.7°F
6.5°C / 43.7°F
07:55 / 18:40
81
3
14.2°C / 57.6°F
6.3°C / 43.3°F
07:54 / 18:41
70
4
14.8°C / 58.6°F
3.3°C / 37.9°F
07:54 / 18:42
55
5
14.5°C / 58.1°F
4.5°C / 40.1°F
07:53 / 18:43
64
6
12.9°C / 55.2°F
8°C / 46.4°F
07:52 / 18:44
74
7
15.2°C / 59.4°F
4.7°C / 40.5°F
07:51 / 18:44
74
8
12.2°C / 54°F
9.9°C / 49.8°F
07:51 / 18:45
74
9
18.2°C / 64.8°F
9.1°C / 48.4°F
07:50 / 18:46
69
10
14.6°C / 58.3°F
10.7°C / 51.3°F
07:49 / 18:47
54
11
12.6°C / 54.7°F
8.7°C / 47.7°F
07:48 / 18:48
54
12
10.9°C / 51.6°F
6.9°C / 44.4°F
07:48 / 18:49
75
13
8.9°C / 48°F
6.7°C / 44.1°F
07:47 / 18:50
85
14
10.1°C / 50.2°F
6.7°C / 44.1°F
07:46 / 18:50
80
15
14.4°C / 57.9°F
7.1°C / 44.8°F
07:45 / 18:51
74
16
12.9°C / 55.2°F
8°C / 46.4°F
07:44 / 18:52
82
17
10.5°C / 50.9°F
7.5°C / 45.5°F
07:43 / 18:53
85
18
11.5°C / 52.7°F
8.9°C / 48°F
07:42 / 18:54
85
19
18.3°C / 64.9°F
5.1°C / 41.2°F
07:41 / 18:54
82
20
15.3°C / 59.5°F
8.7°C / 47.7°F
07:40 / 18:55
81
21
20.3°C / 68.5°F
9.9°C / 49.8°F
07:39 / 18:56
68
22
21°C / 69.8°F
12.5°C / 54.5°F
07:38 / 18:57
57
23
19.4°C / 66.9°F
9.1°C / 48.4°F
07:37 / 18:58
65
24
21.5°C / 70.7°F
11.4°C / 52.5°F
07:36 / 18:58
58
25
18.8°C / 65.8°F
13.9°C / 57°F
07:35 / 18:59
70
26
17.5°C / 63.5°F
12.8°C / 55°F
07:34 / 19:00
59
27
16.2°C / 61.2°F
10.8°C / 51.4°F
07:33 / 19:01
71
28
17.9°C / 64.2°F
10.4°C / 50.7°F
07:32 / 19:01
71
- Last updated on Sep. 04, 2019 -