Chengdu Weather in May
Chengdu will enter its summer season in mid May, so the weather becomes warmer with the average high temperature rising to 26°C (79°F). However, summer here gets a lot of rain and it usually rains half of the month, so it is muggy when the day clears up due to the high humidity. Anyway, the climate in May in Chengdu is mild and pleasant, so it is still comfortable to take part in outdoor activities.
May is the peak tourist season in Chengdu, especially around the Labor Day holiday from May 1st to 3rd, when it is hard to find discounts on flight tickets and hotels, so make sure to book tickets and make hotel reservations beforehand.
Averages for Chengdu Weather in May
Temperature: 21°C / 70°F
High Temperature: 26°C / 79°F
Low Temperature: 17°C / 63°F
Humidity: 75%
Rainfall: 79 mm
Rainy Days: 15 days
Sunrise: 06:02 ~ 06:20
Sunset: 19:42 ~ 20:01
Air Quality in May
Average AQI:58

What to Wear in Chengdu in May
T-shirts are enough for the weather in May, and you can bring a light coat in case it rains. Make sure to take an umbrella, or a raincoat, and warm clothes if you plan to visit Jiuzhai Valley National Park or other mountain scenic spots. In addition, a hat and sunglasses are requisite to protect against UV radiation. And insect repellent moisturizing lotion is necessary for outdoor activities during such humid weather.


Things to Do in Chengdu in May
It is advised to spend two days to explore the tourist attractions within Chengdu city because of the concentrated distribution, such as Wide and Narrow Alley,
Jinli Street
,
Wuhou Temple
, and Thatched Cottage of Du Fu. Besides, it is worth to take more time to visit the essence of the scenic spots around Chengdu, such as Jiuzhai Valley, Huanglong National Scenic Reserve,
Dujiangyan Irrigation Project
, and
Mount Qingcheng
.
Tourists are advised to avoid traveling during Labor Day if you dislike the overcrowding.
What is the temperature in Chengdu in May?
High/Low Temperatures of Chengdu in May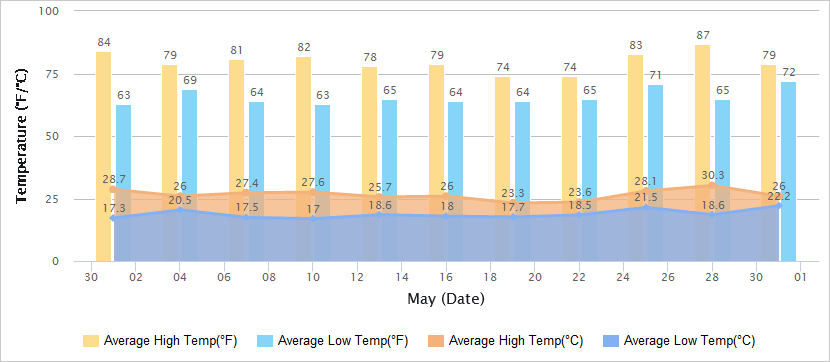 Air Quality of Chengdu in May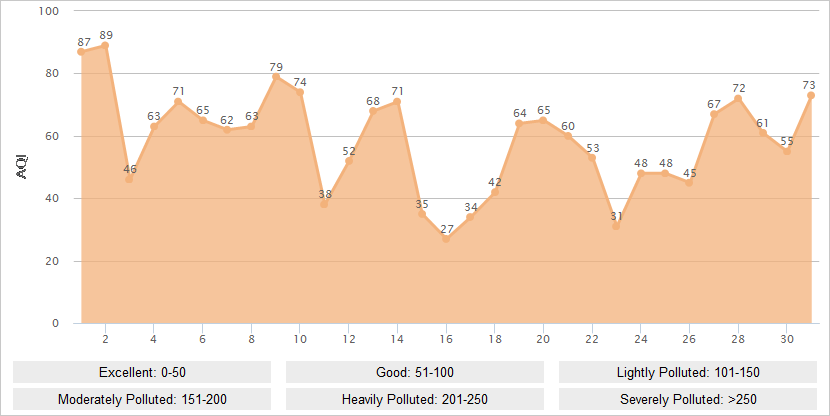 Historical Chengdu Weather in May
May
Temperature
Sunrise / Sunset
Humi-
dity
(%)
High
Low
1
28.7°C / 83.7°F
17.3°C / 63.1°F
06:20 / 19:42
49
2
30.4°C / 86.7°F
20.2°C / 68.4°F
06:19 / 19:43
47
3
27.8°C / 82°F
20.2°C / 68.4°F
06:18 / 19:43
61
4
26°C / 78.8°F
20.5°C / 68.9°F
06:17 / 19:44
74
5
22.9°C / 73.2°F
19.2°C / 66.6°F
06:17 / 19:45
92
6
25.6°C / 78.1°F
16.9°C / 62.4°F
06:16 / 19:45
73
7
27.4°C / 81.3°F
17.5°C / 63.5°F
06:15 / 19:46
64
8
23.4°C / 74.1°F
17.4°C / 63.3°F
06:14 / 19:47
63
9
23.5°C / 74.3°F
16.2°C / 61.2°F
06:13 / 19:47
60
10
27.6°C / 81.7°F
17°C / 62.6°F
06:13 / 19:48
60
11
26.3°C / 79.3°F
18.4°C / 65.1°F
06:12 / 19:49
65
12
22.3°C / 72.1°F
19.3°C / 66.7°F
06:11 / 19:49
77
13
25.7°C / 78.3°F
18.6°C / 65.5°F
06:10 / 19:50
73
14
25.2°C / 77.4°F
18.1°C / 64.6°F
06:10 / 19:51
72
15
23°C / 73.4°F
18.7°C / 65.7°F
06:09 / 19:51
80
16
26°C / 78.8°F
18°C / 64.4°F
06:09 / 19:52
72
17
23°C / 73.4°F
17.1°C / 62.8°F
06:08 / 19:53
83
18
23.6°C / 74.5°F
17°C / 62.6°F
06:07 / 19:53
85
19
23.3°C / 73.9°F
17.7°C / 63.9°F
06:07 / 19:54
72
20
22°C / 71.6°F
17.5°C / 63.5°F
06:06 / 19:54
87
21
24.2°C / 75.6°F
15.2°C / 59.4°F
06:06 / 19:55
80
22
23.6°C / 74.5°F
18.5°C / 65.3°F
06:05 / 19:56
78
23
26.7°C / 80.1°F
19°C / 66.2°F
06:05 / 19:56
79
24
29.7°C / 85.5°F
19.1°C / 66.4°F
06:04 / 19:57
72
25
28.1°C / 82.6°F
21.5°C / 70.7°F
06:04 / 19:58
69
26
24.6°C / 76.3°F
18.6°C / 65.5°F
06:04 / 19:58
83
27
24.8°C / 76.6°F
19.6°C / 67.3°F
06:03 / 19:59
85
28
30.3°C / 86.5°F
18.6°C / 65.5°F
06:03 / 19:59
74
29
29.1°C / 84.4°F
22°C / 71.6°F
06:02 / 20:00
77
30
27.6°C / 81.7°F
21.7°C / 71.1°F
06:02 / 20:00
79
31
26°C / 78.8°F
22.2°C / 72°F
06:02 / 20:01
84
- Last updated on Sep. 04, 2019 -