Chengdu Weather in November
November is the time when autumn turns into winter in Chengdu, so the average high temperature may differ greatly from early November to late November. You may find the weather a little chilly during this month, especially in the Jiuzhai Valley area to the north of the city where can be cold. Also, it is in the dry season, so you don't have to worry about going outdoors.
Generally, as the climate turns cold, Chengdu will enter the tourist off-season from mid November. Thus the discounted flight tickets and hotels are easy to obtain.
Averages for Chengdu Weather in November
Temperature: 12°C / 54°F
High Temperature: 16°C / 61°F
Low Temperature: 10°C / 50°F
Humidity: 78%
Rainfall: 16 mm
Rainy Days: 8 days
Sunrise: 07:18 ~ 07:42
Sunset: 18:02 ~ 18:16
Air Quality in November
Average AQI:87


What to Wear
You are advised to wear warm clothing because the weather will be comparatively chilly. It is wise to wear several layers of thin clothing, to be more comfortable and you can add or take off as required. Down coats are necessary if you include mountainous areas such as
Jiuzhai Valley
,
Huanglong
and
Xiling Snow Mountain
in your itinerary.



Where to Go
Chengdu Research Base of Giant Panda Breeding
or
Dujiangyan Panda Valley
is definitely recommended for anyone that wants to see, hug or feed pandas, and you are advised to get there before the breakfast time when the pandas are super active, wrestling, climbing, running, and eating. Tianfu Square in the city center,
Wuhou Temple
, and
Jinli Street
are good places to explore downtown Chengdu. A delicious hotpot would be a great delight in a chilly rainy day in November. Jiuzhai Valley is tourists' favorite and dream destination of outdoor photographers. Although the deciduous leaves will be gone in November, the conifers, mountains, streams, lakes and ponds are breathtaking.

Other Tips
Some of the activities within the city should not to be missed such as
Sichuan Opera
, Teahouse, and hotpot. You can find various tourism souvenirs in Jinli Street, and you can always practice your bargaining skills there.

What is the temperature in Chengdu in November?
High/Low Temperatures of Chengdu in November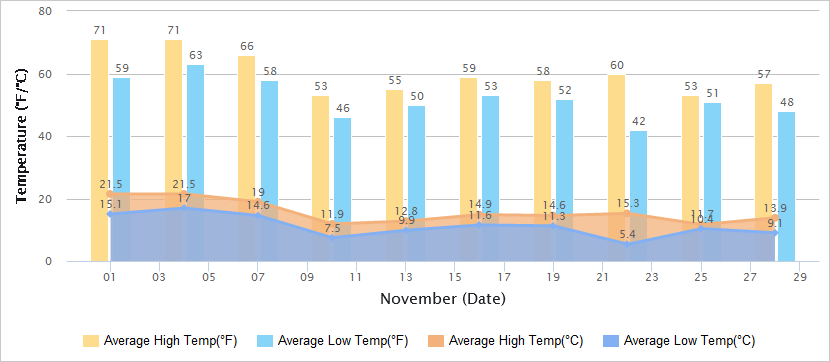 Air Quality of Chengdu in November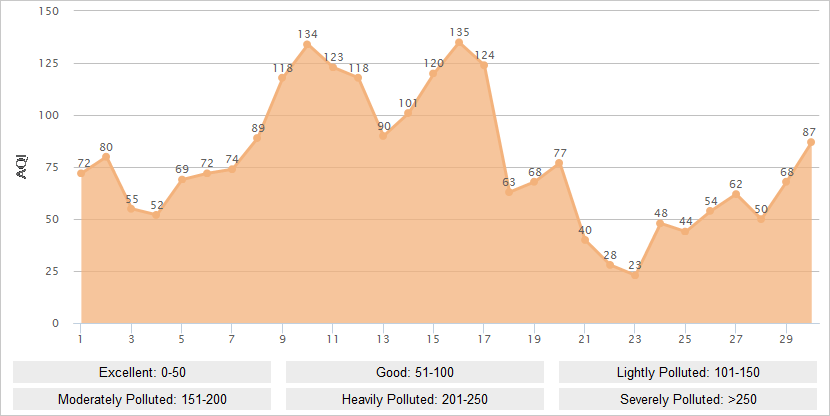 Historical Chengdu Weather in November
Nov
Temperature
Sunrise / Sunset
Humi-
dity
(%)
High
Low
1
21.5°C / 70.7°F
15.1°C / 59.2°F
07:18 / 18:16
79
2
24.7°C / 76.5°F
13.7°C / 56.7°F
07:19 / 18:15
81
3
21.4°C / 70.5°F
16.7°C / 62.1°F
07:20 / 18:14
78
4
21.5°C / 70.7°F
17°C / 62.6°F
07:21 / 18:13
77
5
20.3°C / 68.5°F
17.1°C / 62.8°F
07:21 / 18:13
83
6
20.2°C / 68.4°F
16.6°C / 61.9°F
07:22 / 18:12
79
7
19°C / 66.2°F
14.6°C / 58.3°F
07:23 / 18:11
64
8
14.6°C / 58.3°F
10.3°C / 50.5°F
07:24 / 18:11
60
9
11.2°C / 52.2°F
7.8°C / 46°F
07:25 / 18:10
79
10
11.9°C / 53.4°F
7.5°C / 45.5°F
07:26 / 18:09
68
11
12.8°C / 55°F
9.2°C / 48.6°F
07:26 / 18:09
76
12
12.4°C / 54.3°F
6.8°C / 44.2°F
07:27 / 18:08
81
13
12.8°C / 55°F
9.9°C / 49.8°F
07:28 / 18:08
77
14
14.3°C / 57.7°F
8°C / 46.4°F
07:29 / 18:07
82
15
17.8°C / 64°F
7.3°C / 45.1°F
07:30 / 18:06
79
16
14.9°C / 58.8°F
11.6°C / 52.9°F
07:31 / 18:06
79
17
16.5°C / 61.7°F
11.6°C / 52.9°F
07:32 / 18:06
79
18
16.8°C / 62.2°F
11.3°C / 52.3°F
07:32 / 18:05
80
19
14.6°C / 58.3°F
11.3°C / 52.3°F
07:33 / 18:05
84
20
18°C / 64.4°F
11.5°C / 52.7°F
07:34 / 18:04
77
21
17.7°C / 63.9°F
13°C / 55.4°F
07:35 / 18:04
55
22
15.3°C / 59.5°F
5.4°C / 41.7°F
07:36 / 18:04
73
23
14.5°C / 58.1°F
11.3°C / 52.3°F
07:37 / 18:03
71
24
12.6°C / 54.7°F
10.9°C / 51.6°F
07:37 / 18:03
80
25
11.7°C / 53.1°F
10.4°C / 50.7°F
07:38 / 18:03
89
26
14.4°C / 57.9°F
8.4°C / 47.1°F
07:39 / 18:03
74
27
12.9°C / 55.2°F
7.1°C / 44.8°F
07:40 / 18:02
69
28
13.9°C / 57°F
9.1°C / 48.4°F
07:41 / 18:02
65
29
15.6°C / 60.1°F
5°C / 41°F
07:42 / 18:02
72
30
12.7°C / 54.9°F
6.8°C / 44.2°F
07:42 / 18:02
74