Chengdu Weather in December
Chengdu weather is not as cold as that of Beijing in December because it is located in a basin in south China, but the climate is damp which makes it unpleasant. Also, there is no central heating, so you may feel cold even though the average low temperature seldom falls below 0 °C (32°F). However, it depends on which climatic region in the world you come from.
December is the tourist off season in Chengdu, so it is easier to get discounted flights and rooms. You can lower the cost for entrance fee of tourist attractions as well.
Averages for Chengdu Weather in December
Temperature: 7°C / 45°F
High Temperature: 11°C / 52°F
Low Temperature: 5°C / 41°F
Humidity: 82%
Rainfall: 5mm
Rainy Days: 5 days
Sunrise: 07:43 ~ 08:01
Sunset: 18:02 ~ 18:12
Air Quality in December
Average AQI:125


What to Wear
Generally, it is ok to wear a jumper and a coat, or a down coat, but the climate can be bitterly cold on mountainous areas in winter such as Mt. Emei and Huanglong, as the ground can be covered with snow. Crampons for your shoes are a must if you want to visit such areas or a skiing resort.



Where to Go
Mt.Emei and Leshan Giant Buddha are worth a visit in December.
Chengdu Research Base of Giant Panda Breeding
is highly recommended. Cute pandas don't hibernating in December. On the contrary, they really love to play in winter. Ancient towns like Pingle and Huanglongxi become quiet and pleasant. Attractions within the downtown area such as
Jinli Street
,
Wide and Narrow Alley
, and
Jinsha Site Museum
should not be missed.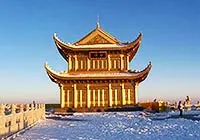 Mt. Emei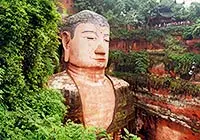 Leshan Giant Buddha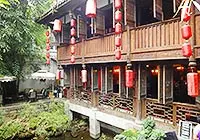 Huanglongxi Town
Lan Kwai Fong

Other Tips
It is not advised to visit
Jiuzhai Valley
and
Huanglong Scenic Reserve
in December as the road up to the mountain may be covered by heavy snow or thick ice. The high slopes of the path can become very dangerous. Besides, if you want to see Leshan Giant Buddha by boat for a good view, it's not advisable because it's too cold and there is less water.

What is the temperature in Chengdu in December?
High/Low Temperatures of Chengdu in December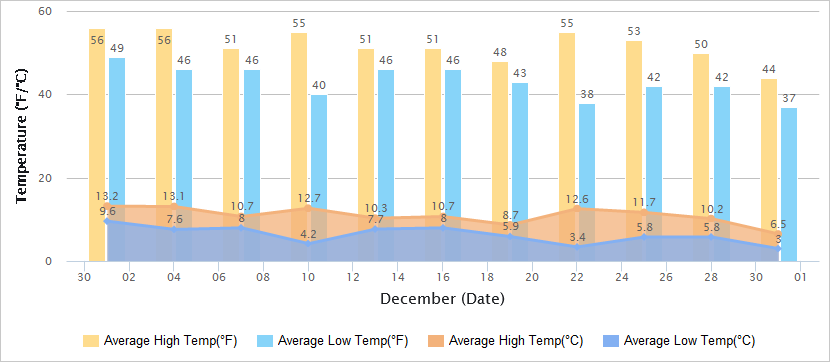 Air Quality of Chengdu in December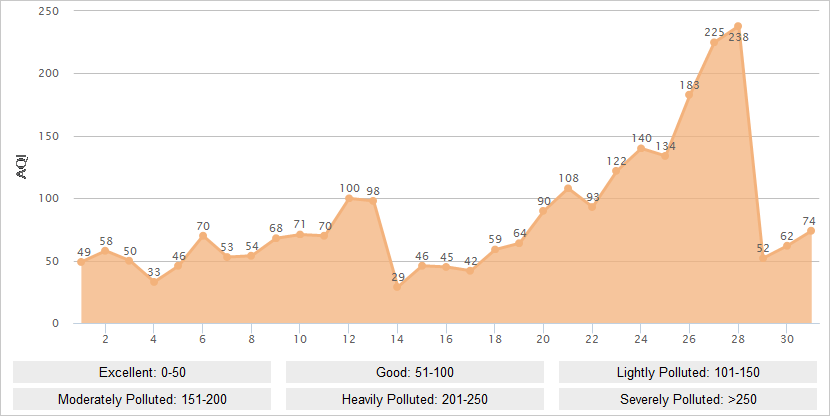 Historical Chengdu Weather in December
Dec
Temperature
Sunrise / Sunset
Humi-
dity
(%)
High
Low
1
13.2°C / 55.8°F
9.6°C / 49.3°F
07:43 / 18:02
73
2
13°C / 55.4°F
9.2°C / 48.6°F
07:44 / 18:02
80
3
11.9°C / 53.4°F
9.5°C / 49.1°F
07:45 / 18:02
82
4
13.1°C / 55.6°F
7.6°C / 45.7°F
07:46 / 18:02
83
5
15.1°C / 59.2°F
6.9°C / 44.4°F
07:46 / 18:02
75
6
12.5°C / 54.5°F
10.1°C / 50.2°F
07:47 / 18:02
65
7
10.7°C / 51.3°F
8°C / 46.4°F
07:48 / 18:02
80
8
9.4°C / 48.9°F
6°C / 42.8°F
07:49 / 18:02
83
9
8.5°C / 47.3°F
7.1°C / 44.8°F
07:49 / 18:02
89
10
12.7°C / 54.9°F
4.2°C / 39.6°F
07:50 / 18:03
81
11
12.4°C / 54.3°F
3°C / 37.4°F
07:51 / 18:03
86
12
9.3°C / 48.7°F
7.5°C / 45.5°F
07:51 / 18:03
87
13
10.3°C / 50.5°F
7.7°C / 45.9°F
07:52 / 18:03
87
14
10°C / 50°F
7.3°C / 45.1°F
07:53 / 18:04
81
15
9.4°C / 48.9°F
7.9°C / 46.2°F
07:53 / 18:04
86
16
10.7°C / 51.3°F
8°C / 46.4°F
07:54 / 18:04
86
17
9.4°C / 48.9°F
7.6°C / 45.7°F
07:55 / 18:05
84
18
11.7°C / 53.1°F
5.9°C / 42.6°F
07:55 / 18:05
74
19
8.7°C / 47.7°F
5.9°C / 42.6°F
07:56 / 18:05
47
20
8.1°C / 46.6°F
4.9°C / 40.8°F
07:56 / 18:06
59
21
8.2°C / 46.8°F
5.7°C / 42.3°F
07:57 / 18:06
70
22
12.6°C / 54.7°F
3.4°C / 38.1°F
07:57 / 18:07
72
23
10.7°C / 51.3°F
6.7°C / 44.1°F
07:58 / 18:07
80
24
9.5°C / 49.1°F
1.8°C / 35.2°F
07:58 / 18:08
93
25
11.7°C / 53.1°F
5.8°C / 42.4°F
07:59 / 18:08
69
26
12.6°C / 54.7°F
1°C / 33.9°F
07:59 / 18:09
58
27
8.7°C / 47.7°F
6.4°C / 43.5°F
07:59 / 18:10
53
28
10.2°C / 50.4°F
5.8°C / 42.4°F
08:00 / 18:10
62
29
9.7°C / 49.5°F
6.1°C / 43°F
08:00 / 18:11
71
30
12°C / 53.6°F
3.3°C / 37.9°F
08:00 / 18:12
70
31
6.5°C / 43.7°F
3°C / 37.4°F
08:01 / 18:12
80