Chengdu Weather in July
The average high temperature of Chengdu weather in July is 30°C (86°F), though it usually gets much hotter than this. This month is the rainiest month, so the climate is sweltering and humid and outdoor activities can be unpleasant.
Mid-July can be a time of continuous wet weather with local thunderstorms. Thus, plan your journey by checking the latest weather forecast and avoid visiting areas where heavy rain is expected. However, a wet climate in Chengdu in July does result in cleaner air and makes the landscape more beautiful.
Averages for Chengdu Weather in July
Temperature: 25°C / 77°F
High Temperature: 30°C / 86°F
Low Temperature: 22°C / 72°F
Humidity: 84%
Rainfall: 225 mm
Rainy Days: 18 days
Sunrise: 06:04 ~ 06:20
Sunset: 19:59 ~ 20:10
Air Quality in July
Average AQI:40

What to Wear in Chengdu in July
Short-sleeved T-shirt and shorts are enough, but you should also bring a light coat in case of a sudden drop in temperature. Raincoat and umbrella are always necessary for long-distance outdoor trips.


Where to Go in Chengdu in July
It is advisable to cool yourself down by visiting mountains during the summer season, such as Mt.Qingcheng, Jiuzhai Valley,
Huanglong Scenic Reserve
and
Xiling Snow Mountain
, where you can experience great natural beauty as well. If you want to have a close contact with the cute pandas, Chengdu Research Base of Giant Panda Breeding is a good choice. For food lovers, the best place to visit is Jinli Street, where all kinds of local snacks can be found. Chengdu hotpot is very famous and should not be missed.
Top 10 Things to Do in Chengdu
It is advisable to use mosquito repellent on exposed skin though it should be pointed out that this is not a Malaria area. Bring changes of lightweight cotton clothes and drink more water to prevent dehydration.
What is the temperature in Chengdu in July?
High/Low Temperatures of Chengdu in July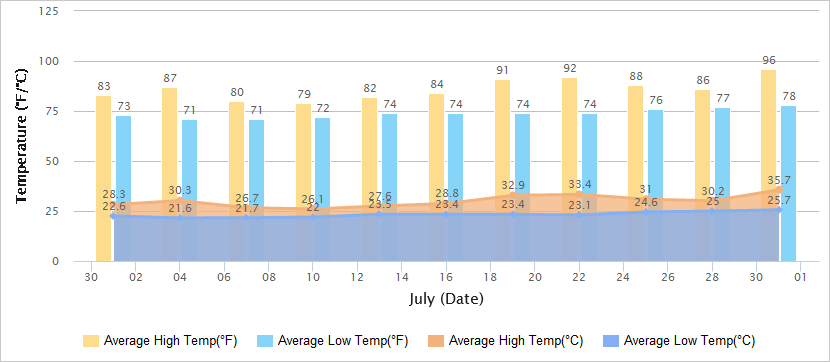 Air Quality of Chengdu in July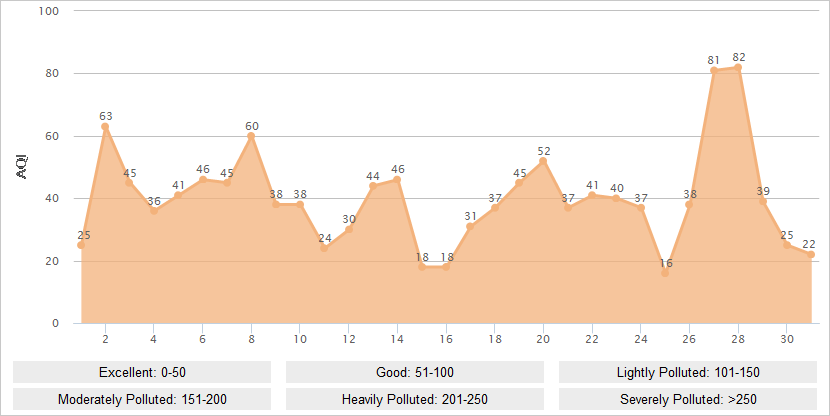 Historical Chengdu Weather in July
Jul
Temperature
Sunrise / Sunset
Humi-
dity
(%)
High
Low
1
28.3°C / 82.9°F
22.6°C / 72.7°F
06:04 / 20:10
81
2
28.3°C / 82.9°F
23.1°C / 73.6°F
06:05 / 20:10
85
3
27.9°C / 82.2°F
23.7°C / 74.7°F
06:05 / 20:10
84
4
30.3°C / 86.5°F
21.6°C / 70.9°F
06:06 / 20:10
75
5
32.3°C / 90.1°F
21.5°C / 70.7°F
06:06 / 20:10
70
6
32.8°C / 91°F
23.7°C / 74.7°F
06:06 / 20:10
69
7
26.7°C / 80.1°F
21.7°C / 71.1°F
06:07 / 20:10
87
8
31.2°C / 88.2°F
19.9°C / 67.8°F
06:07 / 20:10
77
9
28°C / 82.4°F
23.4°C / 74.1°F
06:08 / 20:09
80
10
26.1°C / 79°F
22°C / 71.6°F
06:08 / 20:09
80
11
25.5°C / 77.9°F
21°C / 69.8°F
06:09 / 20:09
89
12
27.9°C / 82.2°F
21.8°C / 71.2°F
06:09 / 20:09
82
13
27.6°C / 81.7°F
23.5°C / 74.3°F
06:10 / 20:08
89
14
32.3°C / 90.1°F
22.3°C / 72.1°F
06:10 / 20:08
82
15
32.5°C / 90.5°F
23.8°C / 74.8°F
06:11 / 20:08
85
16
28.8°C / 83.8°F
23.4°C / 74.1°F
06:11 / 20:07
81
17
34.2°C / 93.6°F
23°C / 73.4°F
06:12 / 20:07
70
18
33.5°C / 92.3°F
23.4°C / 74.1°F
06:13 / 20:07
70
19
32.9°C / 91.2°F
23.4°C / 74.1°F
06:13 / 20:06
68
20
31°C / 87.8°F
24.6°C / 76.3°F
06:14 / 20:06
79
21
32.7°C / 90.9°F
22.1°C / 71.8°F
06:14 / 20:05
71
22
33.4°C / 92.1°F
23.1°C / 73.6°F
06:15 / 20:05
67
23
30.7°C / 87.3°F
23.9°C / 75°F
06:15 / 20:04
69
24
32.9°C / 91.2°F
23.6°C / 74.5°F
06:16 / 20:04
77
25
31°C / 87.8°F
24.6°C / 76.3°F
06:17 / 20:03
79
26
30.1°C / 86.2°F
24.7°C / 76.5°F
06:17 / 20:03
85
27
30.7°C / 87.3°F
24.8°C / 76.6°F
06:18 / 20:02
84
28
30.2°C / 86.4°F
25°C / 77°F
06:18 / 20:01
86
29
33.7°C / 92.7°F
24.6°C / 76.3°F
06:19 / 20:01
81
30
33.4°C / 92.1°F
25°C / 77°F
06:20 / 20:00
79
31
35.7°C / 96.3°F
25.7°C / 78.3°F
06:20 / 19:59
74
- Last updated on Sep. 04, 2019 -