Top Chengdu Attractions
More Things to Do
Top 10 City Tours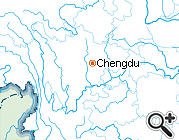 CD06: One Day Private Panda & Sichuan Cuisine Museum Tour
From
$148
per person
Free Inquiry



A giant panda munching on bamboo
In the morning, you will meet our experienced guide and professional driver at the lobby of your hotel at around 08:00 am. After a warm greeting, you will be transferred to Chengdu Research Base of Giant Panda Breeding to begin today's private Chengdu tour.

The next stop of your Chengdu day tour is the Museum of Sichuan Cuisine, the only museum in the world with the theme of diet culture. Visiting this museum can help you have a better understanding of the history and culture of Sichuan cuisine, and provide you a chance to taste the authentic Sichuan cuisines and high-quality handmade thick broad-bean sauce. Besides, you can also pay a visit to the Kitchen God Temple in the museum with the company of our guide, which is the biggest one in China.

Your 1-day private Chengdu tour package will come to an end at this point. Our guide and the driver will then escort you to your hotel to have a rest.

Meals: Lunch

Chengdu Research Base of Giant Panda Breeding
There more than 100 pandas in total live a carefree life in the base. Giant pandas in different ages are raised separately and you will find giant panda nursery inside the base. In the nursery, we will take a look at the adorable newborn pandas with pink skins. There is a feeding time during 9:00 - 11:00 when giant pandas are the most active in a day. While wandering around enclosures shaded by bamboo forest, we can see giant pandas rolling, eating, and playing with each other. Some naughty ones even climb the trees and sit on the branches which can bring you great joy.
This base is a habitat for wild animals as well. Besides of giant pandas, you can see a large amount of rare wild animals in this base, such as peacocks, white swans, and black-necked cranes.

Museum of Sichuan Cuisine
Located in the ancient town of Pixian County, the museum is an extraordinary place mainly composed of six exhibition halls including collection room, interactive room, tea tasting lounge, Kitchen God Temple, cooking tools exhibition hall, and Sichuan cuisine ingredients display room.
There are more than 3,000 pieces of diet household utensils from the Warring States (475 - 221 BC) till now on display in the museum, including boilers, bowls, drinking vessels, dishes, and tea wares. You can see books and sketches about the Sichuan cuisine collected there as well. Paying a visit to the Museum of Sichuan Cuisine can be an impressive experience for it will provide you an opportunity to learn to cook the authentic Sichuan cuisine, such as Kung Pao Chicken and Ma Po Tofu, under the directions of experienced chefs in the interactive room.
Friendly Tips:
As pandas are more active in the morning, we suggest that you get up early and finish your breakfast before 08:00. We will provide free bottled water for each of you during your Chengdu day trip.
Prices (US$ Per Person)
1 person

$285

2 persons

$183

3 persons

$169

4 persons

$148

5 persons

$146

6 persons

$132

7 persons

$125

8 persons

$120

9 persons

$114

10+

$104

Price Includes
Private English-speaking guide(s)
Private driver(s) & air-conditioned vehicle(s)
Entrance fees to tourist sites
Price Excludes
Hotel accommodation with breakfasts
Lunches and dinners
Tips or gratuities for guide and driver
Itineraries you may also like:
The above routes do not meet your requirements? Please click
Tailor My Trip