Chengdu Weather in October
You will experience early autumn weather of Chengdu in October. Whilst the average high temperature is 21°C (70°F), the average low is 15°C (59°F). October proves to be the best month to visit Chengdu due to its comfortable weather for outdoor activities. However, visitors are reminded that the variation of temperature during the day and night could be quite substantial, especially in the mountainous area like Jiuzhai Valley. The variation there could be like 20°C (68°F) during the day and 5°C (41°F) at night.
As autumn is the peak season for tourists in Chengdu, there will be lots of visitors, so ensure to book your air tickets and make hotel reservation well in advance.
Averages for Chengdu Weather in October
Temperature: 17°C / 63°F
High Temperature: 21°C / 70°F
Low Temperature: 15°C / 59°F
Humidity: 78%
Rainfall: 35mm
Rainy Days: 13 days
Sunrise: 06:57 ~ 07:18
Sunset: 18:17 ~ 18:49
Air Quality in October
Average AQI:46

What to Wear in Chengdu in October
Take with you both shorts and heavy jacket whilst in Chengdu. Although there is a rare chance to see sunny days, it won't rain as much as in summer because of the changed climate in Chengdu in October, so umbrella is only necessary when you visit Jiuzhai Valley where the weather is changeable.


Things to Do in Chengdu in October
Whilst in Chengdu, you must not miss the Dujiangyan Panda Base, where you can opt to experience as a panda keeper. Although RMB2, 000 (about USD 320) per person is not cheap, the opportunity to interact with the giant pandas is priceless. Don't miss Chunxi Road, a great place to stroll, shop, or just relax in one of the charming tea houses. It is worth to mention that Jiuzhai Valley in October is the most beautiful and breathtaking with colorful autumn leaves, crystal clear lakes, and stunning waterfalls.
Chinese National Day
, also called Golden Week Holiday, is from October 1-7. There will be thus more tourists during this period and almost every attraction will be crowded. Put on a pair of good walking shoes as there is lots of walking to be done. Also, there are lots of photo opportunities, so do not forget your camera with enough battery and a large capacity memory card.
What is the temperature in Chengdu in October?
High/Low Temperatures of Chengdu in October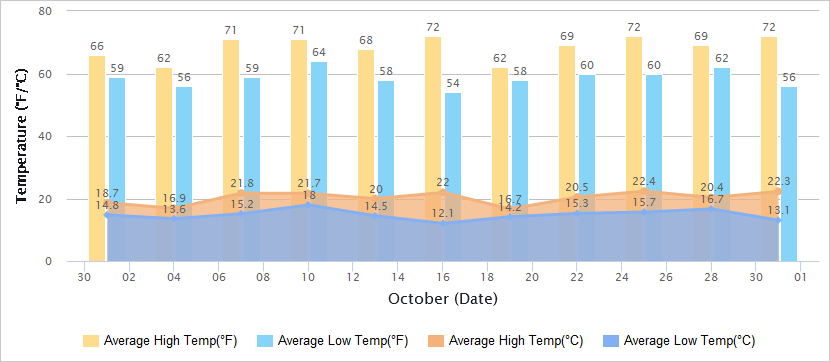 Air Quality of Chengdu in October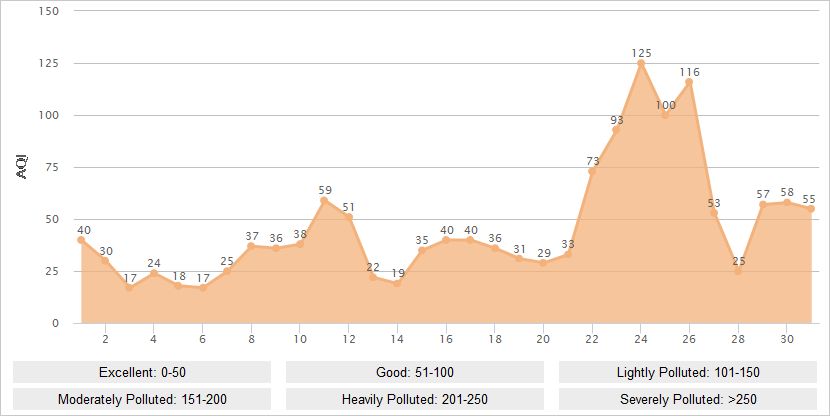 Historical Chengdu Weather in October
Oct
Temperature
Sunrise / Sunset
Humi-
dity
(%)
High
Low
1

18.7°C / 65.7°F

14.8°C / 58.6°F
06:57 / 18:49
80
2
17.8°C / 64°F
15.5°C / 59.9°F
06:58 / 18:48
76
3
18.3°C / 64.9°F
14.7°C / 58.5°F
06:58 / 18:47
75
4
16.9°C / 62.4°F
13.6°C / 56.5°F
06:59 / 18:46
87
5
21.1°C / 70°F
13.8°C / 56.8°F
06:59 / 18:44
84
6
22.7°C / 72.9°F
14.1°C / 57.4°F
07:00 / 18:43
79
7
21.8°C / 71.2°F
15.2°C / 59.4°F
07:01 / 18:42
75
8
21°C / 69.8°F
17.1°C / 62.8°F
07:01 / 18:41
81
9
24°C / 75.2°F
17.9°C / 64.2°F
07:02 / 18:40
76
10
21.7°C / 71.1°F
18°C / 64.4°F
07:03 / 18:38
82
11
23.7°C / 74.7°F
18°C / 64.4°F
07:03 / 18:37
77
12
21.4°C / 70.5°F
17.1°C / 62.8°F
07:04 / 18:36
58
13
20°C / 68°F
14.5°C / 58.1°F
07:04 / 18:35
61
14
19.3°C / 66.7°F
15.3°C / 59.5°F
07:05 / 18:34
55
15
19.8°C / 67.6°F
14.4°C / 57.9°F
07:06 / 18:33
72
16
22°C / 71.6°F
12.1°C / 53.8°F
07:07 / 18:32
72
17
20.2°C / 68.4°F
15.7°C / 60.3°F
07:07 / 18:30
78
18
18.6°C / 65.5°F
16.1°C / 61°F
07:08 / 18:29
88
19
16.7°C / 62.1°F
14.2°C / 57.6°F
07:09 / 18:28
92
20
22.2°C / 72°F
13.3°C / 55.9°F
07:09 / 18:27
71
21
22°C / 71.6°F
14.4°C / 57.9°F
07:10 / 18:26
70
22
20.5°C / 68.9°F
15.3°C / 59.5°F
07:11 / 18:25
75
23
19.3°C / 66.7°F
14.4°C / 57.9°F
07:11 / 18:24
81
24
21.3°C / 70.3°F
11.9°C / 53.4°F
07:12 / 18:23
79
25
22.4°C / 72.3°F
15.7°C / 60.3°F
07:13 / 18:22
79
26
21.3°C / 70.3°F
16°C / 60.8°F
07:14 / 18:21
80
27
23.4°C / 74.1°F
12.8°C / 55°F
07:14 / 18:20
82
28
20.4°C / 68.7°F
16.7°C / 62.1°F
07:15 / 18:19
79
29
21.7°C / 71.1°F
15°C / 59°F
07:16 / 18:18
83
30
25°C / 77°F
12.6°C / 54.7°F
07:17 / 18:18
80
31
22.3°C / 72.1°F
13.1°C / 55.6°F
07:18 / 18:17
85
- Last updated on Sep. 06, 2019 -