Chengdu Weather in June
Chengdu weather is damp and hot in June, but it is not too hot, as June marks only early summer. The average high temperature is 28°C (82°F) and the average low temperature is 21 °C (70 °F), so the climate is still comfortable for travelling to Chengdu during this month. There may be much more rainfall than in May, but it will not affect the enthusiasm and pleasure of the tourists to Chengdu.
Crowds of vacationing tourists peak in the summer months, when discounts on flights, train tickets and hotels are difficult to find, so you are advised to make bookings and reservations in advance.
Averages for Chengdu Weather in June
Temperature: 24°C / 75°F
High Temperature: 28°C / 82°F
Low Temperature: 21°C / 70°F
Humidity: 82%
Rainfall: 107 mm
Rainy Days: 15 days
Sunrise: 06:00 ~ 06:04
Sunset: 20:02 ~ 20:10
Air Quality in June
Average AQI:56


What to Wear
It is ok to wear summer clothes during this month, such as jeans and T-shirts, shorts, and dresses. Bring a light coat in case the weather cools down on rainy days. And it is always necessary to take an umbrella.



Where to Go
A visit to the
Jinli Street
is highly recommended, especially at night, when the street is not only quiet with fewer tourists, but also very beautiful under lamplight. While you are there, various delicious foods cannot be missed. A tour to Wide and Narrow Alley and Jinsha Site Museum within Chengdu city can also be memorable.
Dujiangyan Irrigation Project
and
Mount Qingcheng
are worth a visit as well, and you can spend one day visiting both of them as these two attractions are close to each other. Moreover,
Jiuzhai Valley
is a good choice as a summer resort, where you can enjoy dreamlike sceneries and Tibetan folk culture at the same time.

Other Tips
Don't forget to bring an umbrella or a raincoat when visit Jiuzhai Valley, because the weather in the valley is changeable. Waterproof shoes are recommended as well. Public transportation is very convenient in the city, but it is advisable to write down the Chinese names of your hotel, or learn some basic Chinese words if possible, when you tour around individually.

What is the temperature in Chengdu in June?
High/Low Temperatures of Chengdu in June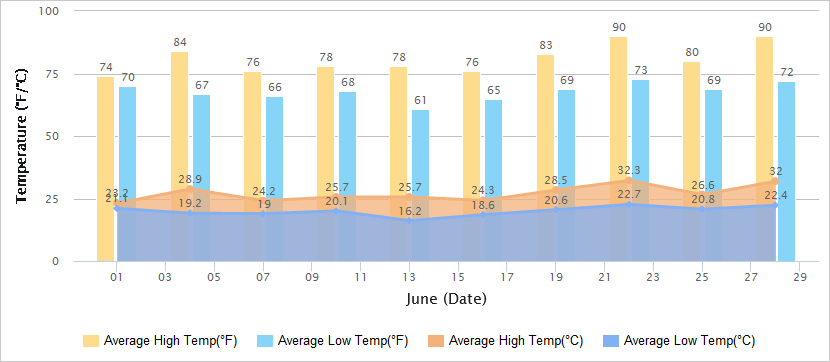 Air Quality of Chengdu in June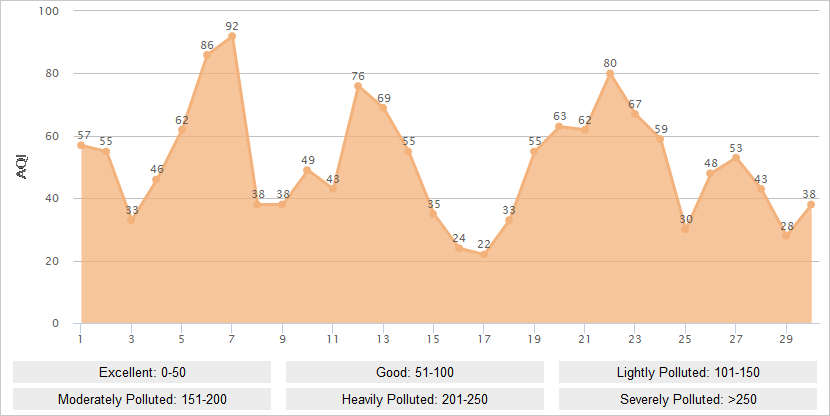 Historical Chengdu Weather in June
Jun
Temperature
Sunrise / Sunset
Humi-
dity
(%)
High
Low
1
23.2°C / 73.8°F
21.1°C / 70°F
06:02 / 20:02
92
2
29.8°C / 85.6°F
20.3°C / 68.5°F
06:01 / 20:02
83
3
31.6°C / 88.9°F
19.7°C / 67.5°F
06:01 / 20:03
69
4
28.9°C / 84°F
19.2°C / 66.6°F
06:01 / 20:03
78
5
27.8°C / 82°F
19.6°C / 67.3°F
06:01 / 20:04
81
6
27°C / 80.6°F
20.4°C / 68.7°F
06:01 / 20:04
78
7
24.2°C / 75.6°F
19°C / 66.2°F
06:01 / 20:04
80
8
28.9°C / 84°F
17.8°C / 64°F
06:01 / 20:05
77
9
28.4°C / 83.1°F
21.5°C / 70.7°F
06:00 / 20:05
81
10
25.7°C / 78.3°F
20.1°C / 68.2°F
06:00 / 20:06
65
11
29.3°C / 84.7°F
16.4°C / 61.5°F
06:00 / 20:06
66
12
26.3°C / 79.3°F
19°C / 66.2°F
06:00 / 20:07
66
13
25.7°C / 78.3°F
16.2°C / 61.2°F
06:00 / 20:07
73
14
25.5°C / 77.9°F
16.8°C / 62.2°F
06:00 / 20:07
75
15
24.6°C / 76.3°F
20.2°C / 68.4°F
06:01 / 20:08
67
16
24.3°C / 75.7°F
18.6°C / 65.5°F
06:01 / 20:08
74
17
27.8°C / 82°F
17.9°C / 64.2°F
06:01 / 20:08
72
18
30.4°C / 86.7°F
19.6°C / 67.3°F
06:01 / 20:09
70
19
28.5°C / 83.3°F
20.6°C / 69.1°F
06:01 / 20:09
77
20
31.3°C / 88.3°F
21.9°C / 71.4°F
06:01 / 20:09
77
21
28.2°C / 82.8°F
22.5°C / 72.5°F
06:01 / 20:09
79
22
32.3°C / 90.1°F
22.7°C / 72.9°F
06:02 / 20:10
74
23
32.7°C / 90.9°F
22.6°C / 72.7°F
06:02 / 20:10
74
24
29.2°C / 84.6°F
21.5°C / 70.7°F
06:02 / 20:10
78
25
26.6°C / 79.9°F
20.8°C / 69.4°F
06:02 / 20:10
83
26
32.1°C / 89.8°F
20.8°C / 69.4°F
06:03 / 20:10
70
27
34.2°C / 93.6°F
22.4°C / 72.3°F
06:03 / 20:10
61
28
32°C / 89.6°F
22.4°C / 72.3°F
06:03 / 20:10
66
29
28.5°C / 83.3°F
20.7°C / 69.3°F
06:04 / 20:10
89
30
30.4°C / 86.7°F
21.5°C / 70.7°F
06:04 / 20:10
78
- Last modified on Sep. 26, 2018 -