Chengdu Weather in September
Chengdu weather from September onwards gets cooler and cooler with the average high temperature around 26°C (79°F) only. The climate will be noticeably less humid too, with an average rainfall of 119 mm and the occasional heavy fog in the morning. Hence, a trip in this month would be more manageable due to lesser humidity, making trekking, sightseeing, and anything physical more tolerable.
However, September is the beginning of the other peak tourist season in Chengdu. Correspondingly, hotel room rates and flight tickets will definitely go up.
Averages for Chengdu Weather in September
Temperature: 21°C / 70°F
High Temperature: 26°C / 79°F
Low Temperature: 19°C / 66°F
Humidity: 75%
Rainfall: 119 mm
Rainy Days: 16 days
Sunrise: 06:40 ~ 06:56
Sunset: 18:51 ~ 19:28
Air Quality in September
Average AQI:51


What to Wear
Summer clothing is still good enough for this month. However, temperature drops when autumn arrives in late September. Hence, bring along a light coat or thin sweater. As temperature varies a lot during the day, please be always preparing by dressing appropriately. Umbrella is necessary as well.



Where to Go
Chengdu Research Base of Giant Panda Breeding, also called Chengdu Panda Base, is highly recommended because seeing the pandas would be an experience you won't have anywhere else. The lovable baby pandas will make your visit a pure joy. Jinsha Site Museum is a good choice if you are interested in archaeological artifacts. Also, it is worth a visit to Wenshu Monastery, It is special from other temples in China and the entrance is free of charge. Take a stroll down to
Jinli Street
, if you have time to spare. There are many eateries and bars, art and crafts, and sights to enjoy.
Jiuzhai Valley National Park
,
Huanglong Reserve
, and Dacheng Yading Nature Reserve in western Sichuan Province cannot be missed for tourists to Chengdu in September.

Other Tips
Although it is not hot during this month but UV rays at high altitude areas, such as Jiuzhaizhou and Huanglong, are still strong. Hence, it is important to keep yourself well protected with sun block.

What is the temperature in Chengdu in September?
High/Low Temperatures of Chengdu in September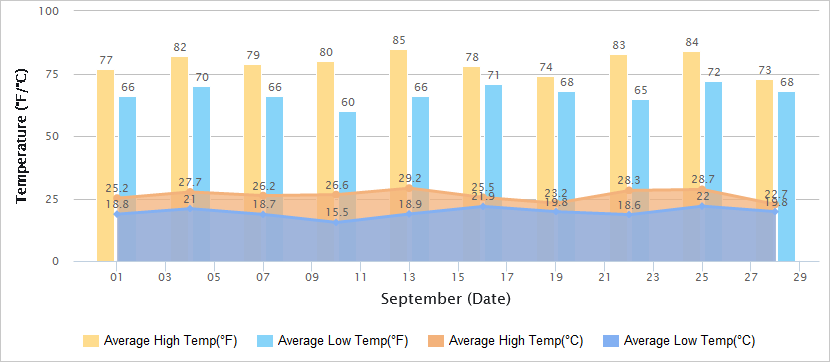 Air Quality of Chengdu in September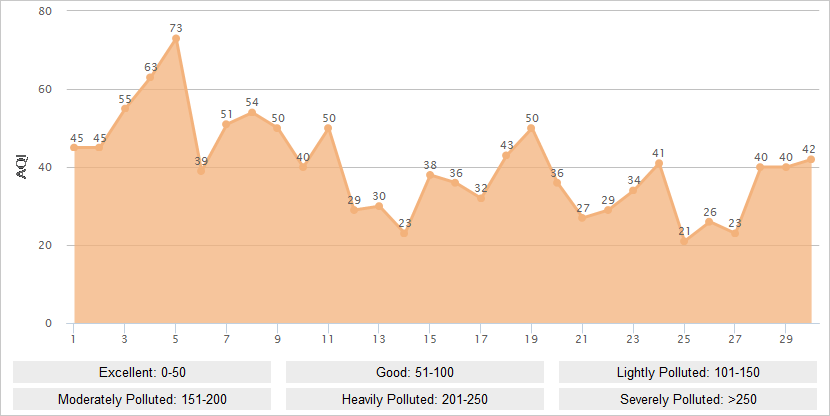 Historical Chengdu Weather in September
Sep
Temperature
Sunrise / Sunset
Humi-
dity
(%)
High
Low
1
25.2°C / 77.4°F
18.8°C / 65.8°F
06:40 / 19:28
81
2
27°C / 80.6°F
19.5°C / 67.1°F
06:40 / 19:26
81
3
27.3°C / 81.1°F
19°C / 66.2°F
06:41 / 19:25
81
4
27.7°C / 81.9°F
21°C / 69.8°F
06:41 / 19:24
77
5
26.6°C / 79.9°F
22°C / 71.6°F
06:42 / 19:23
83
6
23.5°C / 74.3°F
18.6°C / 65.5°F
06:43 / 19:21
88
7
26.2°C / 79.2°F
18.7°C / 65.7°F
06:43 / 19:20
82
8
26.1°C / 79°F
19.5°C / 67.1°F
06:44 / 19:19
86
9
25.6°C / 78.1°F
19.7°C / 67.5°F
06:44 / 19:18
74
10
26.6°C / 79.9°F
15.5°C / 59.9°F
06:45 / 19:16
78
11
26.3°C / 79.3°F
17°C / 62.6°F
06:45 / 19:15
80
12
25.9°C / 78.6°F
20.1°C / 68.2°F
06:46 / 19:14
83
13
29.2°C / 84.6°F
18.9°C / 66°F
06:46 / 19:13
78
14
28.1°C / 82.6°F
18.4°C / 65.1°F
06:47 / 19:11
77
15
26.3°C / 79.3°F
20.6°C / 69.1°F
06:48 / 19:10
85
16
25.5°C / 77.9°F
21.9°C / 71.4°F
06:48 / 19:09
87
17
26.6°C / 79.9°F
21.8°C / 71.2°F
06:49 / 19:07
86
18
25.1°C / 77.2°F
21.7°C / 71.1°F
06:49 / 19:06
82
19
23.2°C / 73.8°F
19.8°C / 67.6°F
06:50 / 19:05
84
20
24.7°C / 76.5°F
18.8°C / 65.8°F
06:50 / 19:04
83
21
28.5°C / 83.3°F
19.3°C / 66.7°F
06:51 / 19:02
69
22
28.3°C / 82.9°F
18.6°C / 65.5°F
06:52 / 19:01
71
23
28.2°C / 82.8°F
18.6°C / 65.5°F
06:52 / 19:00
71
24
27.6°C / 81.7°F
19.7°C / 67.5°F
06:53 / 18:58
80
25
28.7°C / 83.7°F
22°C / 71.6°F
06:53 / 18:57
75
26
25.8°C / 78.4°F
22.7°C / 72.9°F
06:54 / 18:56
72
27
24.5°C / 76.1°F
21°C / 69.8°F
06:55 / 18:55
82
28
22.7°C / 72.9°F
19.8°C / 67.6°F
06:55 / 18:53
87
29
22.2°C / 72°F
19.5°C / 67.1°F
06:56 / 18:52
94
30
20.1°C / 68.2°F
17.6°C / 63.7°F
06:56 / 18:51
88