Jinsha Site Museum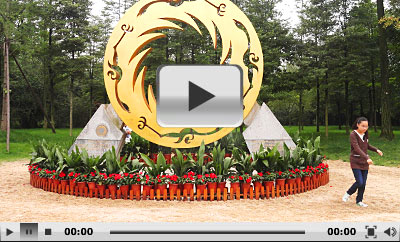 Covering a total area of about 38,000 square meters (9 acres), Jinsha Site Museum mainly consists of Relics Hall, Exhibition Hall, Cultural Heritage Protection Center and Ecological Garden. It is a rare site museum among Chinese museums because of its combination of modern civilization and the civilization of ancient Shu State (Sichuan Province was called Shu State in ancient times), as well as the combination of ecological environment and culture.

Jinsha Site Museum is built to protect, study and display the archaeological finds of Jinsha Site, which was discovered by archaeologists in February 2001. Covering an area of about five square kilometers (1,236 acres), Jinsha Site probably dates back to about 3,000 years ago, the time from the late Shang Dynasty (17th-11th century BC) to the early Spring and Autumn Period (770 BC-476 BC). It is the core of Shang and Zhou Dynasty (17th century BC-221 BC) and the second ancient city of Shu State found only after the Three-Star Piles Museum. Altogether 63 sacrificial spots, 6,000 pieces of precious relics, over 70 building spots and 3 centralized cemeteries were unearthed here.
The 'Three Mosts' of Jinsha Site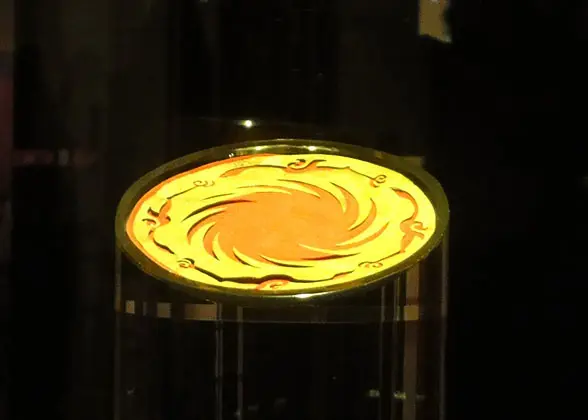 Gold Foil of Sun and Immortal Bird
Jinsha Site Museum has the world's most concentrated ancient ivory among its kind in the same period. Unearthed ivories include complete ivories, cut ivories, ivory segments, ivory pieces, ivories in shape of strip, bean or bead and so on. In addition, there are a small number of elephant skulls and molars. After specific identification, these ivories are considered to be local Asian elephants'.
It is one of the sites that have unearthed the most gold articles compared with others in the same period in China. More than 200 pieces of gold articles have been found, including gold foils, gold films, gold masks, gold belts, Gold Foil of the Sun God Bird, box-shaped gold, flared gold, frog-shaped ornaments, fish-shaped ornaments. Most of the gold items are attachments of other objects as symbols of nobility. These vivid gold objects show the superior technology and exceptional artistic imagination as well as rich ancient history information.
Jinsha Site Museum unearthed the most jade among all its kind of the Bronze Age. More than 2,000 pieces of jade of various kinds are revealed, such as jades in shape of axe, chisel, knife, sword, spear, ring, bracelet, etc. The number of Zhang jades even exceeds the sum of other parts in China. Most of the jades were used for sacrifice.
In addition to the 'three mosts', Jinsha Site has another important feature, namely its lifelike stone statues. Kneeling stone figures, stone tigers and stone snakes are the representatives. Using red, black, white and other colors and many smart techniques, vivid human or animal images with flowing lines came out.
| | |
| --- | --- |
| Jade Axe | Vivid Stone Snake |
Four Parts of the Museum
Jinsha Site Museum mainly consists of Relics Hall, Exhibition Hall, Cultural Heritage Protection Center and Ecological Garden.
The relics hall is a semicircle with an area of 7,600 square meters (2 acres). The main structure is large span steel structure with column-free space. In this hall, you can feel the grand sacrificing ceremony, life scenes and ecological environment 3,000 years ago. Besides, you can have a close view of the process of archaeological excavation. The hall also displays the exquisite artifacts demonstrating the occurrence, development, and evolution of the civilization of ancient Shu State.
| | |
| --- | --- |
| Relic Hall | Golden Mask |
The Exhibition Hall has a special structure. It is a sunken building with a basement and 3 floors above ground and the northern part is much lower than the southern part. In this hall high technologies are used to reproduce the civilization of ancient Shu State and help tourists discover the mysterious Jinsha Site. As a result of 'sound and light painting' technology, visitors can see life scenes 3,000 years ago, for example, hunting wild boar, the mother with a baby in hands, and lovely elephants, etc. The inductive directional query system makes it possible for visitors to get rich information on places or objects by simply clicking the mouse. The multi-media interactive system, which is used for the first time in China, shows the relationship of the civilization of ancient Shu State with other early civilizations, such as the Mayan civilization, the Mesopotamian civilization and ancient Indian civilization. What's more, one of the most outstanding artifacts, the Gold Sun God Bird, a perfect complex outcome of 'Harmony' philosophy, rich imagination, extraordinary artistic creativity and superb technology, is exhibited in this hall.
The Cultural Heritage Protection Center is located in the northeast of Jinsha Site Museum, covering an area of 8,000 square meters (about 2 acres). It is the center for protecting and studying the cultural relics unearthed there. Nearby, there is a little theater. A lot of performances related with Jinsha Culture are played there.
Ecological Garden
The garden in Jinsha Site Museum is very beautiful with surrounding ginkgos, metasequoias and other ancient trees. The garden has the 'Sun Bird Sculpture', 'Western Hills', 'Jade Road' and 'Ebony Forest' which are worthy of recommendation.
Beside the three main parts, Jinsha Site Museum also has an academic lecture hall and a Three Dimensional Theater.
How to get to Jinsha Site Museum
By Bus
1. Take bus 82, 83, 100, 111, 142, 163, 211, 1029 or 1043, and get off at Jinsha Yizhi Dongmen (East Gate of Jinsha Site Museum) Station.
2. Take bus 163 or 209 to Jinsha Yizhi (Jinsha Site Museum).
By Metro
Take
Metro Line 7
and get off at Jinsha Site Museum, Exit C.
From
Shuangliu Airport
: take
Metro Line 10
and transfer to Line 7 at Taipingyuan, and then get off at Jinsha Site Museum;
From
Chengdu Railway Station
: take Metro Line 7 directly there.
Chengdu Bus / Metro Search
Entrance Fee
CNY 80 for adults.
Free for children under 1.3m (4.3 feet) or no more than 6 years old and seniors aged 70+ (valid passport or ID card required).
4D movie needs extra CNY20.
Opening hours
Mar. - Oct.: 8:00 - 20:00
Nov. - Apr.: 8:00 - 18:30
Tickets sale stops an hour earlier.
Closed on Mondays, except Mondays in Jan, Feb, Jul, Aug, and public holidays.
Travel Tip:
Tourists can find the
sightseeing bus
from Jinsha Site Museum to other well-known tourist places, such as
Panda Base
,
Wuhou Temple
,
Dujiangyan Irrigation System
and
Mount Qingcheng
.
Chengdu Sightseeing Bus
- Last modified on Apr. 08, 2021 -
Questions & Answers on Jinsha Site Museum
Asked by melinand from FRANCE | Nov. 28, 2020 04:37

Reply
Are photos allowed when touring around Jinsha Site Museum?
Answers (1)
Answered by Lily | Dec. 03, 2020 19:55

0

0

Reply
Don't worry. As I know, the photos are allowed.
Asked by Richard F Casten from USA | Sep. 08, 2017 20:35

Reply
Are the exhibitis explained in English at Jinsha Site Museum.
Is the Golden Sun Bird the original or a replica?
Answers (1)
Answered by Amenda from UNITED KINGDOM | Sep. 11, 2017 00:57

0

0

Reply
Yes, there are English explanations; by the way, there are also many English guides in the museum. And the Golden Sun Bird is the original one.
Asked by Vivienne from INDIA | Oct. 03, 2014 07:48

Reply
At the Jinsha Museum can I buy souveniers in a shop?
Answers (2)
Answered by Linda from FRANCE | Oct. 07, 2014 21:31

0

0

Reply
Yes, you can buy the souvenirs in the museum. On B1 floor, there is a large shopping site, and there are some around the South Gate. Hope you can find what you want there.
Answered by P. Moore from USA | Aug. 29, 2017 05:39

1

0

Reply
Yes......as mentioned by the first answer to question. When I visited, there were plenty of what I call "gualkers" on the street near the gate that will pester you with souvenirs as enter and exit the property.