Chengdu Metro Line 7
North Railway Station - 2nd Beizhan West Road
(Identification Color: Sky Blue
)
The circle-shaped Chengdu metro line 7 covers 39 kilometers (24 miles) and passes 31 stations, joining four important transportation hubs in the city including North Railway Station,
South Railway Station
,
East Railway Station
and North City Bus Station. An entire single journey takes around 66 minutes. Passengers can transfer to other metro lines directly at the underground floor of East Railway Station of Chengdu subway line 7.
See
metro maps
for reference.
Timetable
Station
To West 2nd Road of North Railway Station
To North Railway Station
First Train
Last Train
First Train
Last Train
North Railway Station
06:18
23:59
06:15
23:19
Sima Bridge
06:21
00:02
06:19
23:16
Fuqing Road
06:24
00:04
06:17
23:13
Balizhuang
06:26
00:07
06:15
23:11
Erxianqiao
06:28
00:09
06:19
23:09
Chengdu University of Technology
06:30
00:11
06:17
23:07
Cuijiadian
06:15
23:05
06:15
23:05
Shuangdian Road
06:16
23:07
06:34
00:11
Huaishudian
06:18
23:09
06:32
00:10
Yinghui Road
06:20
23:11
06:29
00:07
East Railway Station
06:15
23:13
06:28
00:05
Daguan
06:17
23:15
06:25
00:03
Shizishan
06:19
23:17
06:23
00:01
Sichuan Normal University
06:15
23:19
06:21
23:58
Liulichang
06:17
23:22
06:18
23:56
Sanwayao
06:15
23:25
06:15
23:53
South Railway Station
06:17
23:27
06:21
23:51
Shenxianshu
06:20
23:30
06:18
23:48
Gaopeng Avenue
06:15
23:32
06:15
23:46
Taipingyuan
06:18
23:35
06:19
23:43
Wuhou Avenue
06:20
23:37
06:17
23:41
Longzhuayan
06:15
23:39
06:15
23:38
Dongpo Road
06:17
23:41
06:19
23:36
Culture Palace
06:19
23:44
06:17
23:34
Jinsha Site Museum
06:21
23:45
06:15
23:33
Yipintianxia
06:15
23:48
06:21
23:30
Chadianzi
06:17
23:50
06:18
23:28
Huazhaobi
06:19
23:52
06:17
23:26
Southwest Jiaotong University
06:21
23:54
06:15
23:24
Jiulidi
06:15
23:55
06:19
23:22
2nd Beizhan West Road
06:16
23:57
06:17
23:21
Transfers

North Railway Station & South Railway Station: Transfer with
Line 1

Sima Bridge: Transfer with
Line 3

Huaishudian & Culture Palace: Transfer with
Line 4

East Railway Station & Yipintianxia: Transfer with
Line 2

Taipingyuan: Transfer with Line 3 &
Line 10

2nd Beizhan West Road & Shenxianshu: Transfer with
Line 5

Southwest Jiaotong University & Liulichang: Transfer with
Line 6

Gaopeng Avenue & Chengdu University of Technology: Transfer with
Line 8

South Railway Station: Transfer with
Line 18
Surroundings and Bus Routes near All Stations
('

' Subway Transfer Stations)

North Railway Station
Surroundings: North Railway Station, 2nd Ring Road, Zhanqian Road, Gongjiao Road, Clinical Medical College & Affiliated Hospital of Chengdu University, Chengdu Grand Hotel, Wanhe Hotel, Cultural Palace of Railway Bureau, Agricultural Bank of China
Bus Routes: 9, 15, 17, 24, 27, 28, 33, 34, 54, 65, 73, 86, 95, 650, Night Line 17, 3, 4 & 9, K12, K15A, K15, K17, K1A, K1

Simaqiao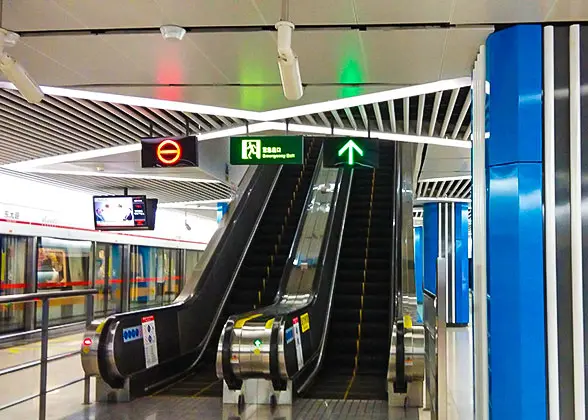 The Escalator
Surroundings: Simaqiao Road, South Zhaojuesi Road, Jiefang Road, East Gaoche Road, Shahe River, Chengdu No. 33 Middle School, Ji Hotel, Xingxing Hotel, Chengdu Spring Hotel, Xingxing Hotel
Bus Routes: 42, 1054

Fuqing Road
Surroundings: Fuqing Road, Zhonghuan Road, Qinglongchang Flyover, Simaqiao Park, Jiaotong Hospital
Bus Routes: 42, 1054

Balizhuang
Surroundings: West Erxianqiao Road, West Erxianqiao 1st Lane, Minxing Rd., Yayi Hotel, Hongcang Cultural Park, Panda Holiday Hotel, Erxianqiao Park
Bus Routes: 7, 71, 146, Night Line 15

Erxianqiao
Surroundings: Erxianqiao Road, North Erxianqiao Road, East Shengdong Rd., No.49 Middle School, Industrial and Commercial Bank
Bus Routes: 6, 7, 146, 1031, Night Line 15, 14, 86, 180, 428, G6, 666, K19

Chengdu University of Technology
Surroundings: Shanbanqiao Road, Shilidian Road, Chengdu University of Technology, Pengli Hotel, Construction Bank, Industrial and Commercial Bank, Tiaodeng River
Bus Routes: 8, 113, 146, 180, 654, 659, G169

Cuijiadian
Surroundings: South Cuijiadian Road, North Cuijiadian 1st Road, Continuing Education College of CDUT, Chengdu University of Technology, Shanbanqiao Park
Bus Routes: 8, 20, 128, Night Line 7,

Shuangdian Road
Surroundings: Shuangdian Road, Chenghua Experimental Primary School, West Changrong ZRd., Meiwei Hotel, Qiyu Supermarket
Bus Routes: 237, 297, Night Line 15

Huaishudian
Surroundings: Huaishudian Road, Chengdu Technician College, MCC5 Staff University of China, Huajian School, Home Inn, Shiguang Park, Hongqi Supermarket
Bus Routes: 456, 5, 97, 98, 120, 237, 401, 80, G401

Yinghui Road
Surroundings: Jinxiu Avenue, Wugui Road, North Yangliudian Road, Jiancai Road, Yinghui Road, Wuguiqiao Primary School, Tiyuyundong School, Yangliu Primary School, General Bus Station, Chenghua District People's 6th Hospital, Kangda Hotel, Agricultural Bank of China
Bus Routes: 80, 90, 219, 297, 1160, Night Line 16 & 5, 4, 23, 66, 71, 94, 122, 200, 223, 440, 855, 856, G4, K12, K4, K7

East Railway Station
Surroundings: Longmenshan Road, Emeishan Road, Jialingjiang Road, Minjiang Road, East Railway Station, East Railway Station Bus Station, 7 Days Inn
Bus Routes: 50, 71, 135, 857, 1108, East Railway Station Shuttle Bus

Daguan
Surroundings: Jinshajiang Road, Qujiang Road, Sichuan Provincial People's Hospital Friendship Hospital, Foreign Language School of Sichuan Normal University Affiliated High School, Shahebao Primary School
Bus Routes: 40, 47, 90, 147, Night Line 16 & 6, 1145

Shizishan
Surroundings: Lingke Road, Jieren Road, Lingke Road Primary School, Jinxin Vocational Training School, Middle School Attached to Sichuan Normal University, Sichuan Post and Telecommunication College, Shahebao Hospital, Meihu Holiday Hotel, Mengting Hotel
Bus Routes: 79, 332A, 1042, 1046, 1065, 1083, G166

Sichuan Normal University
Surroundings: Jing'an Road, Sichuan Normal University, Sichuan Academy of Agricultural Sciences, Primary School Attached to Chengdu Normal School, Home Inn, Yajun Business Hotel, Bank of China
Bus Routes: 51, 56, 138, 186, 332, 336, 343, 452, K19, Night Line 10, 1042

Liulichang
Surroundings: Jinhua Road, Liuli Road, Caidieyouyuan Park, Cuihu Park, Jiaxiang Foreign Languages School Attatched to No.7 Middle School, Academy of Social Science, Hollyston Hotel, Yazhu Hotel, Industrial and Commercial Bank
Bus Routes: 3, 31, 65, 68, 77, 91,120, 1052

Sanwayao
Surroundings: South Kehua Road, Jingui Road, North Tianren 2nd Street, No.7 Middle School's Primary School, Fuhe Cultural and Sports Park, Jinyi Hotel, Agricultural Bank of China
Bus Routes: 19, 49, 55, 102, 109, 120, 279, 510, 817, G3, G51, G52, G53, G54, G92, 492, Night Line 9, 1074

South Railway Station
Surroundings: Tianfu Avenue, Guanghe 1st Street, South Railway Station, Dongrui Financial Center, Sichuan Cancer Hospital (No.2 People's Hospital), Days Hotel Suites Dading, Yijia City Hotel, Xiaojia River
Bus Routes: 16, 49, 109, 121, 153, 279, 74, 1074

Shenxianshu
Surroundings: Zirui Avenue, Xiaojia River, South Shenxianshu Road, Airport Highway, Hi-Tech Experimental School, Eldu Primary School, Shenxianshu Park, Millennium Hotel, Construction Bank, Industrial and Commercial Bank of China
Bus Routes: 26, 61, 1023, G181, G60

Gaopeng Avenue
Surroundings: Gaopeng Avenue, Keyuan Avenue, Wuyang Avenue, East Gaopeng Road, Keyuan 4th Road, Science Park of West China Hospital, Mingxin Potassium-salt Synthesis Technology Research Institute, Tianfu Life Science Park, Sichuan Environmental Protection Bureau, Chengdu Institute of Biology
Bus Routes: 86, 461A, Night Line 16, K11A, K11, K13A, K13, K16, K4, 222, 249

Taipingyuan
Surroundings: Jialing Road, Hetaoyan Road, Nextcity Commercial & Residential Building, Nature Valley Community, Wuhou District Orthopaedic Hospital, Taipingyuan International Exhibition Center, Traffic Management School, Southwest Minzu University (Taipingyuan Campus), Taiping Primary School, No.57 Experimental School, Meiyi Hotel, Construction Bank, Industrial and Commercial Bank
Bus Routes: 1, 84, 222, Night Line 11, 807, 248, 249, Night Line 16

Wuhou Avenue
Surroundings: Wuyang Avenue, Wuhou Avenue, Microscopic Hand and Foot Surgery Hospital, Chuanshu Vascular Disease Hospital, Shuangnan Hospital, Wuhou District National Juvenile Sports Club, Home Inn, Junyi Hotel, Yayuan Business Hotel, Agricultural Bank of China
Bus Routes: 6, 38, 45, 53, 334, G62, 1091, Night Line 16

Longzhuayan
Surroundings: West Longteng Road, Qingyang Avenue Qingshuihe Bridge, Lijinghuating Community, Chengdunese Paradise Community, Shuiruntixiang Community, Longxiang Road Primary School, Experimental Primary School Affiliated with Sichuan University, 7 Days Inn, Shunxin Hotel
Bus Routes: 84, 100, 164, 1028, 83, 339, 441, 1086, G152

Dongpo Road
Surroundings: Jiayuan Road, Dongpo Road, Qingyang Avenue, Dongpo Leisure Square, Garden (International) Primary School, Sichuan Administration & Finance & Trade College, Qingyang Experimental Middle School, Kongliang Garden Hotel, Hujing Hotel, Agricultural Bank of China
Bus Routes: 83, 84, 100, 164, 339, Night Line 16, 170, 214, 339, 1059, G65

Culture Palace
Surroundings: Middle Qingjiang Road, Working People's Culture Palace, Southwestern University of Finance and Economics (Guanghua Campus), Guanghua Primary School
Bus Routes: 105, 37, 83, 84, 100, 309, G151, G62, G64, G66, Night Line 16

Jinsha Site Museum
Surroundings: Jinshayizhi Road, West Jinping Street, Sichuan Normal University Experimental Foreign Languages School, Jinsha Elementary School, Jinsha Kindergarten,
Jinsha Site Museum
, Jinsha Life Square, Construction Bank, Agricultural Bank of China
Bus Routes: 13, 37, 82, 83, 100, 111, 142, 147, 163,175, 209, 211

Yipintianxia
Surroundings: Tonghe Road, Shuhan Road, Sichuan Higher People's Court, Yingmenkou Primary School, Shisunjie Primary School, Hanting Express Hotel, Industrial and Commercial Bank, Minsheng Bank, Bank of China
Bus Routes: 43, 44, 83, 107, 211, 212, 1029, K12, Night Line 15, 30A, 30, 44, 54, 82, 107, 111, 341, 705, 1043, Night Line 14

Chadianzi
Surroundings: East Chadianzi Street, Chadianzi Road, Chadianzi Street, Jinniu District People's Hospital, No.4 People's Hospital, Jinniu Sports Center, Chadianzi Primary School, No.20 Middle School, Shengmao Hotel, Bank of China
Bus Routes: 4, 62, 214, 1068, K12, K17, Night Line 5 & 15, 17, 25, 83, 107, 113, 215

Huazhaobi
Surroundings: East Jinfangyuan Road, East Huazhaobi Street, West Yinsha Street, No.20 Huazhao Middle School, Jinxi Commercial Square, Vegas Culture Hotel
Bus Routes: 410, 59, 178

Southwest Jiaotong University
Surroundings: 2nd Ring Road Flyover, Southwest Jiaotong University, Yingmenkou Street Community School, Mall Business, International Convention & Exhibition Center, Science and Technology Industrial Park of SWJTU, Jinniu District Government, Lijia Hotel, Minsheng Bank
Bus Routes: 3, 48, 93, 95, 106, 281, 340, 32, 33, 113, 1094, K13A, K13

Jiulidi
Surroundings: Jin River, Taiyangmen Community, Liudiyuan Community, Quanxinghuayuan Community, Jiulidi Park, Jinshiji Bilingual Kindergarten, Pod Inn, QQ Business Hotel, Super 8 Hotel
Bus Routes: 75, 109, 168, 1094, K12, K15A, K15, K17, K2A, K2

2nd Beizhan West Road
Surroundings: West Zhanxiqiao Street, Affiliated Hospital of Chengdu University, North City Bus Station, Fuheqiao Market, Xiyilu Primary School, Beizhan Primary School, No.15 Kindergarten, Super 8 Hotel, Orange Hotel, Agricultural Bank of China
Bus Routes: 17, 33, 73, 95, K12, K15A, K17, K2A, K2
- Last updated on Oct. 11, 2023 by Gabby Li -