Hangzhou Transportation
Hangzhou, the capital city of Zhejiang Province, is one of the top choices for people who would like to enjoy a side trip after touring Shanghai. Travelers at home and abroad are attracted by its fascinating West Lake, endless Longjing Tea Field, historic Grand Canal and bustling Qinghefang Ancient Street. In order to best serve all tourists, a very broad transportation system has been established in the city.

Air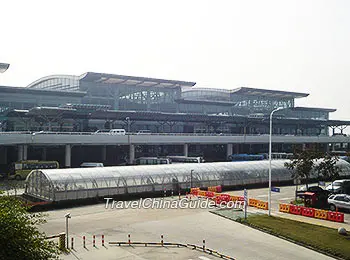 Xiaoshan International Airport
Xiaoshan International Airport (HGH), around 17mi (27km) from the downtown, mainly serves Hangzhou and nearby cities like Huzhou, Shaoxing, Jiaxing, and Zhuji. It operates many air routes with Terminal A (International) and Terminal B (Domestic). Besides Hong Kong, Macau and Taipei, the international destinations include Singapore, Souel, Amsterdam, Pattaya, Phuket Island, Osaka, Tokyo, and Chiengmai. Domestic air routes from/to Beijing, Chengdu, Jiuzhaigou, Guangzhou, Guilin, Xian, Kunming, Lhasa, and Xiamen are available. The airport enjoys 144-Hour Visa-Free Transit policy, which is a great convenience for short-term visits.


Hangzhou Flights


Airport Transportation


Airport Services and Facilities

Train
There are three railway stations in the city. High speed lines from/to Shanghai, Nanjing, Ningbo, and Changsha transport the most passengers.



Hangzhou Railway Station: Located at East Ring Road, Shangcheng District, it is also known as Chengzhan Railway Station. The station mainly operates trains that arrive at the city as a terminal station.



East Railway Station: It lies on Tiancheng Road, Jianggan District. Opened in 2013, it is now one of the largest high speed train hubs in east China, transporting a large amount of passengers daily.



South Railway Station: Originally named Xiaoshan Railway Station, it is around 17mi (27km) from Chengzhan Railway Station. The station hosts trains passing through the city. Now it is closed for renovation since Jul. 2013 and is expected to reopen by 2017.
| | |
| --- | --- |
| Train from Shanghai to Hangzhou | Bullet Train |

Long-distance Bus
Five long-distance bus stations are in operation, serving passengers who travel in and out of Zhejiang. They are Passenger Transport Central Station (Jiubao Passenger Transport Center), West Bus Station, North Bus Station, South Bus Station and Hangzhou East Railway Highway Bus Station. Besides, local Tourist Dispatch Center plays an important role for long-distance travels and many buses are available to attractions near the city.


Transportation from/to Shanghai


Transportation from/to Nearby Cities

Ship / Cruise
Endowed with many rivers and lakes, the city supplies pleasant cruise, ferry and water bus travels. At present, the West Lake Cruise and Grand Canal Cruise enjoy the highest popularity. In addition, several routes of water bus assist in relieving the transportation pressure. The main routes are Pujia / Wulinmen – Gongchen Bridge (line 1), Wulinmen – Xixi Wuchang Pier (line 2), Datieguan – Banshan (Line 3), Chaomingsi Lane – Meihuabei (Line 7).

City Bus
As one of the most important means of transportation, city buses mainly include downtown lines, suburban lines, night lines, and Bus Rapid Transit (BRT) routes. The cost is CNY1-4. If paying with the Transportation Smart Card, passengers enjoy 50% off. Tourist bus lines of Y2, Y6, Y8, Y9 and Y10 connect the main attractions.


Bus/Subway Search
| | |
| --- | --- |
| Small Boat on West Lake | City Bus |

Subway
The city commences the subway era of Zhejiang with the opening of line 1 in 2012. According to long-term plan, there will be 10 subway lines by 2020, and the number will be 13 by 2050. By now, only line 1, line 2, and line 4 are operational. The fare ranges CNY2-8.


Subway Maps

Taxi
Almost 10,000 taxis are serving the city. Usually it is not that easy to hail a taxi which charges by meter near hot attractions, and passenger transport hubs; therefore, negotiating for a flat rate is necessary under the circumstance. Here is the charging standard below:
| | |
| --- | --- |
| Flat-down Rate for the first 3km (2mi) | CNY11 |
| Unit Price per kilometer between 4-10km (2.5-6mi) | CNY2.5 |
| Unit Price per kilometer over 10k (6mi) | CNY3.75 |
| Waiting Fee for Every 4 minutes | CNY2.5 |
Public Bicycle
Touring the city, especially around the West Lake, by bike is the option of many locals and tourists. Just register a regular IC card or Z card, and one can easily rent a bike. The rental sites are easily accessible along the street, near scenic spots and busy passenger transport hubs, and some are even open for 24 hours. Hence rental and return services are quite convenient. The cost is free within an hour, CNY1 for 1-2 hours, CNY2 for 2-3 hours, and CNY3 for each additional hour if renting over 3 hours.