Hangzhou Metro
Hangzhou metro will include 10 lines with a length of over 375 kilometers (233 miles) by the end of 2020. Currently, subway line 1, 2 and 4 have been in service partially. Line 1, the first one in Zhejiang Province, includes a main line and a branch line that connects Xiacheng, Xiasha and Linping Districts. Opened in late 2014, line 2 links Chaoyang and Liangzhu with 33 stations. The operating part of line 4 makes a connection between Puyan and Pengbu via East Railway Station. Besides, Hangzhou metro line 3, 5, 6, 7, 8, 9 and 10 will operate in the near future.
Lines in Operation:

Line 1
: It has a main line and a branch line, running from Linping and Xiasha Jiangbin to Xianghu, Xiaoshan District. Line 1 passes by many large passenger distributing centers in the city, such as Wulin Square,
East Railway Station
,
Main Railway Station
, and the South Bus Station.
Total Length: 53 kilometers (33 miles)
Main Line: Xianghu – Binkang Road – Xixing – Binhe Road – Jiangling Road – Jinjiang – Wujiang Road – Chengzhan (Main Railway Station) – Ding'an Road – Longxiangqiao – Fengqi Road – Wulin Square – West Lake Cultural Square – Datieguan – Zhalongkou – East Railway Station – Pengbu – Qibao – Jiuhe Road – Jiubao – Coach Center – West Xiasha – Jinshahu – Gaosha Road – Wenze Road – South Wenhai Road – Yunshui – Xiasha Jiangbin
Branch Line: Passenger Transport Center – South Qiaosi – Qiaosi – Wengmei – Yuhang Railway Station – Nanyuan – Linping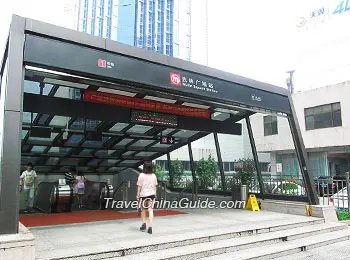 Metro Entrance/Exit at Wulin Square

Line 2: Chaoyang - Liangzhu
Length: 43 kilometers (27 miles)
Route: Chaoyang - Caojiaqiao - Panshui - Renmin Road - Hangfachang - People's Square - Jianshe 1st Road - Jianshe 3rd Road - Zhenning Road - Feihong Road - Yingfeng Road - Qianjiang Century City - Qianjiang Road - Qingchun Square - Qingling Road - North Jianguo Road - North Zhonghe Road - Fengqi Road - Wulinmen - Shentangqiao - Xianingqiao (Closed) - Xueyuan Road - Gucui Road - Fengtan Road - Wenxin - Sanba - Xialongwei - Sandun - Dunxiang Street - Jinjiadu - Baiyang - Dufucun - Liangzhu



Line 4: Puyan - Pengbu
Length: 21 kilometers (13 miles)
Route: Puyan – Yangjiadun – Zhejiang Chinese Medical University – Lianzhuang – Shuichengqiao – Fuxing Road – Nanxingqiao – Yongjiang Road - Jinjiang – Chengxing Road – Citizen Center – Jiangjin Road – Qianjiang Road – Jingfang – Xintang – Xinfeng – East Railway Station – Pengbu
---
Ticket Fare:
The fare varies from the travel distance. The charge complies with the rules below:
CNY2 for the first 4 kilometers (2.5 miles); CNY1 for every additional 4 kilometers (2.5 miles) between 4-12 kilometers (2.5-7.5 miles); CNY1 for every additional 6 kilometers (3.7 miles) between 12-24 kilometers (7.5-15 miles); CNY1 for every additional 8 kilometers (5miles) beyond 24 kilometers (15miles).
Note: For children under 1.3 meters (4 feet), they can ride all Hangzhou subway lines for free. However, they are not allowed to take subway alone and should be accompanied by an adult.
Ticket Types:
1. Single Journey Ticket: It is valid on the day of issue and is recyclable. One person, one card.
2. Tourist Metro Pass: It is available at the Customer Service Center of all metro stations. The validity duration is within 6 months since the day of issue.
A. One Day Pass: It costs CNY15. Passengers can use it for unlimited rides on metro within consecutive 24h from the first use.
B. Three Day Pass: It costs CNY40. Passengers can use it for unlimited rides on metro within consecutive 72h from the first use.
3. Passengers can also pay with regular IC card, and Hangzhou Multifunction Card (Hang Zhou Tong).
---
Planned Metro Lines:

Line 3: This line will go along Tianmushan Road and West Bus Station to the Wulin Square in the east, meeting Line 1 at Ouhuazhou Dajie. It will pass by Gongshu District, West Lake District and Shangcheng District.
Length: 35 kilometers (22 miles)

Line 5: From west to east, this line will cover Yuhang, Cangqian Town, the city center, Hangzhou Railway Station until to the
South Railway Station
in Xiaoshan District.
Length: 48 kilometers (30 miles)

Line 6: This line is designed to serve Binjiang Hi-Tec Development Zone and extend to Qianjiang Cultural Industry Park. It will link Line 1, Line 2 and Line 5 together.
Length: 25 kilometers (16 miles)

Line 7: It will go from Qianjiang Century CBD to Xiaoshan International Airport, and end at Jiangdong Industry Zone. Exchange station to Line 2 will be built in Qianjiang Century CBD.
Length: 31 kilometers (19 miles)

Line 8: It will be built to connect the Jiangdong area and Xiasha District. Exchange station to Line 1 will also be set.
Length: 18 kilometers (11 miles)

Line 9: It will connect the Tangxi Zutuan and Longxiangqiao. Passengers will achieve transfers with line 1, line 2, line 3, line 4 and line 6.
Length: 44 kilometers (27 miles)

Line 10: It will start from Huanglong Stadium in the south and stretch north. The main line will reach Renhe in Yuhang District and its Chongxian branch line will reach Yuhang Chongxian.
Length: 21 kilometers (13 miles)
-
- Last modified on Mar. 25, 2019 -
Questions & Answers on Hangzhou Metro
Asked by Nathania Lee from MALAYSIA | Mar. 24, 2019 22:10

Reply
Hi, may i know how to get to Alibaba Headquarters in Hangzhou by metro? thanks.
Answers (1)
Answered by Helen from NEW ZEALAND | Mar. 25, 2019 23:46

0

0

Reply
The metro cannot direct to there. You can take the Metro Line 4 to Nanxing Bridge and then get off the Exit A.

After that, walk northeast about 120m to take the Bus Line 178 to Time Avenue Qiuyi Junction. Get off the bus and walk northeast about 500 to get there.

You can also take a taxi after getting off the metro and it takes about 15 minutes and costs around CNY15 to 20..
Asked by Rev Vimutti from SRI LANKA | Mar. 14, 2019 18:50

Reply
We will be staying two nights in Hangzhou and intend to buy a two day tourist metro card.
Is the tourist metro card usable on public bus and tour bus?
Where can we get the tourist metro card?
Answers (1)
Answered by Isaiah from UNITED KINGDOM | Mar. 19, 2019 01:11

0

0

Reply
Well, I can only find one day and three day pass of the HZ Metro. It can only be used on metro. You can purchase the metro card at the metro station service center.
Asked by Tanhockchen from SINGAPORE | Sep. 21, 2018 04:03

Reply
Which Mrt station is walking distance to Hangzhou Sofitel hotel?
Answers (1)
Answered by Grace from USA | Sep. 24, 2018 19:52

0

0

Reply
The nearest one is Ding'an Road metro station of Line 1, about 11-minute walk distance.
Asked by Jas from SINGAPORE | Nov. 09, 2017 04:24

Reply
May I know which is the nearest metro station i can take from yuanzheng qizheng hotel?
May i know how many minutes walk to the metro station.
Thank You.
Answers (2)
Answered by Reina from GERMANY | Nov. 09, 2017 20:06

1

0

Reply
As I know, the nearest one is Gucui Rd Station of Line 2, which is about 6km south to your hotel. You are suggested to walk south for about 10 minutes to Zhangqiaotou and take Bus 89, and then transfer to Bus 74 at Zhengxin Huayuan. Get off at Wen'er Xilu Yile Lukou, you will see the station.
Answered by Funglui from CHINA | Jan. 04, 2018 20:19

0

0

Reply
Since a new subway line came into operation in December 2017, the nearest subway station will be "虾龙圩" (Xialongwei). It is within one kilometer. You may use Apple's map app to help you.
By the way, I think you are talking about "Yuanzheng Qizhen" Hotel which is located in Zhejiang University.