Hangzhou Transportation -- By Ship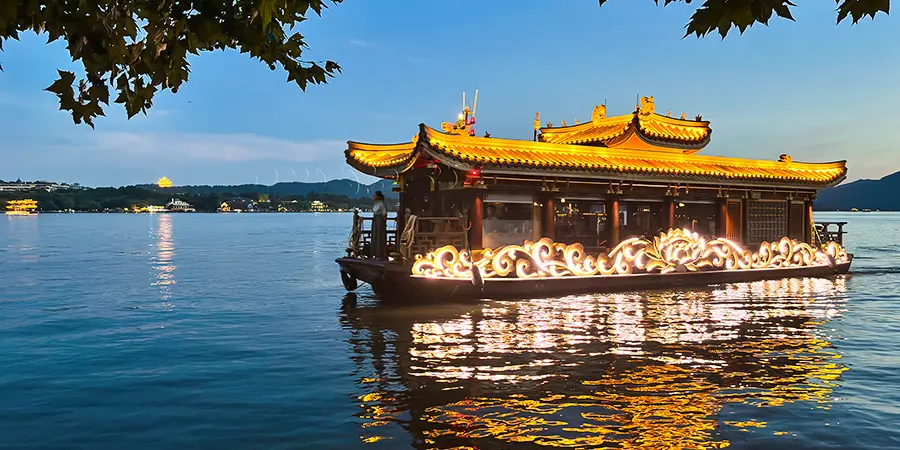 West Lake Cruise Boat
As a city with lakes and rivers, Hangzhou delights visitors who are arriving by ship with views of
West Lake
,
Beijing-Hangzhou Grand Canal
, and
Qiantang River
. There are two companies working on water transportation in the city: The West Lake Pleasure Boat Company mainly operates cruises on West Lake, while the Water Bus Company is mainly based on the Beijing-Hangzhou Grand Canal and Qiantang River. Apart from the cruises, visitors can experience the featured transport of this water town—water bus. This is a mode of public transportation by ferry which costs CNY3.

West Lake Cruise
West Lake Pleasure Boat Company operates cruises on West Lake. The operating time of the boat is from 07:30 to 16:30 in spring and summer, and from 08:00 to 16:00 in fall and winter. Visitors can buy tickets and board the cruise at
West Lake Wharves
.

Grand Canal Cruise
The ancient canal has fresh, new scenery that visitors can see while enjoying one of several cruises on the Grand Canal.

Other Cruises
Routes

Direction

Time

Duration

Ticket Fare

Qiantang River Night Cruise
Wulinmen Pier→ Grand Canal → Qiangtang River → Wulinmen Pier
19:15~22:00

3 hours

CNY120

Canal Night Cruise
Wulinmen→ West Lake Cultural Square → Gongchen Bridge → Wulinmen
19:30~20:30

1 hour

CNY100

Xiangji Temple Night Cruise
Wulinmen → Xiangji Temple Pier
19:30~19:50

20 minutes

CNY30/adult
CNY15/child

Grand Canal Sightseeing Line
Wulinmen → West Lake Cultural Square → Gongchen Bridge → Wulinmen
09:00, 13:00

1 hour

CNY50

Notes:
1. All the night cruises operate between June and October.
2. About Xiangji Temple Night Cruise, the ticket for the one way boat travel is CNY30, admission fee for Xiangji Temple is CNY20, visitors can buy the joint ticket, which is CNY48 per person.
3. All the cruises start from Wulinmen Pier, passengers can buy ticket there.
4. Every year in some festivals and holidays, local Water Bus Company would open some special tourist cruises.

Hangzhou Water Bus
Route

Direction

Operating Time

Ticket Fare

Line 1
Weekdays: Pujia – Genshanmen – Wulinmen – Xinyifang – Gongchen Bridge;
Weekends: Wulinmen – Xinyifang – Gongchen Bridge

Weekdays: 07:00 – 18:10
Weekends: 07:00 – 18:35

CNY3

Line 2
Wulinmen – Xinyifang – Beixinguan – Hemu – Gucui – Gudun – Zijinghua Road – Yangjia Bridge – Jiangcun – Xixi Wuchang Pier
From Wulinmen: 06:20 – 17:30
From Xixi Wuchang Pier:

10:20, 12:00, 14:30, 15:30

CNY3

Line 3
Datieguan – Zhaohui – Gongda – Daguan – Chengbei Sports Park – Xiwen – Gaotingba – Huanxi Yongning – Hangbo – Beijingyuan - Banshan
From Datieguan: 06:30 – 16:30;
From Banshan: 07:30 - 17:30

CNY3

Line 7
Chaomingsi Lane – Caishiqiao – Kuiyang – The Second Affiliated Hospital of Zhejiang University School of Medicine – Hangzhou Railway Station - Meihuabei
07:00 – 17:00
CNY3

Main Piers:
Wulinmen Pier (by the river near Wulin Square)
Gongchen Bridge Pier (near Canal Cultural Square)
Genshanmen Pier (near Yunhe Bridge, Shaoxing Road)
Xinyifang Pier (near Jiangzhang Bridge)

Notes:
1. Passengers can pay the water bus fare by Hangzhou Transportation Smart Card.