Shenzhen Transportation -- By Air
Shenzhen Baoan Airport (SZX) is the main airport for tourists planning further travel in China, with water, land and air transport easily accessible. At present, there are about 107 domestic and international airlines opened, connecting the city and 80 other cities both home and abroad. For visitors who travel between Hong Kong and Shenzhen, there is a convenient bus service available from the airport. The bus tickets can be purchased at either of these two airports.



Shenzhen Flights (flight search & ticket booking)



Terminal Buildings

Check-in Areas for Airlines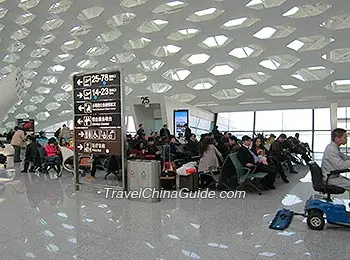 Shenzhen Airport

Air Navigation Cities
(listed in alphabetical order)

Domestic Cities: Beihai, Beijing, Changchun, Changsha, Chengdu, Chongqing, Dandong, Dalian, Dayong, Fuzhou, Ganzho, Guilin, Guiyang, Harbin, Haikou, Hangzhou, Hefei, Huanshan, Huhehaote, Jinan, Jinjiang, Kunming, Lijiang, Luoyang, Ningbo, Nanchang, Nanjing, Nanning, Qingdao, Quzhou, Sanya, Shanghai, Shenyang, Taiyuan, Tianjin, Tongren, Urumchi, Wenzhou, Wuyishan, Wuhan, Xiamen, Xi'an, Xiangfan, Xuzhou, Yantai, Yinbin, Yinchuan, Yiwu, Zhanjiang, Zhengzhou.

International Cities: Los Angeles, Bangkok, Chicago, Dacca, Kuala Lumpur, Manila, Paris, Seoul, Singapore, Tokyo, Vancouver.



Airport Transportation


Bao'an Airport Transfer Service: Pick-up and see-off



Airport Shuttle Bus: Shuttle bus, city bus and long-distance bus running to downtown areas and its nearby cities are served in Baoan Airport. Currently, ten shuttle buses and four cities buses connect Airport with its downtown areas such as Longgang, Futian, Luohu and Shekou. Long-distance buses are mainly heading to the Bus Station of nearby cities, such as Bus Stations in Dongguan, Huizhou and Guangzhou.



Subway Line 11, namely Airport Line, contains Airport Metro Station. It is just a three-minute walk to the T3 of the airport.



Airport Transport to Nearby Cities in Guangdong:
Numerous city terminal buildings are available in nearby cities, including Guangzhou, Huizhou, Dongguan, Zhuhai, Zhongshan, Hong Kong and Macau. Passengers can check-in, buy a ticket and inquire the flight details in these terminals. Intercity Express buses and Ferries are running between the Airport and the city terminals.



Airport Transport to Hong Kong / Macau: Both of bus and ferry are available between Airport and Hong Kong/Macau, which provides travelers of Hong Kong and Macau an easier access to mainland China.

Baoan Airport-Hong Kong Airport Link
Baoan Airport-Hong Kong Airport Link is a special service operated between the two airports, to ensure a better and faster service for passengers who transfer in Hong Kong Airport. Passengers can check in for their Hong Kong flights in Baoan International Airport. Special buses are provided to take passengers directly to Hong Kong Airport.

Currently, 11 airlines offer this transfer service between the two airports: China Eastern (MU), Shanghai Airlines (FM), Xiamen Airlines (MF), Shandong Airlines (SC), Hainan Airlines (HU), Sichuan Airlines (3U), Eagle Airlines (8C) and East Star Airlines (EU) in Baoan International Airport; and Hong Kong Express (UO), China Airlines (CI), and Mandarin Airlines (AE) in Hong Kong International Airport.

Advanced check-in counters:
At Hong Kong Airport: Check-in counters A17 and A18 of Terminal 1
At Baoan Airport: No.6 Check-in counter of Terminal A Arrival Hall and No.8 counter of Terminal B Arrival Hall.

Passenger Lounge: Arrival Hall in Terminal A and Terminal B in Baoan International Airport; Terminal A in Hong Kong Airport

Transportation
Currently, two kinds of buses are available. One is the business bus which can sit 7 people. The advantage lies that passenger do not need to get off for entry/exit procedures. Besides, it is faster with a total duration of 75 minutes. The fare is CNY220 per person.
Departure Time: From Shenzhen: 10:15—21:15 hourly
From Hong Kong: 08:20—21:00 hourly
Another is the shuttle bus. Passengers should get on bus 15 minutes ahead.


To Hong Kong
Departure Time
Via Shenzhen Bay Pier: 09:15—20:45 (30 minutes interval)
Via Huanggang Pier: 08:30—21:00 (30 minutes interval)
Price: CNY180 for adult, CNY100 for child (age 2-12), CNY100 for senior (above 65), CNY 350 for round trip ticket


From Hong Kong
Departure Time: 07:45/08:45/09/45/10:45/11:45/12:15—19:15 (30 minutes interval)
Price: CNY180 for adult, CNY100 for child*, CNY100 for senior (above 65)
* In Airport line, child refers those who age 2-12 while in Hong Kong and Kowloon line, child refers to those who age 3-5.