Shenzhen Dining
Shenzhen's gastronomic delicacies, is a reflection of its population - a smorgasbord of authentic cuisine from the provinces of China. Hot and spicy specialties of Sichuan Province, preserved ham of Hunan Province, cold dishes of northeast China and the perennial Cantonese meals are all favourite dishes of the locals. Japanese and Thai restaurants are also becoming popular.



The morning tea in Shenzhen
The morning tea of Guangdong Province has held the honour as the top breakfast in China for a long time. Sharing a cup of tea and eating delicious dim sum with a friend or family, or by you, has been a tradition here. Although the food is common to many areas, it is the leisurely pace of Shenzhen's morning tea that sets it apart from other cities. It extends into lunchtime, to the extent that many Shenzhen citizens make it their lunch, and there are restaurants where dim sum is available all day.
The following are some recommended places to have a morning tea:
Tang Palace (07:30 -24:00)
This is one of the most popular places for morning tea, so be prepared to wait for a seat. Many locals and visitors are attracted here not only for the dim sum, but for the seafood and authentic Cantonese dishes that are served here as well.
Address: 6th floor of Zhonghai Business City, No.1, Xinyuan Road
Bus routes: 101, 102, 103, 11, 203, 206
Jin Du Restaurant
Address: To the south get off at Si Hai Park, Nanshan District
Bus routes: 22, 204, 226, 331, 433, 462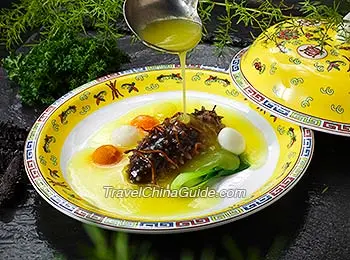 Cantonese Cuisine

Yue Cai (Cantonese Cuisine)
Generally speaking, Cantonese Cuisine consists of dishes from three areas: Guangzhou, Chaozhou and Dongjiang. The latter two have unique ethnic flavors and are popular in Shenzhen. The outstanding Chaozhou dish is the porridge, which can be enjoyed as a white porridge, or as a salt porridge with some added seafood. The Dongjiang dishes are Hakka recipes handed down from generation to generation. Three of the popular ones are: Yanjuji (salt-baked chicken), Niangdoufu (stuffed bean curd) and Hongshaorou (braised pork with soy sauce).
Here is a list of restaurants you can try:
Shenyun Chaozhou Porridge
Dongmen branch: No.26, Shaibu Road, Luohu District
Zhenxing branch: N0.3007 of No15, Hongli West Road, Futian District
Shuiku branch: No.35 of South Shuiku, Aiguo Road, Luohu District
Ke Jia Wang (Hakka dish)
HongBao Road head office (10:00-24:00): N0.138, Hongbao Lu, Luohu District;
These are the buses you can take buses to get there: 404, 406, 418 and 42 to get to Litchi Park.
Zhenhua branch (10:00-24:00): No.73, Zhenhua Road, Futian District;
Take any of these buses: 219, 433 and 469.
Zhenxing branch (10:00-24:00): No.113, Zhengxing West Road, Futian District;
Take any of these buses: 219, 468, 466 and 455.
Kejia City (Hakka dish)
Bahua 1st Road branch (11:00-the next 01:00): Bagua 1st Road, Futian District;
Take buses: 212, 433, 365, 352 or 213 to get to Bagua 2nd Road.
Shazui branch: Jindi Restaurant, Futian District; (11:00-the next 01:00):
Take buses: 212, 419, 422, 427, or 474 to get to Jindi Food Street.
Ying Hai Yu Gang (Cantonese Cuisine)
Address: 2nd and 3rd floor of Jingwei Mansion, Jiabin Road, Luohu District
Opening hour: 09:00-24:00
Bus route: 7, 8, 418, or K12
Dan Gui Xuan (Cantonese cuisine)
Address: No.5010 of Wuzi Lou, Luohu Business City, Guangchang South Road
Opening hour: 07:00-24:00
Bus route: 12, 101, or 102



Others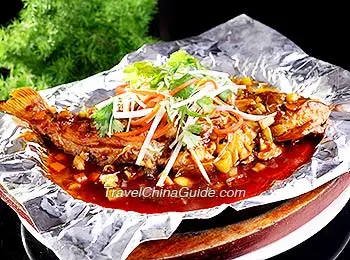 Sichuan Style Fish Dish
Ba Shu Feng Yue (Sichuan cuisine)
Futian branch: No.405 of Sangda Industrial Zone, Zhenxing Road, Futian District
Nanshan branch: 2nd floor of Yehai Market, Longcheng Road, Nanshan District
Luohu branch: No.34, Aiguo Road, Luohu District
Bashu Fengyue branch: 1st floor of Xinghe International Mansion, Central District
Xiang E Qing (Hunan and Hubei cuisine)
Zhonghang branch (11:00-22:30): Hangcheng Mansion of Zhong Hang Garden, Shennan Middle Road, Futian District; Buses of 204, 311, 101, 103, 213 and 320 can be used.
Chinese Delicious Food Restaurant branch (10:00-22:10): No.138, Xuefu Road, Nanshan District;
Buses of 22 and 204 are available
Dongbin branch (10:30-22:30): No.17, Dongbin Road, Nanshan District;
Buses of 462, 210 and 204 can reach there.



Western Food Restaurant
Raindrops Western Food Restaurant
Renmin South Road branch: 2nd floor of Haifeng Garden, Renmin South Road, Luohu District
Nanyou branch: Located in the bathing beach of Industrial 2nd Road, Nanshan District
Jintian Road branch: Jiayitai, Jintian South Road, Futian District
Shatoujiao branch: No.78, Shensha Road, Yantian District



Vegetarian Restaurant
Dengpin Vegetarian Shop
Address: Baoannan Lu, Luohu District



Muslim Restaurant
Mesopotamia Muslim/Halal Restaurant
Turkish food is the specialty of the restaurant.
Address: Room no. 7, Lang Ju Yu Feng Block, No. 1010, South Wenjin Road, Luohu District
Bus Routes: 5, 14, 40, B704, B800
- Last updated on Nov. 28, 2019 -
Questions & Answers on Dining in Shenzhen
Asked by Golan hasan from BANGLADESH | Sep. 20, 2018 17:10

Reply
I'm staying in MOTEL 168 hotel near Shenzhen Longcheng square metro line 3.
Is there any Muslim Restaurant near me ?
Answers (1)
Answered by Taylor from USA | Sep. 20, 2018 22:42

0

0

Reply
Hi, Golan, there are some near the hotel. The closest one is recommended to you: Halal Northwest Hand-pulled Noodles With Beef, located at No. 401 Longhe Road. You can find authentic halal foods there and the prices are reasonable.
Asked by DIANAZ | Nov. 18, 2017 12:35

Reply
English language assistance, visa on arrival
My husband and I are traveling on United States passports and would like to enter Shenzhen from Hong Kong. Is there English language assistance available at the border?how difficult is the visa on arrival process?
Answers (1)
Answered by Kayla from UK | Nov. 19, 2017 20:56

0

0

Reply
Well, sorry to tell you that the VOA can't be got, so you need to apply for a visa in advance. By the way, you can apply for one in the office is in the 3rd floor of Resources Building, 26 Harbour Rd, Wan Chai District.
Asked by MAMIN | Nov. 27, 2016 07:34

Reply
garden of star and wan chai
from park hotel in tsim sha tsui how do we go to the garden of star and then to wan chai area. and from wan chai how do we get back to park hotel?
Answers (1)
Answered by Josey from IRELAND | Nov. 28, 2016 02:50

0

0

Reply
Hi, you can walk from your hotel to Mongkok MTR station and take Tsuen Wan Line to Tsim Sha Tsui station. Then walk through the underpass to East Tsim Sha Tsui, which is quite close to the Garden of Star. To Wanchai, you can still take Tsuen Wan Lien at Tsim Sha Tsui to Admiralty and change to Island Line to reach there. The way getting back to Park Hotel can be the same and just get off at Mongkok Station (exit D1).
Asked by MAMIN | Nov. 26, 2016 09:56

Reply
Advise me on muslim halal restaurant near to FX East Lake Park Hotel in Taining Road Luohu District.
Thank you
Answers (1)
Answered by Teresa from UNITED KINGDOM | Nov. 27, 2016 03:37

1

0

Reply
I just know there is a Lanzhou Beef Hand-pulled Noodles resto on Taining Road. It is just next to your hotel.