Shenzhen Weather
Due to its subtropical climate, Shenzhen weather is mild with plenty of sunshine and rainfall all year round. Summer in this city usually lasts for as long as 6 months, but without being overly hot. In comparison, winter is very short and not cold at all.



Best Time to Visit Shenzhen
Autumn from November to early January is advised as the best time to visit Shenzhen. It should be noted that the city is located at the estuary of the Pearl River and is therefore an area susceptible to typhoons. Generally typhoons impact Shenzhen climate mostly from May to December with the strongest from July to September.
7-Day Shenzhen Weather Forecast
Shenzhen Weather by Month
Averages for Shenzhen Weather
High/Low Temperatures of Shenzhen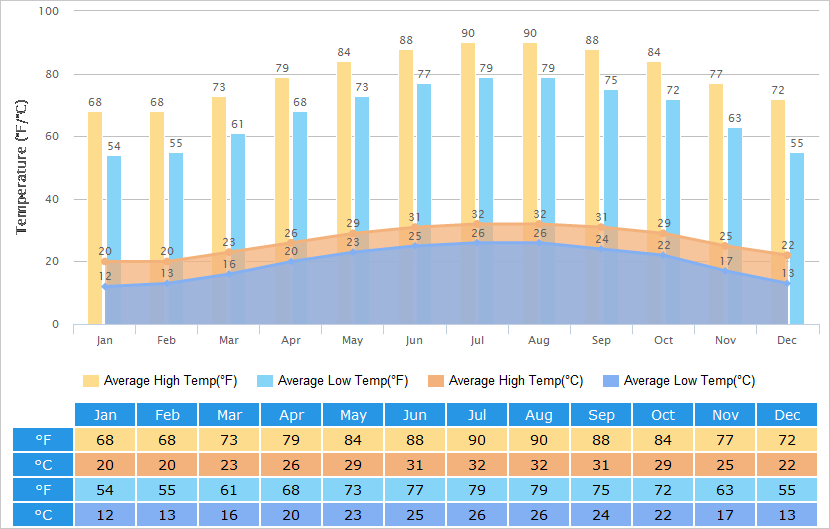 Average Temperatures of Shenzhen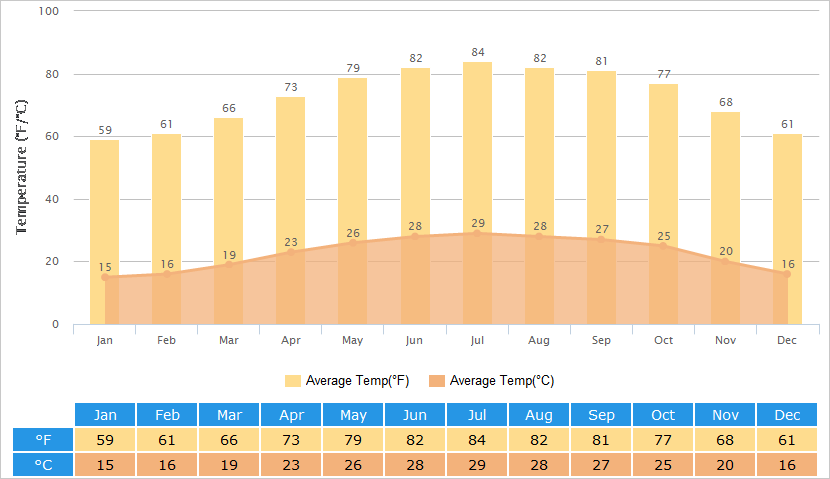 Average Rainfall of Shenzhen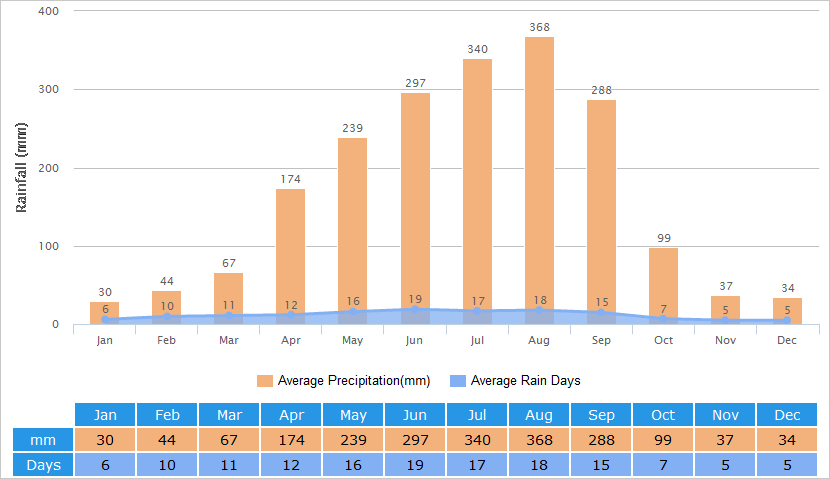 Air Quality of Shenzhen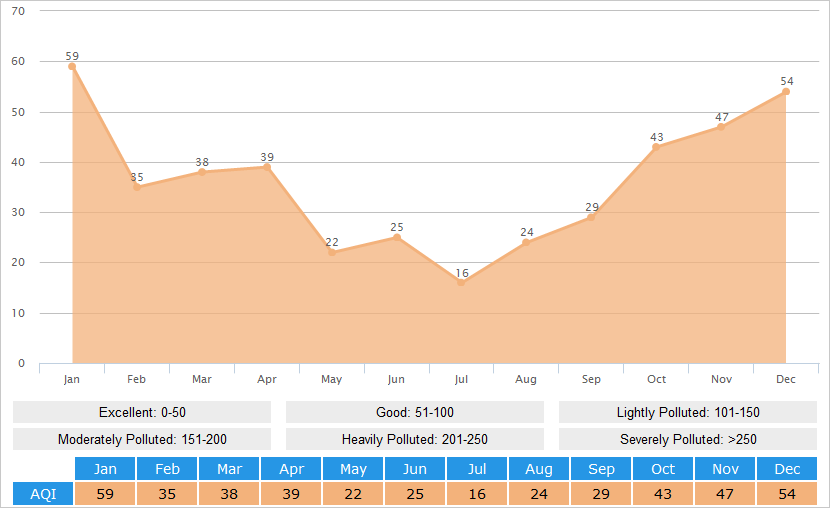 Shenzhen Climate - Seasons & Travel Advice
With an average temperature of 22

C (72

F) of the whole year, Shenzhen has a long mild summer and short relatively warm winter, which makes the city a year-round travel destination. Additionally, the China Hi-Tech Fair is held there from the 12th to the 17th of October every year. It is always advisable to make reservations well in advance of your visit to the city as the area is particularly busy during this time.
Spring
Spring in the city falls between February and April when the weather is usually variable – hot days turn into cooler nights. A cold wave may come even in late February. When the temperature drops, it is always accompanied by rain. After the low temperature and rains, heavy fog often appears along the seacoasts. Travelers should take long-sleeved T-shirts, thick jackets and an umbrella.
Summer
Summer, the flood season for the city, is rather long from late April until the end of October. During this time, disastrous weather like rainstorms, thunderstorms and typhoons are common there. The high temperature is about 35

C (95

F), but you may feel extremely hot because of the high humidity. Skirts, dresses, and shorts are proper for this time. Remember to take a raincoat as well. The best summer resort are Dameisha Beach and Xiaomeisha Beach.
Autumn
Shenzhen weather in autumn from November to early January is dry and cool. The temperature won't drop until December and it still remains around 20

C (68

F). Autumn droughts of varying degrees happens almost every year because of less rain and large evaporation. A long-sleeved T-shirt and a light overcoat are enough for this season.
Winter
The city has an average winter time of 24 days per year, between middle January to early February. The climate is always as warm as the spring in northern China, with an average temperature of 10

C (50

F). The temperature may fall to around 3

C (37

F) when there is cold spell, but the cold won't last for long. Once there are three continuous sunny days, you will feel as hot as in summer. If you travel there at this time, you may just take a long-sleeved T-shirt and a thick jacket.



Further Reading: Guangdong Weather
- Last modified on Jun. 09, 2020 -
Questions & Answers on Shenzhen Weather
Asked by Phanoudeth from LAOS | Oct. 16, 2019 01:54

Reply
I'm going to Shenzhen soon,
what should be avoid and be careful of going there? if there is some
Answers (1)
Answered by Fiona from CANADA | Oct. 17, 2019 18:16

0

0

Reply
It is getting cooler now. You need to bring some long-sleeve shirts and jackets in case the large temperature difference.
Asked by noorhayanie from MALAYSIA | Aug. 19, 2019 20:47

Reply
hi im going to Shenzhen next year (Jan. 02, 2020) by grouping (10 person)
is any suggestion hotel for us? we mix with Muslim fren, it's good if the place convenient to find Muslim food and near to shopping complex.
Answers (1)
Answered by Alva from FINLAND | Aug. 22, 2019 00:48

0

0

Reply
Well, you are suggested to find a hotel nearby railway stations. Generally speaking, there are many restaurants nearby. And the surrounding transportation is quite convenient.
Have a nice journey!
Asked by Bb from MALAYSIA | Oct. 11, 2018 03:06

Reply
What will be the weather in Shenzhen Dec 26 till New yr? Should i bring winter cloths?
How long to travel from there to HK?
Answers (4)
Answered by Beth from USA | Oct. 11, 2018 20:31

0

0

Reply
The temperature may range from 10C to 15C during that period of time. You still need to bring winter clothes, such as down jackets, sweaters, jeans and sneakers. If take a ferry, it takes around 60 mins to arrive at HK.
Answered by Bb from MALAYSIA | Oct. 11, 2018 23:50

0

0

Reply
Any suggested place to visit in SZ?i travel with young child age 7... Tq
Answered by Beth | Oct. 11, 2018 23:57

0

0

Reply
1. Window of the World
2. OCT Harbour
3. Wildlife Park
4. Splendid China Folk Village
5. The Evergreen Resort
These are 5 top places to visit in SZ.
Answered by Bb from MALAYSIA | Oct. 13, 2018 00:28

0

0

Reply
Thank you beth....
Asked by Ali Sharafat from PAKISTAN | Feb. 26, 2018 10:57

Reply
I will be visiting Shenzhen from 5th till 15th March 2018.
Hi.
Please intimate about the weather. Also suggest what type of Clothes should I bring. Jackets and Sweaters are required these days?
Answers (1)
Answered by Nigel from UNITED KINGDOM | Feb. 26, 2018 20:29

1

0

Reply
The weather will be cool and comfortable. You can take your shirts, thin jackets and jeans. Enjoy your time!
Asked by nina from PHILIPPINES | Nov. 01, 2017 13:35

Reply
hi..i'm going to Shenzhen at the end of January next year..
based on my research its hard to play snow in the city is warm winter..can you suggest where is the nearest place to play snow?..January is winter season at China right?
Answers (1)
Answered by Tom from GERMANY | Nov. 01, 2017 21:32

0

1

Reply
Yes, Jan. is in winter season in China. If you want to play snow, you are suggested to go to the indoor Ski Resort in Window of the World.