Shenzhen Weather in February
Shenzhen is in late winter in February with an average temperature of 20°C (68°F) in day and 13°C (55°F) in night. The weather features slightly coldness and dryness. It has only a little rain in February with an average total precipitation volume of about 44mm. The air is still a little bit cold with breezes in most days.
The
Chinese New Year
usually falls in February according to Chinese Lunar Calendar. On the occasion, the local municipal government and scenic sites will hold a series of activities to celebrate the festival, when travelers can experience and take part in the authentic traditional Chinese New Year. At Valentine's Day, many scenic spots will be adorned with romantic decorations such as roses and balloons, and many parties, performances, and game events will be held. In February, travelers can witness a lively Shenzhen, which is also an epitome of modern China.
Averages for Shenzhen Weather in February
Temperature: 16°C / 61°F
High Temperature: 20°C / 68°F
Low Temperature: 13°C / 55°F
Humidity: 76%
Rainfall: 44 mm
Rainy Days: 10 days
Sunrise: 06:45 ~ 07:03
Sunset: 18:11 ~ 18:27
Air Quality in February
Average AQI:35

What to Wear in Shenzhen in February
It is recommended to wear short suits, T-shirts, light jeans, casual wears and comfortable shoes. The temperature is lower in night, so travelers should add a lined coat, windbreaker, jacket, or a light sweater. It is better to take a thick coat in case of cold snaps.


Things to Do in Shenzhen in February
To explore the traditional Chinese culture, it is a good choice to take part in the New Year celebration, including counting down for the coming year, temple fairs, lantern shows, New Year's Eve parties, and food carnivals in tourist sites. Travelers can visit the
Windows of the World
,
Happy Valley
,
Overseas Chinese Town East
,
Splendid China - Folk Cultural Villages
, and OCT Harbor.
Although the climate in Shenzhen is not very pleasant, many flower shows will be held in February, including the Chinese rose exhibition in Shenzhen People's Park, camellia show in Garden Show Park, and water lily show in Honghu Park.
Other Tips
February is the Chinese New Year peak travel season, and Shenzhen is a city where plenty of people live, so traffic jam may happen. Besides, those who plan to travel had better book air or train ticket in advance, because the ticket may be sold out quickly.
What is the temperature in Shenzhen in February?
High/Low Temperatures of Shenzhen in February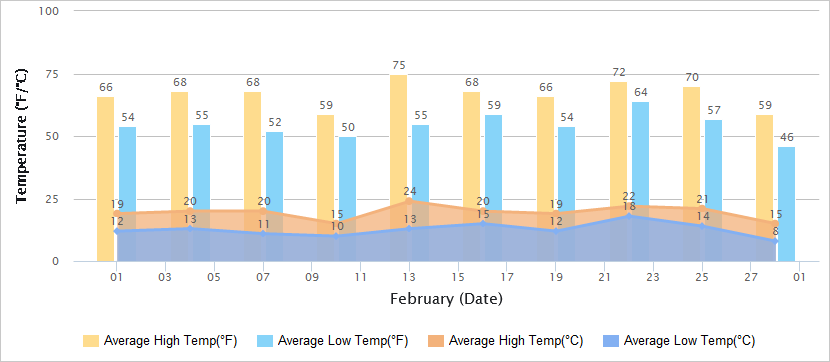 Air Quality of Shenzhen in February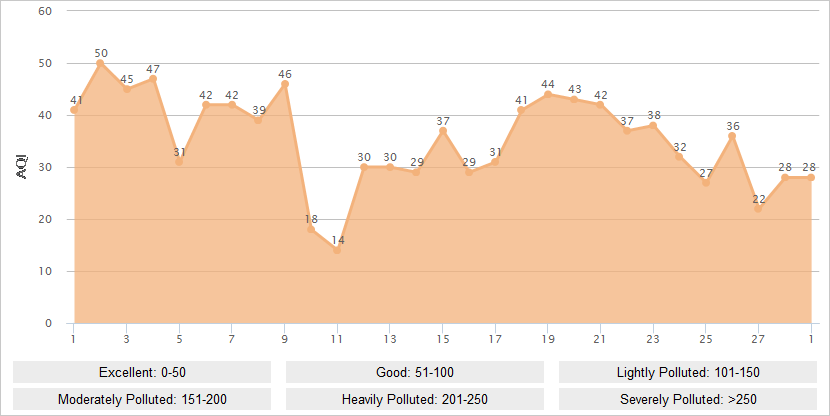 Historical Shenzhen Weather in February
Feb
Temperature
Sunrise / Sunset
Humi-
dity
(%)
High
Low
1
19°C / 66°F
12°C / 54°F
07:03 / 18:11
68
2
20°C / 68°F
16°C / 61°F
07:02 / 18:12
64
3
16°C / 61°F
12°C / 54°F
07:02 / 18:13
71
4
20°C / 68°F
13°C / 55°F
07:02 / 18:13
72
5
21°C / 70°F
17°C / 63°F
07:01 / 18:14
75
6
25°C / 77°F
18°C / 64°F
07:01 / 18:15
81
7
20°C / 68°F
11°C / 52°F
07:00 / 18:15
65
8
12°C / 54°F
10°C / 50°F
07:00 / 18:16
72
9
15°C / 59°F
9°C / 48°F
06:59 / 18:16
68
10
15°C / 59°F
10°C / 50°F
06:59 / 18:17
80
11
13°C / 55°F
9°C / 48°F
06:58 / 18:18
71
12
19°C / 66°F
12°C / 54°F
06:57 / 18:18
71
13
24°C / 75°F
13°C / 55°F
06:57 / 18:19
73
14
23°C / 73°F
18°C / 64°F
06:56 / 18:19
85
15
24°C / 75°F
18°C / 64°F
06:56 / 18:20
84
16
20°C / 68°F
15°C / 59°F
06:55 / 18:20
80
17
18°C / 64°F
12°C / 54°F
06:54 / 18:21
55
18
17°C / 63°F
10°C / 50°F
06:54 / 18:21
52
19
19°C / 66°F
12°C / 54°F
06:53 / 18:22
51
20
19°C / 66°F
12°C / 54°F
06:52 / 18:22
66
21
22°C / 72°F
17°C / 63°F
06:51 / 18:23
72
22
22°C / 72°F
18°C / 64°F
06:51 / 18:23
89
23
25°C / 77°F
19°C / 66°F
06:50 / 18:24
87
24
25°C / 77°F
20°C / 68°F
06:49 / 18:24
83
25
21°C / 70°F
14°C / 57°F
06:48 / 18:25
87
26
13°C / 55°F
10°C / 50°F
06:48 / 18:25
79
27
10°C / 50°F
8°C / 46°F
06:47 / 18:26
81
28
15°C / 59°F
8°C / 46°F
06:46 / 18:26
83
29
17°C / 63°F
12°C / 54°F
06:45 / 18:27
87
- Last updated on Aug. 28, 2019 -