Shenzhen Happy Valley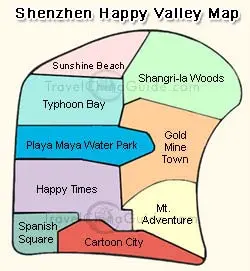 Map of Shenzhen Happy Valley
Shenzhen Happy Valley, a large modern theme park in China, is located in Nanshan District of the city. Covering an area of 350,000 square meters (about 86 acres), the park boasts large quantities of breathtaking and exciting amusements to satisfy anyone's desire for modern entertainments. The whole park is composed of nine areas with different themes, including Spanish Square, Cartoon City, Mt. Adventure, Gold Mine Town, Shangri-la Woods, Sunshine Beach, Typhoon Bay, Playa Maya Water Park and Happy Times. The park encompasses nearly 100 exciting games for adults and children. Every day in the park, there are excellent performances in different styles, such as magic, acrobatics and extreme sports.

Upon entering the gate, one may step into the Spanish Square which has a Mediterranean flavor reminiscent of a Spanish Warf. Walking southward, it is possible to reach the amazing Cartoon City. Fairy stories are realized here. In the Cartoon theatre, many interesting films are on show everyday. The Peppy King's Mansion provides children with a house of dreams.

To the east of the Cartoon City, there is the exciting Mt. Adventure with dense woods and beautiful flowers. 'The Space Shot' here would bring you the breathtaking experience of rising up to 60 meters (about 197 feet) high within 1.8 seconds and falling down freely like a water drop. Go on walking and you will reach the Gold Mine Town. The set is based on a small flooded mine town in North America. People can experience a thrilling escape from a 'flood' on the Gold Mine Train. The Gold Mine Workshop offers people a chance to forge a steel keepsake.

Then, in the peaceful and mysterious Shangri-la Woods, is the Blue Moon Hollow portrays with mountains, caves, waterfalls, bears, tercels and many other animals. On the charming Sunshine Beach, with various wonderful shows by many excellent players, the Happy Valley Extreme Sports Camp provides a fashionable high time.

The most exciting place in the park is Typhoon Bay, a small dilapidated fishing village. People can try 'Shooting the Chute' with the highest fall in the world. Beside that, the Top Spin brings you high into the sky followed by a sudden turn-over. Feel the pressing sound of wind and screams. In Happy Times, as well as interesting games, the 4D film is a totally different experience from traditional ones.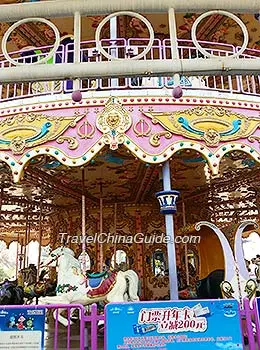 The most interesting place in the park is Playa Maya Water Park, which only opens from May 1st to Oct. 7th. Based on the mysterious Maya culture and depending the beauty of it watery scenery, it shows people a wonderful ancient world. Here, people can experience the long-past Mayan civilization and get an exciting sense of a primitive and desolate world. The buildings and statues here are all in Mayan architecture styles. In the daytime, people can enjoy the dense woods filled with great lizards, crocodiles and parrots. In the evening, the wild and ardent dancing performances of foreign tribes will warm up the atmosphere around the water.

In the park, full service are provided for the visitors. The amusements and sightseeing spots, the hotel, shops and restaurants are ready all the time.

Rides and Attractions

Happy Times: UFO, Tornado, Rush Hour, Discoverer, Joy Hot Wheels, Laser Bumper Car, Dream River, 4D Movie Theatre

Magic Castle: Frog Hopper, Simulated Fire Department, Merry-Go-Round, Ant Soldiers, Arctic Exploration, Castle Watcher, Ice World

Mt. Adventure: Space Port, Forest Climbing

Gold Mine Town: Gold Mine River Rapids, Gold Mine Workshop

Shangri-la Woods: Suspended Looping Coaster, Jungle Hunting, Straw Hats

Typhoon Bay: Shoot the Chute, Splash Over, Typhoon Eye

Sunshine Coast: Jumping Frog

Tips:
Here are some useful information about ticket price and opening hours, transportation and games in Shenzhen Happy Valley. It may be helpful for your happy hours in the park.

Transportation of the Shenzhen Happy Valley

How to get there
By Subway:
Take
Line 1
(Luobao Line) to " Window of the World" (Shijie Zhichuang) station and walk out of Exit A to get there.
By Public Bus:
From the railway station, take bus no. 101 to get there.
From the airport, take bus no. 327 to " Window of the World" (Shijie Zhichuang) Station, across the street and walk about 3 minutes until you get there.
From other parts in the city:
Take bus no. N4, 21, 26, 32, 54, 79, 90, 101, 113, 121, 123, 204, 209, 223, 234, 245, M388 or B603 to " Window of the World" (Shijie Zhichuang) station and then walk about 3mins before you get there.

Shenzhen Bus / Subway Search

Small train and tour car inside the park
Ordinary Days
Designated Days
Full-price
Children above 1.5m (4.9ft) and seniors over 65
Full-price
Children above1.5m and seniors over 65
Single-Ride
CNY 20
CNY 10
CNY 30
CNY 20
Multi-Ride
CNY 30
CNY 20
CNY 40
CNY 30
Notes:
1. Designated Days refer to Chinese New Year Holiday, National Day Holiday and summer vacation (July and August), etc.
2. Ordinary Days refer to other days excluding holidays.
3. Adults and children above 4.9 feet are required to buy full-price tickets.
4. Children below 3.9 feet (1.2 meters) can visit the park for free.

Ticket Price and Opening Hours
Admission Fee
CNY 230 for adults and children above 1.5 meters (4.9 feet);
CNY 120 for children between 1.2 and 1.5 meters (3.9 and 4.9 feet);
Free for children below 1.2 meters.

Night ticket: CNY 100 for adults and children above 1.2 meters.
Visitors are allowed to enter after 18:00.
Opening Hours (Jan. 2, 2018 - Feb. 14, 2018)
09:30-22:00

Related Reading:
Beijing Happy Valley
Shanghai Happy Valley
Chengdu Happy Valley
Wuhan Happy Valley
Tianjin Happy Valley