Shenzhen Tours -

100% No Shopping Stops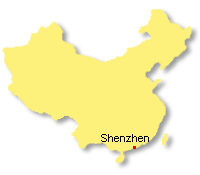 Facing the sea and surrounded by mountains, the city of Shenzhen is an important hub of Southern China's international maritime and land trade. A mild climate and beautiful scenery ensure the delights of the package for your trip. Here you will visit Splendid China, a world-famous tourist attraction. This is the largest-ever collection of miniaturized scenic attractions from all over the world. With our well-designed arrangements and quality service, you are certain to enjoy your private vacation in this special economic region.
Hot Spots:

Shenzhen City - If you arrive early, it should be a good idea to learn this city by yourself today. The best place to have a great bird's eye view of the city is located at the junction of Shenzhen Dong Lu, Jiefang Lu and Baoan Nan Lu - the Diwang Mansion. The lift will take you to the top of this 384-meter-high building in 50 seconds, where you could have the best viewing angle.

Splendid China - This miniature scenic area covers an area of 300,000 square meters. It collects 82 different miniatures of Chinese famous ancient buildings, landscapes and residential houses which could represent a living history and custom of China. All of these spots are made on a scale of 1 to 15 and laid to replicate their locations on China map. Additionally, there are over 50,000 terra cotta figures positioned in different spots to enhance the models' original flavor.

Folk-Custom Culture Village - The Village aims to display the varied cultures and customs of these ethnic minorities in China. In the 200,000 square meters exhibition area, 25 different villages of 22 ethnic groups are positioned at a ratio of 1:1. Besides of knowing the unique buildings of those groups, travelers also have opportunities to participate in the various kinds of festival celebrations, taste exotic food and purchase some delicate handicrafts. If you come here at night, you will be lucky to watch three large and splendid folk dance shows, which could give you an astonishing impression of China.

Top 7 Things to Do in Shenzhen

12 Best Places to Visit in Shenzhen for First-time Visitors

8 Things to Do in Shenzhen at Night
Customer Reviews

Questions & Answers
Posted on November 27, 2020

My parents and I spent the 2-day Shenzhen tour together. The guide was very patient with the elderly, accompanying them throughout the journey and helping them to get on and off the car.

While visiting, she deliberately slowed down and explained to us very carefully. She was very professional and able to answer any question about the sites. I learned a lot.

Thanks for the guide's thoughtful service and hard work.

Posted on August 03, 2020

It was a great travel experience. The guide was very professional and the itinerary and accommodation were of high quality. The Shenzhen tour was worth to book again.

I liked the guide on my trip to Shenzhen! Her service, knowledge, and English were very good and professional. She would meet every need as we requested and listened to our feedback timely. I'd like to spend my Shenzhen tour with her again if I had another chance to Shenzhen.