Meridian View Center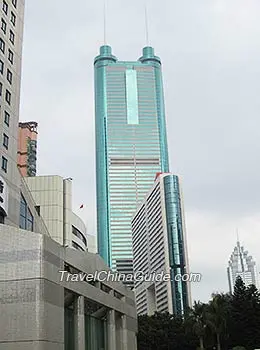 Meridian View Center
Meridian View Center, the window of Shenzhen, is located on the 69th floor of the Diwang Mansion (Shun Hing Square). With a height of about 384 meters (1,260 feet), this building is the second highest one in Shenzhen and can be divided into three parts: the Office Area, the Shopping Area and the Business Apartments.
Meridian View Center comprises 15 entertainment areas. Standing on the top of the Diwang Mansion, tourists can have a bird's eye view of Shenzhen and
Hong Kong
through the telescopes. Cars and people on the streets in the city flow like a stream. Shenzhen River looks like a green ribbon connecting Shenzhen with Hong Kong. The appealing panoramic cityscape of Hong Kong can be seen clearly from the top of the building.
Meridian View Center displays the development of Hong Kong and Shenzhen. A long picture scroll shows how Shenzhen developed from a small fishing village to an international metropolis with the support of China's policies of reform and opening. With the application of stereo hi-fis, some historic documentaries are shown in Meridian View Center. Scenes are presented to the tourists vividly, such as the Cession of Hong Kong to Britain, the Return of Hong Kong, the Establishment of the Government of Hong Kong Special Administrative Region and the Take-Off of Hong Kong's Economy. Lifelike waxworks of Deng Xiaoping and Margaret Thatcher are also displayed there. Deng (1904-1997) was one of the greatest leaders of PRC and the designer of China's socialism reform and modernization. Mrs. Thatcher (born in 1925), the 'Iron Lady', was the first female Prime Minister of Britain. Those two great leaders are having a friendly conversation with a big picture of
Tiananmen Square
and Central Hong Kong Island serving as the background.
Entering the multidimensional cinema, visitors can enjoy the three dimensional motion picture Legendary Pirates which is made by Disneyland Company and is performed by some famous actors and actresses in Hong Kong. It will bring the audience a wonderful audio-visual experience. In addition, tourists can play some computer games for free, including piloting the planes. Children will be happy to play with the intelligent robot.
After visiting the attractions, tourists can go to the coffee house named Lan Gui Fang to have some delicious food and drinks. The layout of the shopping area imitates the Chung Ying Street, the most renowned shopping street in Shenzhen. There some souvenirs are prepared for tourists, including the distinctive ornaments and the postcards. They can give best wishes to their friends and relatives by sending the cards from 'the highest post office' in China on '
Chung Ying Street
'.
Meridian View Center welcomes tourists all over the world. It is a must when you pay a visit to Shenzhen.

How to get to Meridian View Center
1. Take
Subway Line 1
(Luobao Line) , get off at Grand Theater (Dajuyuan) Station and then get out from Exit D to reach there.
2. Take bus no. 3, 10, 12, 29, 85, 101, 203, 214, 215, 223, 302, E30, N3, Tour Bus Line 1, Tour Bus Line 2, Sightseeing Bus Line 1 or Peak Express Bus Line 20 to Diwang Dasha (Meridian View Center).
Shenzhen Bus / Metro Search
Entrance Fee
CNY 80;
CNY 40 for children between 1.2 to 1.5 meters (3.9 and 4.9 feet);
Free of charge for children below 1.2 meters.
Opening Hours
08:30 - 23:30 (last entry is at 22:00)

Top 7 Things to Do in Shenzhen
- Last updated on Oct. 24, 2019 -
Questions & Answers on Meridian View Center
Asked by KM Ong from MALAYSIA | Oct. 22, 2019 23:56

Reply
Greetings, if take HSR train from Guangzhou Railway station, where do the trains stop in Shenzhen.
Appreciated.
Answers (1)
Answered by Camden from GERMANY | Oct. 24, 2019 02:24

0

0

Reply
It will reach Shenzhen Railway Station (No.1003, Jianshe Road, Luohu District).
Asked by KM Ong from MALAYSIA | Oct. 22, 2019 01:21

Reply
Greetings, its Shenzhen Railway Station near Luohu Metro station in Hong Kong
Or still in Shenzhen because if we see the location from Google map that its in Hong Kong area.
Appreciated your advice.
Answers (1)
Answered by Maria from POLAND | Oct. 22, 2019 23:09

0

0

Reply
No, it is still in Shenzhen area.
Asked by Ms.Arum from INDONESIA | Jun. 10, 2010 20:43

Reply
Hi... I have a plan to go Shenzen from HK using MTR.
My Plan is to do trip to Shen zhen in 1 Day. Place i'd like to visit are :
1. Meridian View Centre
2. Green Great Wall Mangrove
3. China Folk Culture Villages/Splendid China
4. Dancing with the Dragon and the Phoenix Show
5. Lo Wu Shopping Mall
6. ineral Museum
7.Interlaken Royal Parade
8. Ancient Tea Town
9. Tea Show

can you help me which one the nearest to Lo Wu Station, since I arrive from HK in Lo WU station and also about How to go all of this place? Bus No or any train?

Thank you so much for your help.

Regards,
Arum
Answers (2)
Answered by Ms.Carol | Jun. 12, 2010 04:53

0

2

Reply
I guess the nearest should be Luohu Shopping Mall (Luohu Commercial City). It is very close to Luohu Railway Station(also the subway station). After you pass the border, you can just walk there.

Meridian View Centre: take subway line 1 from Luohu to Dajuyuan(大剧院), get off and then walk back a few hundred meters.

China Folk Culture Villages/Splendid China: take subway line 1 to get off at Huaqiaochengdong (华侨城东) and exit B. Then walk to Splendid China.

Answered by Farid from INDONESIA | May. 28, 2015 16:58

0

0

Reply
Ms arum, i am also from indonesia and have plan to visit hongkong on 6 june... If you dont mind please invite my wechat ; farid_ahmadi